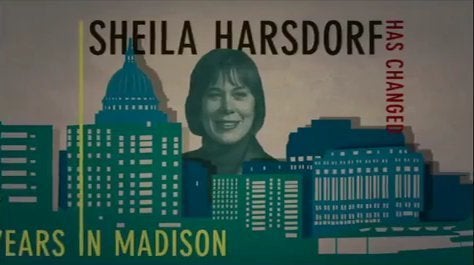 WASHINGTON -- The labor-backed progressive group We Are Wisconsin has launched its first television ad of the upcoming recall elections, targeting state Sen. Sheila Harsdorf (R-River Falls).
Harsdorf is one of six Republican state senators facing recall in August, all of whom voted in March for the measure stripping public employees of most of their collective bargaining rights. Three Democrats also have recall elections this summer.
The first We Are Wisconsin ad is supporting Harsdorf's main Democratic challenger Shelly Moore, a public school teacher and active member of the Wisconsin Education Association Council union.
The ad goes after Harsdorf's record on education, stating she "voted for Gov. Walker's budget that cut education by nearly $800 million, yet ... voted for hundreds of millions in tax breaks for corporations and the super-rich."
A We Are Wisconsin spokesperson described the amount of the ad buy as "substantial" but would not provide an exact figure. The ad is running in the Minneapolis-St. Paul market, which services Harsdorf's district, on both broadcast and cable television starting Thursday.
Popular in the Community