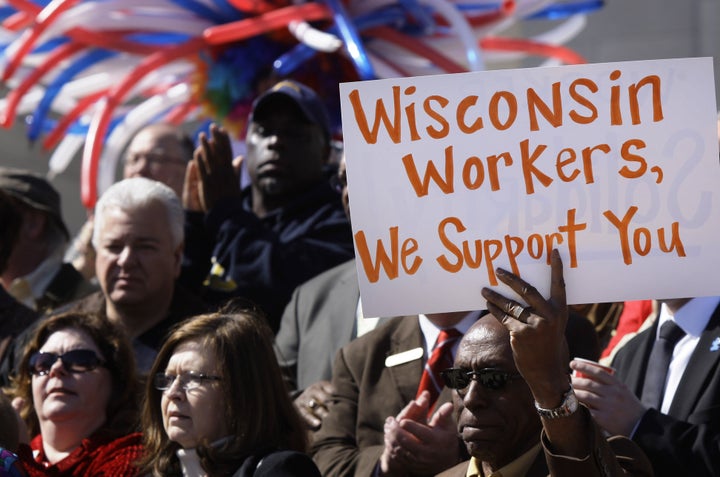 WASHINGTON -- More than 270 state legislators from 44 states and two territories have signed a letter standing with the Democratic state senators in Wisconsin, who left the state to prevent their Republican colleagues from pushing through a controversial budget repair bill.
The battle over collective bargaining in the Midwest has convinced many of these lawmakers that they need to work together more, across state lines, in order to advance labor priorities, they told The Huffington Post.
"Taking away the hard-won rights of nurses and bus drivers and teachers does nothing to create jobs, rebuild the economic prosperity of our states, or strengthen our families," reads the letter, organized by the nonprofit Progressives States Network. "As legislators representing vastly different constituencies in states across the country, we join together to voice our shared desire to work in a constructive manner with all relevant parties to advance a vision for our nation's future that truly ensures the economic security of our communities."
Although overwhelmingly signed by Democrats, the letter's signatories include Anne Donahue and Francis "Topper" McFaun, two Republican state representatives from Vermont.
Georgia state Sen. Nan Orrock (D) is involved with the National Labor Caucus of State Legislators, which claims more than 1,000 members, and she said she has fought against attempts in Georgia to weaken union rights.
"Legislators organizing themselves to effectively stand up for the rights of working families of low- and moderate-income people in the middle class is a positive thing, and that's why I'm very supportive of the leadership that the legislators in Wisconsin and these other states in the Midwest are showing," Orrock told The Huffington Post. "Why should the teachers and kids and firefighters be asked to pay for more tax giveaways for corporations and the wealthy?"
Maine state Rep. Diane Russell (D) took her support for her Democratic counterparts in Wisconsin a step further. Not only did she and some friends go out and join the protests, but she raised more than $3,000 for the trip and provisions for the rallygoers. They gave away more than $900 worth of coffee, hot chocolate and hand warmers, and plan to donate the rest of the money to a fund to "repair the budget." Russell said that while she was in Madison, there were people actually passing a donation bucket around the state capitol.
"I think that we all are starting to realize that we're in this together, and this is a coordinated multi-pronged attacked," Russell said in an interview with The Huffington Post on Friday. "One of the things that we're hearing from my people in the statehouse is that we just can't react fast enough. Every time you turn around, there's something new."
The party campaign organizations representing elected officials at the state level have also waded into the controversy in Wisconsin. On Tuesday, Democratic Legislative Campaign Committee Chair and Iowa Senate Majority Leader Mike Gronstal said he was "immensely proud" of the Wisconsin Senate Democrats. "These Senators did not leave the Capitol lightly," he said in a statement. "They faced a choice between watching helplessly as the GOP rammed through a budget that destroys workers' rights, and taking drastic measures to protect those rights. Wisconsin Democrats chose to stand up for working families, and I support and applaud their commitment to this cause."
"While Wisconsin Republicans are making tough decisions and following through on promises to reduce government spending in order to balance the Wisconsin budget, Democrats abdicated their jobs and refused to govern," countered Republican State Leadership Committee Chairman Ed Gillespie in a statement.

Popular in the Community