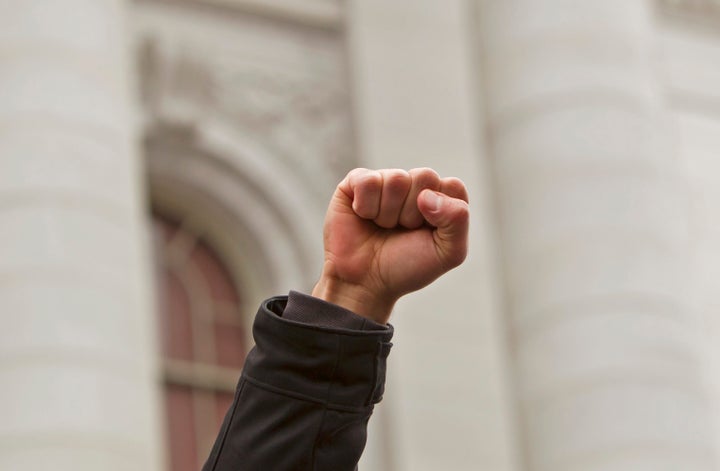 WASHINGTON -- Protesters unhappy with Wisconsin Gov. Scott Walker's budget proposals forced a GOP congressman to shut down a town hall meeting on Monday in the governor's hometown, demonstrating that state-level labor battles could become a liability even for Republicans at the federal level.
"This state is so (angry) at Republicans right now because they're trying to shut down debate," yelled one protester at the meeting in Wauwatosa, which was being held in a town library. Other protesters responded with loud cheers.
While veteran U.S. Rep. Jim Sensenbrenner (R), who was at the meeting with GOP state Sen. Leah Vukmir, insisted that the meeting was open to everyone, a protester said, "You're trying to shut down any response from these people who live in a free society." When Vukmir insisted that no one was trying to take away collective bargaining rights, the crowd shouted, "That's not true!" and booed and hissed at her.
Sensenbrenner eventually said he was adjourning the meeting because attendees weren't being respectful, which resulted in the unhappy crowd chanting, "Shame!"
Following Monday's short-lived town hall, Sensenbrenner's office released a statement decrying the behavior of the event's attendees:
Congressman Sensenbrenner and the Wauwatosa library director repeatedly asked individuals attending last night's Town Hall Meeting to be respectful as other patrons were using the library. After numerous requests for attendees to listen to the individual speaking and be mindful of other library patrons were ignored, the meeting was adjourned.

It is unfortunate that the same respect given at Congressman Sensenbrenner's Town Hall Meeting in Brookfield Sunday evening wasn't experienced last night, and individuals who were patiently waiting to ask a question, receive help with casework or share their concern were unable to do so at the meeting.

Congressman Sensenbrenner invites those individuals to call his office or send him and email and he will get a response to them.
In a Monday interview on MSNBC, former longtime Rep. Dave Obey (D-Wis.) said he believes that if Gov. Walker does not engage in meaningful compromise, "he will be recalled."
UPDATE, 5:34 p.m.: The Huffington Post heard from R.V., who attended the town hall meeting and wrote in with a fuller account of the event, stressing that the crowd became upset only after it felt like the legislators weren't listening to attendees' concerns:
The town hall was full of Walker supporters, and dissenters. And it was not unruly, it was just loud when the crowd was mistreated and terribly disrespected. It started out that way, and the Congressman and Senator were both rude from the start, assuming a battle would take place, and refusing, from the top, to use a microphone.

[W]e were not protestors; we were constituents who were told we'd have a meeting/conversation with out representatives. That's not what it was, and that was not the crowd's fault. They responded to what they were handed, and loudly disagreed at times.

As far as Sensenbrenner goes, he was grumpy from minute one, but turned on us when a questioner asked him about his relationship to oil companies and how we could trust that our tax payer dollars would be cared for if this were the case. That is where the change [in tone] took place. That is where the story should be.

The protestors were outside, yelling, the rest of the constituents were inside, wanting answers to their questions and receiving token talking points that too often had nothing to do with what they asked---that was the jeering, because we were being played and lied to. (Both reps made inaccurate statements and were being held accountable for that!)
Calling all HuffPost superfans!
Sign up for membership to become a founding member and help shape HuffPost's next chapter