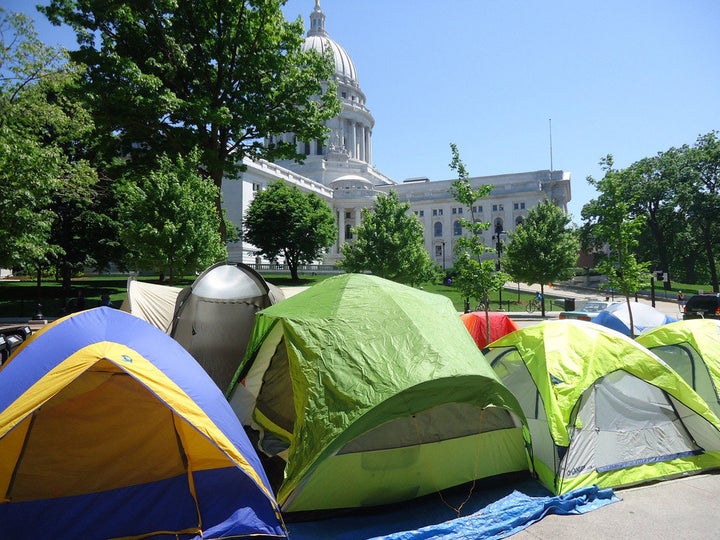 WASHINGTON -- In February and March, thousands of protesters flooded the Wisconsin Capitol, sleeping in the building overnight and filling the dome with their chants to bring attention to Gov. Scott Walker's (R) attempt to strip public employees of their collective bargaining rights. Now, some of those same individuals are taking the fight to the grounds around the Capitol, erecting a tent city to pay witness to the legislature's budget negotiations.
"It's pretty tough for these politicians to ignore us when we're right there," said Peter Rickman, a University of Wisconsin-Madison law student and Teaching Assistants' Association member who is helping to organize the event. "It is a galvanizing, symbolic action of working folks standing up and saying enough is enough."
Rickman told The Huffington Post there were around 100 tents set up Saturday night around the Capitol in downtown Madison. The tent city is being called "Walkerville," reminiscent of the "Hooverville" shanty towns set up by homeless Americans during the Great Depression.
Organizers have a permit to stay there until June 20. The intent, however, is to remain as long as as the budget negotiations are going on inside the Capitol.
Sunday is about K-12 education; Monday will focus on public services; and Tuesday will be about health care. So on Sunday night, for example, there will be a public forum about the cuts in the budget to education, and on Monday, organizers are expecting a heavy turnout from sanitation workers, firefighters and other public employees.
Mary Bell, an educator from Wisconsin Rapids and the president of the Wisconsin Education Association Council, stayed in Walkerville on Saturday night. When reached by phone by The Huffington Post on Sunday, she was at a "teach-in" booth letting people know about the education cuts in the budget.
"We had a teach-in with a number of facts, both about the numbers and the impact on local schools around the state -- what it means for communities, kids and an investment system that really returns a great deal for every dollar that's spent to the economy of the state of Wisconsin," she said.
"As we've been doing our teaching activities, we've had people who are not connected to teaching or public education specifically, who are just asking questions: 'Why are you people here and what is it that's happening?' When we talk to them about what this budget really means, they're leaning, and that's exactly the visibility we're hoping this budget will get."
The state's Joint Finance Committee just finished up its work on the budget, and the bill now heads to the full legislature. The budget balances Wisconsin's projected $3 billion shortfall with deep cuts to public schools -- as well as the University of Wisconsin -- but does not raise taxes. Local police and firefighters would also have to pay more for their health care and pensions.
Democrats are objecting to the fact that the cuts public services come on the heels of a tax cut for manufacturers the Joint Finance Committee in the GOP-controlled legislature approved Friday that will cost the state $128 million a year. Walker spokesman Cullen Werwie said the budget is laying the groundwork for a "prosperous state."
Stephanie Bloomingdale, the secretary-treasurer for the Wisconsin AFL-CIO, is camping out across the street from the Capitol with her 11-year-old son Nicholas.
"Walkerville is a place for families to come together and to stand up for what we believe is right, which is restoring justice, restoring our democracy and working together to achieve a fair economy for all of us," she said. While Bloomingdale was talking to The Huffington Post Sunday afternoon, Nicholas was using magic markers to create a poster for the children's poster contest.
People in the tent city have even been playing "Scottopoly," a Monopoly-like board game with the tagline: "A game of power and influence." Residents of the tent city have food, portable toilets and hand-washing stations available to them, and organizers are encouraging people to support the local businesses around the Capitol.
Rickman stressed that he doesn't expect as many people to turn out for the event as came to the protests during the winter because many of those supporters are now in other parts of the state working on recalling the Republican state senators who supported the controversial collective bargaining measure.
"One of the things we heard earlier today was there are a lot of people in these recall districts who are really excited by what's happening here," said Rickman. "Instead of coming down to tent city, they're saying, 'I can't come down there, because I've got to go work on Monday,' or 'I've got class on Monday, so I'm going to go out and canvass and hit up the phone bank, because this is a movement with many parts.' And I think that's what's so exciting is that this is turning into yet another phase of the fight-back against the Walker agenda to build support and take action."
Watch a local news report on Walkerville by WISC-TV:
Popular in the Community