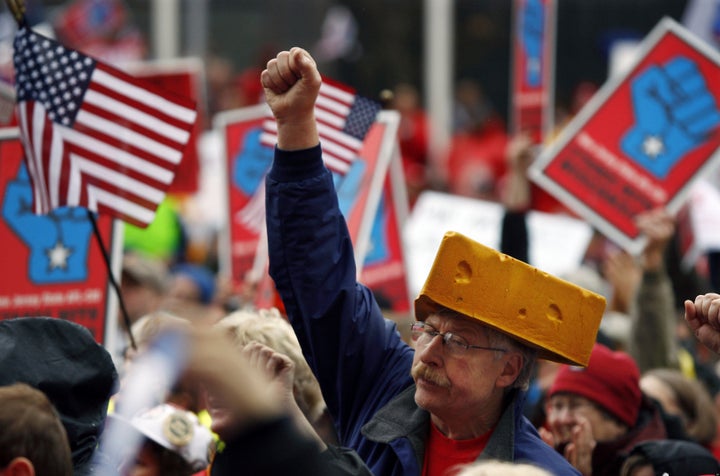 NEW YORK (Reuters) - Thousands of people rallied in cities across the United States on Saturday to express solidarity with Wisconsin public sector unions fighting a proposal to curb their power.
"We all support the people in Wisconsin and all over the country where labor is being threatened, and we know that the real agenda of the (Wisconsin) governor and many others is just to destroy unions," said New Yorker Judith Barbanel.
Barbanel, an English language teacher at the City University of New York, joined several thousand people at a "Save the American Dream" rally at City Hall to show solidarity with protesters in Wisconsin.
People waved signs reading "Cut bonuses, not teachers," "Unions make us strong," and "Wall St is destroying America," and wore stickers that read "We are all Wisconsin."
Anne O'Byrne, 44, a philosophy professor at Stony Brook University who brought her daughter Sophia, 2, to the New York rally, said she was disturbed by events in Wisconsin.
"If we don't have collective bargaining rights I don't know what's left for workers in America," she said. "It seems important to me to resist any attempt to take away those union rights that have in fact brought us so much over the years."
Wisconsin's state Assembly on Friday approved Republican Governor Scott Walker's proposal to strip public sector unions of most collective bargaining rights. The plan now needs state Senate approval, but Senate Democrats have fled Wisconsin to prevent a vote.
About 1,000 people turned out in Chicago at the Illinois state building to show support for the Wisconsin protesters, chanting "Save the American Dream." Up to 1,000 rallied in Columbus, Ohio, while a rally in Miami attracted only about 100 people.
Even in conservative Texas, several hundred people turned out for a rally at the State Capitol in Austin that coincided with a separate rally in support of abortion rights.
As Bill Oliver's band warmed up the crowd with folksy music, protester Doug Frank, 51, said he drove from his home in Crosby , three and a half hours away, to attend his first-ever rally.
"This is finally the one that pushed me over the edge," said Frank, an oil and gas laboratory technician. "What they're trying to do (in Wisconsin) is very heavy-handed; it's un-American."
In California, protesters held a rally in front of Los Angeles City Hall, and they organized another demonstration at the San Diego County Administration Building.
Organizers said more than 3,000 people attended the Los Angeles rally, but police declined to confirm that figure.
Denver saw another gathering in support of the Wisconsin workers with police estimating that crowd at more than 1,200 people.
In New York, John Cody, 26, of the Civilian Complaint Review Board, said unions were "under assault" in the United States and some protesters had drawn inspiration from the popular uprisings in Egypt, Libya and Tunisia.
"Egypt is inspiring Americans and labor movements," he said. "Unions need to work like the corporations in some ways in that the world's become a globalized economy so unions need to show acts of solidarity not only across the United States but across the world."
(Additional reporting by James Kelleher and David Bailey in Madison, Christine Stebbins in Chicago, Jim Leckrone in Columbus, Thomas Brown in Miami, Alex Dobuzinskis in Los Angeles and Corrie MacLaggan in Austin; editing by John Whitesides and Greg McCune)
Popular in the Community