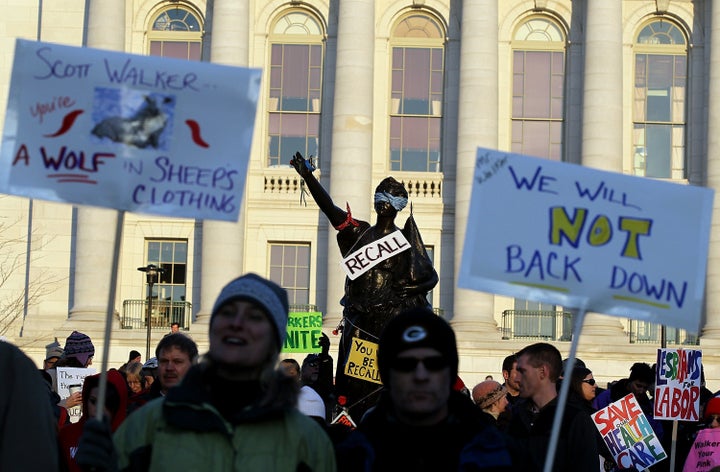 GREEN BAY, Wis, July 19 (Reuters) - A Democrat who opposed Republican-backed curbs on public-sector collective bargaining that became Wisconsin law earlier this year appeared to be heading for victory on Tuesday as he defended his seat in a special recall election.
With about half the votes counted, Dave Hansen, a Democratic state senator from Green Bay, had a commanding lead over Republican challenger David VanderLeest.
Unofficial results showed Hansen with 10,694 votes, or about 68.2 of those cast, while VanderLeest had 4,829, or about 30.8 percent.
The election was the first of nine summer recall elections triggered by the battle earlier this year over a Republican-backed measure that severely restricted the union rights of most public workers and made them pay more for their healthcare and pensions.
The debate over the measure, which became law in March, propelled Wisconsin to the front of a wider national political battle as Republicans who took control of many statehouses in 2010 midterm elections moved aggressively to shrink government and made reining in public unions a top priority.
It also prompted supporters and critics of the law to target lawmakers on both sides of the debate to gather enough signatures to force them to defend their seats in the broadest recall effort in U.S. history.
In all, nine state senators -- six Republicans who supported the controversial measure and three Democrats who opposed it -- will be forced to defend their seats this summer in the special elections, which could break the Republican hold on the state Senate.
Hansen drew the ire of Republicans because he was one of 14 Democratic lawmakers who left the state for nearly three weeks this winter in an ultimately unsuccessful effort to thwart Republicans from passing the anti-union measure. (Writing by James B. Kelleher; Editing by Cynthia Johnston)
Calling all HuffPost superfans!
Sign up for membership to become a founding member and help shape HuffPost's next chapter