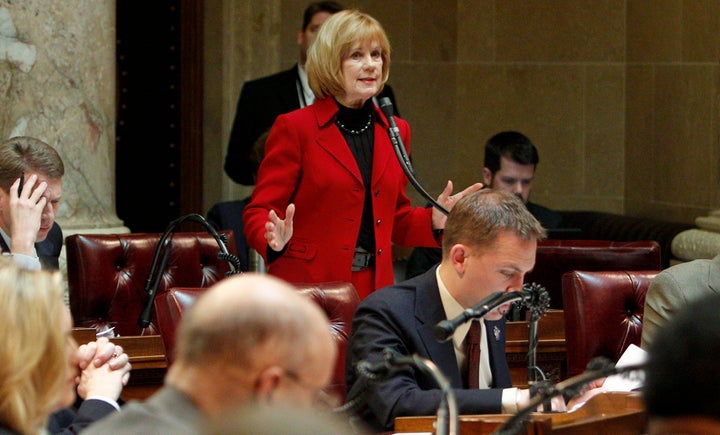 WASHINGTON -- Three progressive groups are set to launch a six-figure television ad buy in the days leading up to the eight remaining Wisconsin state Senate recall elections.
Democracy for America, the Progressive Change Campaign Committee and MoveOn.org have spent a combined $265,000 on ads that will run in three major markets before the Aug. 9 Republican recall elections and the Aug. 16 Democratic recall elections. Two of the groups, PCCC and DFA, have now spent a total of $500,000 on the final three weeks of the recalls.
The buy will include an ad against Senator Alberta Darling, a Republican who represents the 8th District. It will also help keep on air two previously released ads -- one targeting Darling for her position on Medicare and another targeting District 14 candidate Luther Olsen (R) that will run in Green Bay and Madison.
"We're going even heavier in the Darling race than we have before, and still staying strong in the Olsen race," said Neil Sroka, a spokesperson for PCCC. "We're buying heavily in the two big contests of the moment."
The newly released ad quotes Whitefish Bay resident Eric Christiansen, a middle-aged teacher, expressing his disappointment with Darling for "voting for budget cuts that hurt our community schools, all to give tax cuts to the rich and big corporations."
The ads are centered around Wisconsin's highly controversial budget legislation, which in addition to containing anti-collective bargaining provisions, also cut roughly $800 million in funding for public schools -- in the process, reducing the total amount of money those schools received from aid and local property taxes by 5.5 percent.
Of Wisconsin's 19 Republican state Senators, 18 backed that legislation. Darling -- who did not immediately return requests for comment on the ad buy -- is one of six of them now hoping to keep their seats in recall elections on Aug. 9. Two Democratic state Senators will face recall elections the following Tuesday, Aug. 16. A third, Sen. Dave Hansen, already won his recall election, against Republican candidate David VanderLeest, back in July.
Though many initially saw Darling as one of the more secure Republicans facing a recall election, recent polls have shown that her race against state Rep. Sandy Pasch (D) is quite close. The Mellman Group, a Democratic-leaning polling firm, released a poll that had Pasch leading by 2 percent, while a PPP poll showed Darling up by 5 percent.
Darling herself has said she thinks holding on to her seat won't be easy, predicting that the vote come down to turnout. "Is this tense for me? Yes. Do I think I'm going to win? I'm giving it my best shot," she told a panel at the Milwaukee Press Club on Aug. 2.
The most recent ad buy is the latest in a series of big expenditures by outside groups in the recall elections. The PCCC and DFA have spent a total of $1.5 million on ads and hundreds of thousands more on grassroots campaign efforts tied to the recalls, a figure that would be significant even by normal election standards.
Conservative groups are also heavily involved in the Wisconsin fight, with major organizations like Club for Growth, Citizen United and the Tea Party Express investing time and money in support of the Republican candidates. Americans for Prosperity, the Koch brothers-backed group that has spent hundreds of thousands of dollars on the recalls, recently faced criticism this week after sending absentee ballot applications with incorrect information on them to Wisconsin voters. The forms included instructions to return them by Aug. 11 -- two days after the Republican recalls are set to take place. They were sent to constituents in primarily Democratic areas, prompting some to accuse AFP of trying to suppress Democratic voter turnout.
CORRECTION: This article originally stated that all 19 GOP senators voted for Gov. Scott Walker's budget bill. In fact, 18 voted in favor and one voted against it.
Calling all HuffPost superfans!
Sign up for membership to become a founding member and help shape HuffPost's next chapter