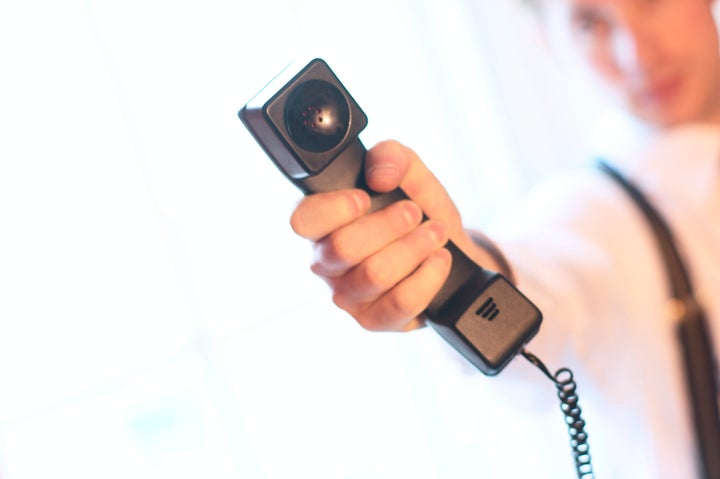 It's an old story. Embattled politician seeks new ways to connect with disaffected voters. He establishes some phone lines, so constituents can connect directly with his office. Voters use the phone number and are connected to people ready to sensitively respond to their needs, accommodate their desires, and leave them feeling satisfied.
Does this ever happen in politics? Ha, no: trick question. But it does happen in phone sex. Here's Eric W. Dolan at Raw Story with the details:
A recalled Republican Wisconsin state senator who lives outside his district with a mistress is directing constituents to adult chat lines that welcome callers with the greeting, "Hey there, sexy guy..."

Sen. Randy Hopper lists his office number in a quarterly letter as 1-888-736-8729, which leads to a recording telling callers to dial 1-800-475-TALK, "the country's favorite live talk."

"Randy Hopper won't listen to his constituents and stand up to Scott Walker so apparently he is sending his constituents someplace where the chat lines are still open," Democratic Party of Wisconsin Chair Mike Tate said Tuesday.
According to the Appleton Post Crescent, Hopper's quarterly mailer listed his office's number as 1-888-736-8729. The correct number is 1-888-736-8720. That one digit mistake made a big difference, as it turns out.
Records obtained by The Associated Press show that over the past 13 years, a little-known Philadelphia company called PrimeTel Communications has quietly gained control over nearly a quarter of all the 1-800 numbers in the U.S. and Canada, often by grabbing them the moment they are relinquished by previous users. As of March, it administered more 800 numbers than any other company, including Verizon and AT&T.

And many, if not most, of those 1.7 million numbers appear to be used for one thing: redirecting callers to a phone-sex service.

Dial 1-800-Chicago and instead of reaching a tourism hotline for the Windy City, you will hear a woman offering "one-on-one talk with a nasty girl" for $2.99 per minute. A similar thing happens if you punch in the initial digits of 1-800-Metallica, 1-800-Cadillac, 1-800-Minolta, 1-800-Cameras, 1-800-Worship or 1-800-Whirlpool.

All those numbers contain messages redirecting callers to erotic chat lines operated by National A-1 Advertising, a company that shares an office building with PrimeTel, has common ownership and lists many of the same people as executives or business contacts.
Maybe politicians should just get out of the 1-800 business altogether. (Or, if they prefer, just get way, way into the phone sex business.)