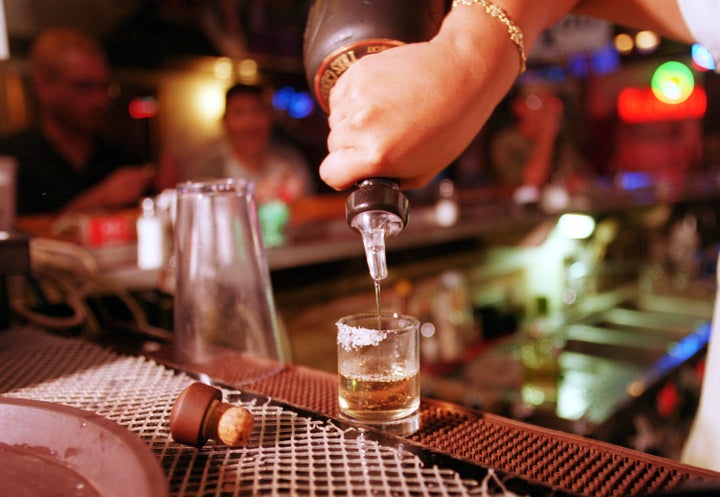 WASHINGTON -- In an effort to gather enough signatures to trigger recall elections of state senators in Wisconsin, some backers are turning to peculiar, unconventional and, it appears, even intoxicating means.
The Wisconsin Democratic Party is planning to file a complaint to the state Government Accountability Board alleging that a Republican signature-gatherer offered alcoholic beverages to a group of women to get them to sign a recall petition against a Democratic state senator.
Although that's not illegal in Wisconsin, it is strongly discouraged and, Democrats argue, evidence that Republicans don't really have enough grassroots support for their recall campaigns.
Republicans have until early next week to file recall petitions against eight Democratic state senators, more than half of the caucus that left the state in February to protest and delay the GOP's budget repair bill, which included a provision stripping public employees of their collective bargaining rights. So far, the state Republican Party has not filed any recall petitions, although they are reportedly planning to file two -- against state Sens. Dave Hansen and Jim Holperin -- on Thursday.
Meantime, Wisconsin Democrats have filed recall petitions against four Republican state senators and have until May 2 to get enough signatures for the four others, according to the state Government Accountability Board. The campaign will be a rarity for Wisconsin: there have been only four recall elections in the state's history.
According to a draft of the Democratic complaint to the GAB, obtained by The Huffington Post from a Democratic source, a woman who was at John's Main Event, a tavern in Burlington, Wis., with her friends on Feb. 27, "heard that someone was providing 'shots' to people if they signed a petition to recall State Senator Robert Wirch," a Democrat.
The woman, who signed the complaint, said a bartender showed her the recall petition and told her that if she signed it, she and her friends would get free shots.
The source also passed along an audio recording of the encounter, in which the woman says, "So you're going to get us -- one, two, three, four, five shots if we sign this?" A man responds, "That's right. ... I'll buy them."
There are many questions that remain surrounding the recording, including whether the bartender was joking and whether the woman actually supported recalling Wirch or was just egging on the signature-gatherer. But it does demonstrate that a party's reliance on a network of unsupervised signature-gatherers can end up causing headaches.
The indication that it's a petition to recall a Democratic senator comes when the woman expresses frustration and says it's "bullcrap" that "they went out of the state," referring to the Democratic state senators who fled to Illinois during the budget standoff. She later refers to the "Democrat."
At the end of the recording, another woman asks, "What are we signing again?" The first woman replies, "To recall them again, because it's bullshit that they left. And you get a shot out of it."
Reid Magney, a spokesman for the GAB -- which oversees the state's campaign finance, elections, ethics and lobbying laws -- said offering drinks in return for signatures doesn't actually appear to be illegal.
"Our attorneys have been unable to find anything in state law that would prohibit offering drinks or anything for signing a petition," Magney said, though he added that they "strongly encourage people not to do so because it taints the process."
Based on the above recording, Wisconsin Democratic Party spokesman Graeme Zielinski confirmed that the party may still file a complaint with the GAB challenging a possible Wirch recall petition on ethical grounds. Meantime, he said, the Democrats are working to make sure their own recall campaigns are ironclad.
"For our purposes, [on Tuesday] we filed against the fourth senator, Sheila Harsdorf," Zielinski said. "We filed about 23,000 signatures of about 15,000 required. In each case, we've been more than 140 percent of the total. In some cases, almost double of the total required. We scrubbed them pretty clean too, so they're going to survive any Republican challenge."
The Wisconsin Republican Party did not return a request for comment.
Both parties are already gearing up to challenge each other's recall petitions -- and fend off challenges to their own. Democrats have scheduled a Thursday morning conference call with reporters to discuss what they described in a press release as "the fraudulently pursued, deliberately hidden and dangerous Republican recall racket against three Democratic senators."
On the Republican side, lawyers for state Sen. Dan Kapanke (R) have filed a complaint challenging the recall petition targeting the legislator, arguing it should be thrown out because of missing paperwork. According to the Associated Press, "The organizers have five days to file a rebuttal to Kapanke's challenge. Kapanke then has another two days to respond. Election officials will then have 14 days to either approve or reject the petition."
Groups or individuals can challenge either entire petitions or particular signatures. They have 10 days after a petition has been submitted to file a challenge. The GAB then considers those challenges when reviewing the petitions to determine whether a recall election is called for, in which case the incumbent legislator will face off against other candidates.
UPDATE: 11:48 a.m. -- The Democratic rebuttal to the GOP challenge to the Kapanke petition can be found here.
UPDATE: 3:12 p.m. -- A Huffington Post reader -- a resident of Burlington and someone who frequents John's Main Event -- passed along a screenshot of the bartender's Facebook page, in which he talks about his signature-gathering that on Feb. 27 and makes fun of the protesters who showed up:
UPDATE: 4/22/11 -- MSNBC's Rachel Maddow covered the "shots for signatures" issue on her show on Thursday night:
Popular in the Community