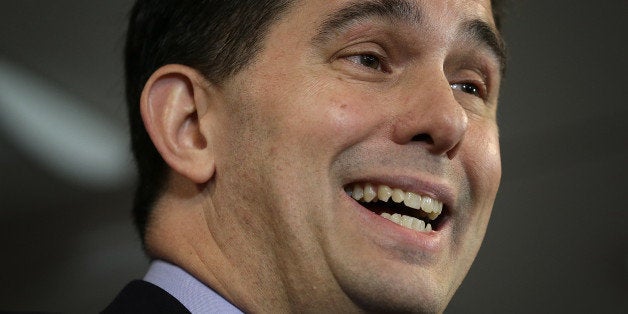 It's been more than two decades since Gov. Scott Walker (R) first pushed right-to-work legislation as a state lawmaker in Wisconsin. Now, all these years later, the famously anti-union governor may finally be getting his wish -- whether he likes it or not.
On Tuesday, the Wisconsin state Senate is slated to take up a right-to-work bill in what's known as an extraordinary legislative session. With less deliberation than normal, the GOP-controlled chamber could pass the bill this week. The measure would then move on to the state's assembly, also controlled by Republicans, which would presumably take it up in early March.
Barring a fortuitous turn of events for organized labor, the anti-union measure could reach the governor's desk next month.
So why wouldn't Walker, who apparently has his eye on the 2016 Republican presidential nomination, heartily embrace legislation that's bound to please his base and diminish an already weakened labor movement in the state?
Walker already crushed Wisconsin's public-sector unions in 2011 with Act 10, which stripped collective bargaining rights from most public employees. He then survived a bloody recall battle in its wake. Right-to-work could be just as divisive, with Madison potentially bursting into protests reminiscent of the Act 10 fight.
In short, Walker has no need to further burnish his anti-union credentials over such controversial legislation. Indeed, Walker had said in the past that he had little interest in right-to-work, and in recent weeks he said it would be a distraction for him and the state. But after Scott Fitzgerald, the GOP Senate leader, last week announced his intention to fast-track the legislation, a Walker spokesperson confirmed on Friday that the governor would sign the bill if it came his way.
The state's unions appear stunned and disgusted. Fitzgerald had previously said that if the legislation came up it would be after April, when the state would be wrestling over the budget.
"It's absolutely outrageous," said Stephanie Bloomingdale, secretary-treasurer of the Wisconsin State AFL-CIO. "They're pushing it through in a very, very short period of time, and it's completely undemocratic. They should act transparently. They should give people the opportunity to debate this bill and the opportunity to weigh in."
Under U.S. labor law, if a workplace unionizes, the union must represent every worker in the bargaining unit, whether it wants to or not. That representation requires money and resources. What right-to-work legislation does is forbid contracts between unions and employers that require all workers to pay the union for bargaining on their behalf.
Once right-to-work provides them with an out, many workers naturally choose to stop supporting the union, even if they believe in collective bargaining. After all, why pay hard-earned money for a service that the union has to provide you by law? As workers drop out, the union becomes less effectual, and the remaining workers have even less reason to remain. That's the death spiral that unions fear.
Twenty-four states are now right-to-work; Wisconsin would become the 25th. The potential is freighted with symbolism, as half the country and counting would have adopted such laws. In addition to weakening unions -- the laws are widely supported by business lobbies -- right-to-work by extension weakens the Democratic Party, since organized labor remains a pillar of its base.
Private-sector unionism continues to dwindle throughout the U.S., with less than 7 percent of workers in the sector now belonging to a union. As demonstrated in Michigan, right-to-work legislation -- which unions like to call "right to work for less" -- is hastening this demise.
Republicans in that state passed a right-to-work law in 2012. According to recent data from the Bureau of Labor Statistics, union density in Michigan dropped sharply last year, with the estimated number of union members falling by 48,000, even as the state added 44,000 workers to its economy.
There are many similarities between the situations in Michigan and Wisconsin. Both states historically have strong labor movements; Michigan is the cradle of the auto industry and United Auto Workers union, and Wisconsin still has above-average union density. Both states are also led by Republican governors who professed little interest in right-to-work legislation, only to later say they would sign it.
Paul Secunda, a labor law professor at Marquette University Law School in Milwaukee, said the situation in Wisconsin is so dire for organized labor that unions have only one choice: a general strike by the state's unionized workers. Though they garnered national attention, the 2011 protests didn't manage to stop Act 10 or Walker, he noted.
"I think they should shut it down," Secunda said. "Public-sector workers in solidarity with private-sector workers should walk out next week. I think if the union movement has any strength left it's in the power of withholding labor. If it's not willing to do that, there's very little power they have."
Public-sector union membership has already plummeted in Wisconsin due to Act 10, since public-sector unions can no longer effectively bargain for their members. The American Federation of State, County and Municipal Employees Leadership Council 40 had nearly 32,000 members on its rolls in 2011; last year it reported a little over 13,000.

The state's AFL-CIO has protests slated for Tuesday and Wednesday at the Capitol in Madison. Legislatively, the union coalition's best chance at stopping the bill is to pick off two or three Republican votes in the Senate -- a long shot -- before it moves to the assembly, where Republicans enjoy an even wider margin.
"It's important to remember those peaceful protests four years ago," Bloomingdale said. "Those were union people but they were also non-union people -- grandmothers and kids and aunts and uncles -- people that wanted to speak out."
Patrick Guarasci, a Democratic strategist in Wisconsin, said that Walker's history with right-to-work has parallels to the Giuliani situation. In a gubernatorial debate with Tom Barrett (D) in 2012, Walker dodged the question when asked whether he would ever sign right-to-work legislation. He said repeatedly that it would never reach his desk. Now it very well might.
Despite his iron fist with public-sector unions, and despite his White House ambitions, there are certain decisions that Walker doesn't want to make, Guarasci argued.
"Either he was being coy or slippery, but you realize he was not being straightforward with what he would do," Guarasci said. "You can make a strong argument that Walker doesn't want to make the call."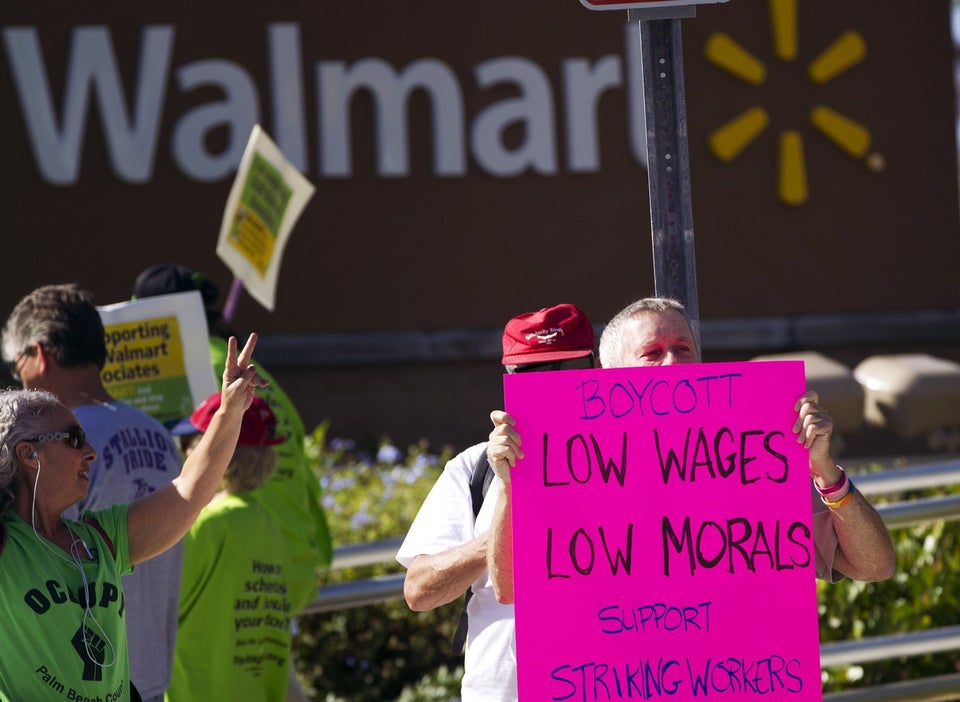 What Minimum Wage Haters Won't Say