OAK CREEK, Wis., Aug 5 (Reuters) - A gunman killed six people and critically wounded three at a Sikh temple during Sunday services before police shot him dead in an attack that authorities are treating as an act of domestic terrorism.
Witnesses said the gunman opened fire when he entered the kitchen at the Sikh Temple of Wisconsin in suburban Milwaukee at about 10:30 a.m. CDT (1530 GMT) as women prepared a Sunday meal, sending worshippers fleeing to escape the barrage.
The suspect was a bald, white man, approximately 40 years old, said Thomas Ahern, a spokesman for the U.S. Bureau of Alcohol, Tobacco, Firearms and Explosives. Authorities did not release his identity.
Four people were shot dead inside the sprawling temple. Three, including the gunman, were killed outside.

(CLICK HERE OR SCROLL DOWN FOR LATEST UPDATES)
The gunman ambushed and shot a police officer who was responding to a 911 call and helping a shooting victim, Oak Creek Police Chief John Edwards said. A second officer shot and killed the gunman.
Edwards said he had no identification for the shooter nor information on what kind of weapon or weapons he had. The victims' identities and descriptions were not made public.
The wounded officer, a 20-year veteran, was taken to a hospital and is expected to survive. Hospital officials said two other victims, also in critical condition, were being treated.
Law enforcement personnel surrounded and searched a gray, two-storey house in the Cudahy neighborhood presumed to be the residence of the gunman on Sunday evening. Generators and floodlights were set up along the middle-class block.
A police source confirmed that a search warrant had been issued for the house, and a bomb squad was on the scene.
Temple member and U.S. Army Reserve combat medic Jagpal Singh, 29, said people who were at the service when the shooting broke out described to him a scene of chaos and confusion.
Worshippers scrambled to escape the gunfire, but some tragically ran in the wrong direction. Others survived the rampage by locking themselves in bathrooms, he said.
Singh said the eyewitnesses described the shooter as a white man who was either shave-headed or bald.
Turban-wearing Sikhs are often mistaken for Muslims, and the Federal Bureau of Investigation is overseeing the probe into shootings, Edwards said.
"We're treating this as a domestic terrorist incident," he told reporters. Officials had no details about a possible motive.
Milwaukee's Froedtert Hospital said three male victims included one who had been shot in the abdomen, one in the extremities and face, and a third who was hit in the neck.
The Oak Creek shooting was the latest in a series of suburban U.S. gun rampages. Organizations fighting gun violence rate Wisconsin's gun safety laws from low to moderate. There are no limits on the number of firearms that can be purchased at one time, nor on the possession or transfer of assault weapons, according to the Law Center to Prevent Gun Violence.
Sunday's attack came just over two weeks after a gunman opened fire at a theater in Aurora, Colorado, killing 12 people and wounding 58. In January 2011, then-congresswomen Gabrielle Giffords was the target of an assassination attempt in which six people were killed and 13 were wounded in Tucson, Arizona.
"The gunman is worse than the one at the theater a couple of weeks ago because he targeted an entire community," said Jagatjit Sidhu, who was among dozens of temple members and onlookers gathered near the sealed off temple.
Some witnesses at the scene had said there was more than one gunman, but Edwards said reports of multiple gunmen were common in incidents that involved only one shooter.
"We believe there was one but we can't be sure," he said. Officers finished sweeping the temple only after hours of searching, and Edwards said the investigation was just starting.
President Barack Obama said he was "deeply saddened" and pledged his administration's commitment to fully investigate the shooting.
Obama was briefed by counterterrorism adviser John Brennan and FBI director Bob Mueller and told the situation at the temple was "under control."
"The president said that he wanted to make sure that as we denounce this senseless act of violence we also underscore how much our country has been enriched by our Sikh community," the White House said in a statement.

The Indian embassy in Washington said it was in touch with the National Security Council about the shooting and an Indian diplomat had been sent to the Sikh temple in Wisconsin.
The Sikh faith is the fifth-largest in the world, with more than 30 million followers. It includes belief in one God and that the goal of life is to lead an exemplary existence.
The temple in Oak Creek, south of Milwaukee, was founded in October 1997 and has a congregation of 350 to 400 people. There are an estimated 500,000 or more Sikhs in the United States.
Since the attacks of Sept. 11, 2001 by Islamist militants, Sikhs have sometimes been confused publicly with Muslims because of their turban headdress and beards.
Members of the Milwaukee Sikh community complained to police and a state representative last year about an upturn in robberies and vandalism at Sikh-owned gas stations and stores.
In September 2001, a Sikh gas station owner in Mesa, Arizona, was shot dead by a man who was said to be seeking revenge on Muslims for the hijacked plane attacks on the United States.
Phoenix police said they were in contact with local Sikh leaders and had increased patrol presence around the three temples in the city until further notice.
New York police said they were increasing security at Sikh temples as a precaution. There are no known threats against temples in the city, they said in a statement.
Sapreet Kaur, executive director of the Sikh Coalition civil rights organization, said Sikhs had been the target of several hate-crime shootings in the United States in recent years.
"The natural impulse of our community is to unfortunately assume the same in this case," he said in a statement.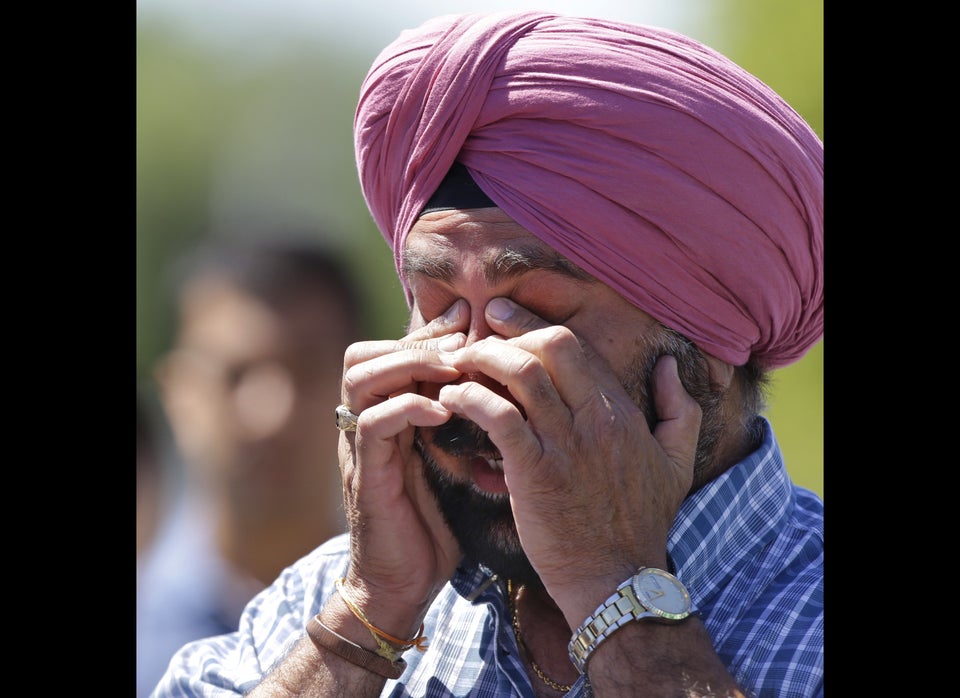 Wisconsin Shooting
Support HuffPost
The Stakes Have Never Been Higher
Related
Popular in the Community