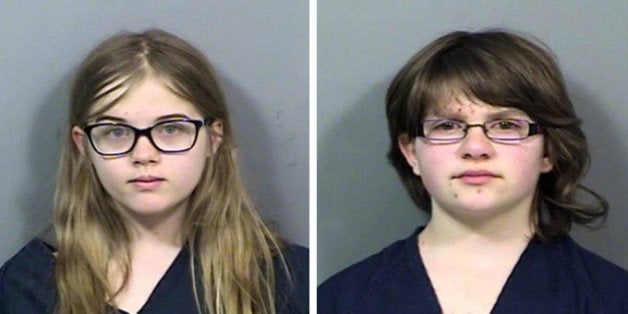 MILWAUKEE, June 11 (Reuters) - Two 12-year-old Wisconsin girls accused of luring a friend into the woods and stabbing her 19 times to please a fictional Internet character are expected to appear in court on Wednesday for a scheduling hearing, according to prosecutors.
Anissa Weier and Morgan Geyser are due to appear in front of a court commissioner in Waukesha County Circuit Court where they have been charged as adults with first-degree attempted homicide, Deputy District Attorney Sue Opper said.
On May 31, after a sleepover with their classmate and friend, Weier and Geyser lured her into the woods and stabbed her 19 times with a kitchen knife, according to a criminal complaint.
The girls told investigators they stabbed her to impress Slenderman, a tall, creepy fictional bogeyman they insisted was real, the complaint said. Weier told a detective she thought she would be able to go live with Slenderman if she killed someone, the complaint added.
The girl who was stabbed was released from the hospital six days after the attack, said a statement posted by her family on a fundraising website. More than $43,000 has been raised to help pay for her medical treatment.
Wisconsin law requires attempted homicide cases that involve suspects at least 10 years old to begin in adult court before attorneys can ask a judge to move the case to juvenile court, away from the media and public.
Geyser's attorney, Anthony Cotton, said in a recent interview that moving the case to juvenile court would be "the responsible route to take."
Opper said the court must determine if there is probable cause to proceed with the case before deciding whether it should be heard in juvenile court.
The girls face up to 60 years in prison if convicted as adults of attempted homicide. They could be incarcerated to age 25 if they are convicted as juveniles under Wisconsin law. (Reporting by Brendan O'Brien; Editing by Peter Cooney)
REAL LIFE. REAL NEWS. REAL VOICES.
Help us tell more of the stories that matter from voices that too often remain unheard.