Some students work at burger joints. Others are library assistants. But at the University of Wisconsin, food-inclined scholars have a better option.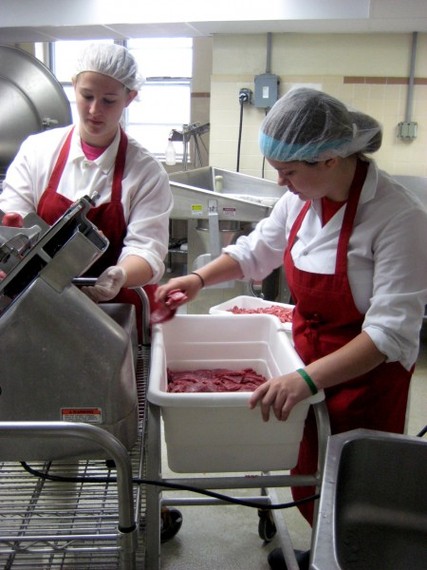 To help pay for the semester's books or a weekend night out, many American college students hold down jobs at the campus library or gym. But when Alex Richter goes to work at the University of Wisconsin-Madison, he dons rubber boots, a white coat and a hairnet. Richter is a campus butcher.
Richter and 15 other undergraduates clock hours at the Meat Lab, a special program within the university's Department of Animal Sciences. Both academic and culinary, their work is unlike any other student job on campus.
The UW-Madison Meat Lab, which includes Bucky's Butchery, its commercial butcher shop, is a farm-to-table operation in its truest sense. ("Bucky" is the name of the university's mascot, a plucky badger.) Beef, pork and lamb come to campus from the university's farms 20 miles north of the city to be "harvested" (slaughtered), cut, processed, packaged and sold - almost completely by undergraduates - in the Meat Lab's facility.
As with any butcher shop, supply at Bucky's Butchery is tied to demand, but not from the meat-eating public. The Meat Lab exists first and foremost to serve the research needs of university professors in departments across campus. Thus, the shop's stock dwindles during the summer months and surges during the school year, following the academic calendar. Researchers in the Animal Sciences program study the animals as livestock, destined for Americans' tables, and seek to raise them in a healthy environment to produce best-quality meat. Professors at UW's School of Medicine and Public Health, on the other hand, enroll some of the university's animals in studies designed to promote human well being. For example, UW researchers recently sought clues to human heart health in the cardiac system of pigs.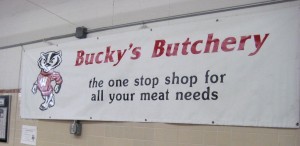 Meat Lab manager Robby Weyker, a 2008 UW graduate, explains that one of the lab's top goals is to promote responsible and thoughtful eating habits, teaching customers where their meat came from and how it was raised. Products sold in Bucky's Butchery - steaks, chops, sausages and other items - are designed to enhance the value the animals have already provided to the university and the larger community. Relying on little more than word-of-mouth advertisement, the Butchery sells $2,000 worth of meat every week, when it opens its doors to the public for four hours each Friday.
As a land-grant university, UW-Madison is not unique in having a meat science program. Universities in Wyoming, Texas, Iowa and Kansas, among other states, also raise animals for research related to agriculture and food sciences. What sets UW-Madison's Meat Lab apart, however, is the school's location in the state of Wisconsin - historically, a prominent destination for German immigrants, who brought to the Midwest their expertise in curing meats.
Weyker sees a clear connection between the state's German history and resulting food heritage and the products his employees create. Braunschweiger, corned beef, summer sausage and bratwurst feature prominently on the menu board at Bucky's Butchery. The butchery's most popular product by far, however, is bacon. On a Wednesday in late May, Weyker predicted, "We're going to be out of bacon this week and my customers are going to be upset."
Yet, next to the menu's bratwurst and bacon appear items that speak to Madison's present more than its past: lamb and pork chorizos, oxtail, and beef heart and tongue. Weyker has discovered an unexpected subset of shoppers who flock to Bucky's Butchery: graduate students and faculty members from South America, Asia and Europe. They request cuts of meat and offal that would be unfamiliar, if not unwanted, in typical American grocery stores.
In addition to the shop's international clientele, Weyker notes a type of do-it-yourself shopper who feeds Madison's reputation as a hub for food lovers. City residents cram vegetable gardens into their yards, no matter how small, during the state's short growing season. They are no less enthusiastic about their meat, snapping up raw pork belly from Bucky's shelves in order to cure their own bacon.
In an era when Americans have shown renewed interest in farmers markets and the people and places that feed them, UW's Meat Lab and Butchery point to a renewed role for university agricultural programs in connecting the public with their food.
Reflecting on the current state of the American meat industry, Weyker perceives a revival of small producers who employ what he calls the "Old World ways" of raising and processing meat. At the same time, he sees cutting-edge research and high-tech equipment driving meat production that is more efficient and attractive to consumers.
Weyker is proud that the UW Meat Lab has one foot firmly in each camp. During a given shift, his student employees may make pastrami with traditional methods and ingredients and then sample an experimental, vegetable-based casing for sausages.
Working in the Meat Lab has done more for Alex Richter than help pay his bills; it has completely changed his shopping and eating habits. "I appreciate where my food comes from more than I ever have," he says. As a political science and economics major, Richter says he would never have experienced the university's agricultural history and culture without his job at the Meat Lab. Soon, Richter will hang up his white coat for good. After commencement, he has a job as a financial advisor in Chicago. But a financial advisor who knows his cuts of meat.
Related