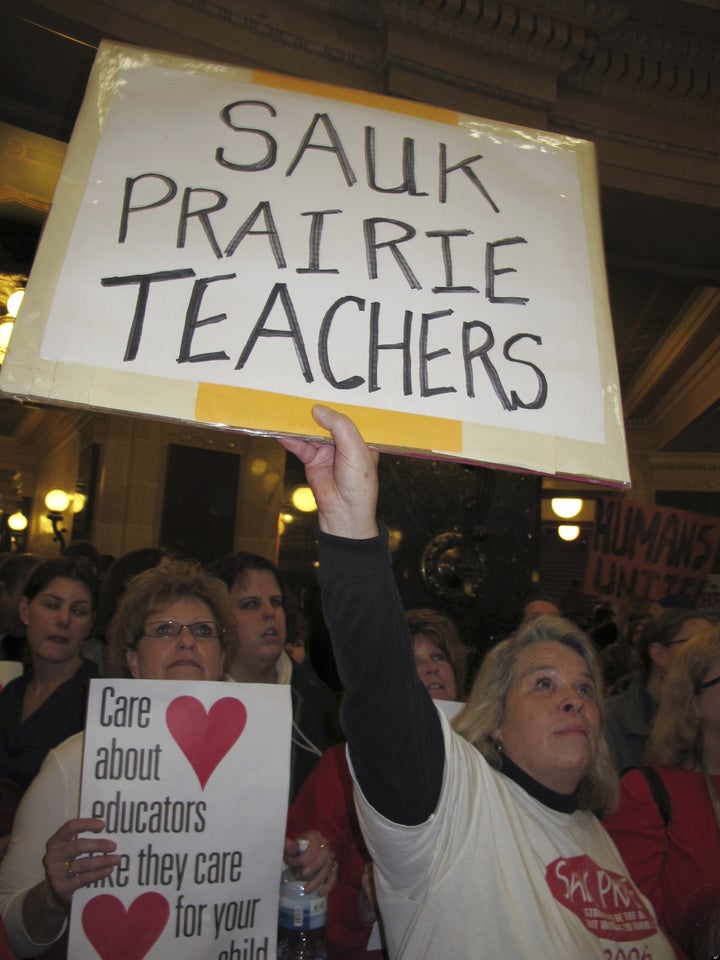 School officials are offering teachers a blunt reminder that they're leading by example: Students are punished for skipping, and the same goes for educators.
Now that Wisconsin schools have reopened after teachers missed work to protest a bill that would limit their bargaining rights, schools are taking disciplinary action.
Still, standing before a school board deciding their fate, teachers in St. Croix Falls, Wisc. make it clear they don't regret protesting, local CBS station WCCO reported Tuesday.
"We come before you guilty as charged," said eighth-grade language arts teacher Chris Wondra, who spoke on behalf of all the teachers Tuesday night.
The board was deciding on proper sanctions for teachers who missed work to protest in Madison.
The consequences for Madison teachers, however, were made clear. After hearing that numerous teachers planned to use a sick day, District Superintendent, Dan Nerad, decided teachers must provide a doctor's note to call in or be docked pay, the Wisconsin State Journal reports.
Milwaukee Public Schools Superintendent Gregory Thornton sent a letter to teachers last week saying they would be disciplined if they didn't come to work, according to the Chippewa Herald.
"This is a posture we truly hate to take, but it is a necessary one," the letter said. "Our children, many of whom struggle daily with poverty and hunger, truly depend on us."

The Milwaukee school system, the largest in the state, will not issue any sort of blanket punishment but will go case-by-case teachers who missed school to protest ,reports Milwaukee's NBC station TMJ4.
A number of other small school districts throughout Wisconsin also will discipline teachers who protested, including 400 educators in Racine, according to the Milwaukee Journal Sentinel.
The public is weighing in on the sanctions as well.
In Ft. Atkinson, Wisc., numerous citizens and parents contacted the district Superintendent inquiring about discipline and voicing concerns that teachers were being paid in their absence, the Daily Union reports. Teachers in this district won't be paid for taking a sick day to protest.
But at the Tuesday school board meeting in St. Croix Falls, Wisc., the public showed up in droves to offer a different message: Don't punish the teachers for protesting, according to WCCO.
And it's not just teachers who might be punished. The Wisconsin State Department of Regulation and Licensing is reviewing complaints of a team of licensed doctors who wrote fake sick notes at the capitol for protesters, the Wisconsin State Journal reports.
"We think it's worth the risk," she said. "Teachers have no choice
Popular in the Community