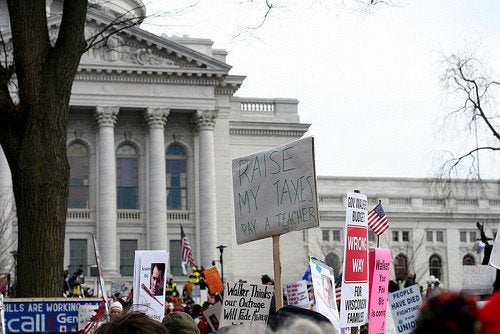 A recent spate of Wisconsin public information requests forced school districts to determine whether citizens deserve to know if teachers who took sick days on Feb. 16 were really suffering from the flu, or instead were protesting Gov. Scott Walker's (R) policies.
The Wisconsin State Journal reported online Tuesday that conservative groups filed public records requests to uncover the names of the teachers who played hooky to protest legislation that drastically altered the laws governing their profession. The sick-out led to school closures, as teachers rallied en masse against Walker's proposal to end collective bargaining for civil employees, including teachers.
The Wisconsin law and subsequent protests contributed to igniting a national debate about the role of public employees -- and particularly work protections for teachers. While job security for teachers was traditionally pegged to senority, new laws are taking student test scores into consideration and limiting teachers' right to collectively bargain their salaries.
In Wisconsin, most districts complied with the information request, but not Madison, which cited concern for protecting both teacher morale and safety. And in response to arguments from local divisions of the state's largest teachers union, a judge blocked the release of names in the Holmen and La Crosse districts.
"The school districts should apply a balancing test appropriately," said Christopher Ahmuty, the executive director of the American Civil Liberties Union's Wisconsin chapter. "You don't release things willy-nilly, but there is a public interest -- even if it's from a Tea Party person -- in open government."
But Larry Gamble, a 48-year-old retired airline pilot and current Tea Party member of Franklin, Wis. who filed the public information requests, says he's not out to get anyone, and that it was never about the names, anyway.
Back in February, Gamble was disturbed by the number of teachers who skipped work on Feb. 16 to protest at the state Capitol. He told The Huffington Post he wondered whether Wisconsin's schools had enough substitute teachers to deal with such absenteeism.
So a few months ago, he filed about 50 public information requests, asking for the names of teachers who had ditched classes the day of the Madison protests. "I was looking to see at what point action by the teachers was causing the school district to break down," he said. He asked for a list of names of teachers absent that day who hadn't planned to take the day off. Without specific names, he said, any number of teachers the districts gave him would have been meaningless.
In late February, the responses started rolling in, often with more information than Gamble anticipated. A few districts claimed HIPAA privacy rules protected their attendance records, but Gamble said a lawyer told him HIPAA didn't extend that far.
Teacher's union spokeswoman Christine Brey told The Huffington Post the disclosure requests distract attention from the $800 million in state education cuts.
Gamble shot back, saying he has no plans to release the names for publication. They rest in his files while he moves on to newer projects.
"It's not me saying, let's find another way of messing with people," Gamble said. "Just the fact that I'm one of these rabble rousing conservative Tea Party guys, they assume the worst, that I had these nefarious reasons for doing this." He added, "I didn't think requesting something that's on the public record would cause so much turbulence on a big scale within the overarching teachers union in the state of Wisconsin."
Brey said the union, the Wisconsin Education Association Council, also opposed the requests because "there's no way to tell who was absent for which reason, whether they were at the capital or home sick."
But Gamble said his requests did help districts figure out who did what on February 16.
"The unintended consequence is that a lot of these districts that closed schools had to go back and look at the leave status that their employees were in and make them take appropriate leave for not being there," he said. "They couldn't claim sick leave if they took off and went to a protest. [The districts] required doctors' notes."
Madison teachers had already been told that if they could not provide a doctor's note, their pay would be docked for missing work Feb. 16, and the state is investigating doctors who allegedly wrote fake sick notes.
Related
Popular in the Community