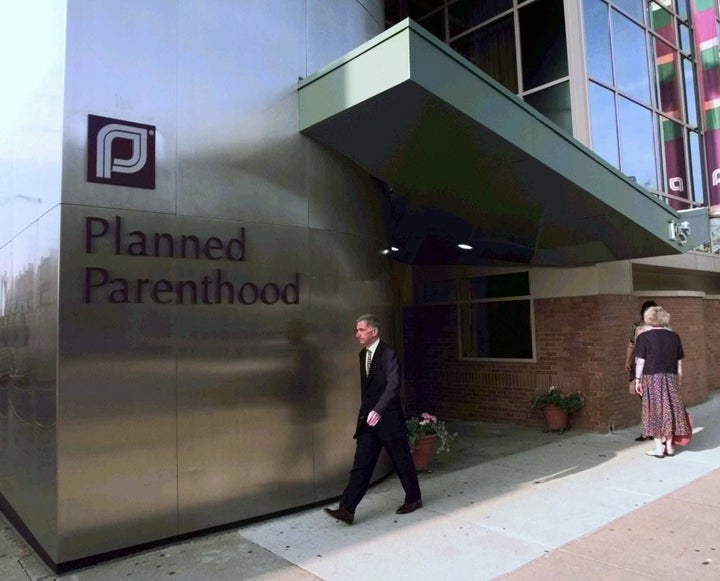 Lawmakers in Wisconsin and Tennessee advanced legislation this week to pull state funding from Planned Parenthood because some of its clinics offer abortions.
Wisconsin's Joint Finance Committee voted Wednesday to block state family planning grants from any group that separately provides abortions or abortion referrals, even though those funds cannot legally be used to pay for abortions. The restriction would cut nearly a million dollars a year from nine Planned Parenthood clinics across Wisconsin, which serve a total of 12,000 rural and low-income men and women.
The committee also voted to drop men from BadgerCare Plus, Wisconsin's state family planning program that is covered by Medicaid, and to lower the income eligibility threshold for the program.
"What they're trying to do makes our family planning program so dramatically different from what it was that the federal government could say, "This isn't what we agreed on,' and the program ends," said a spokesperson for Planned Parenthood of Wisconsin. BadgerCare currently serves 60,000 patients in Wisconsin, many of whom have very limited access to low-cost preventative care and family planning services.
Sen. Glenn Grothman (R-West Bend) said he would make further cuts to Planned Parenthood if he could, because he believes the organization promotes abortion, despite statistics that say abortions account for less than 3 percent of its services.
"There's a very ugly side to this organization, and I regret that they're going to take such a tiny cut in this budget," Grothman said.
The Tennessee Senate passed a bill Thursday night, meanwhile, that would pull all Title X family planning funds from "third party providers or private organizations or entities," which effectively singles out Planned Parenthood. Title X grants support Planned Parenthood's family planning services for low-income patients, including birth control and STD screenings. No Title X grants pay for abortions.
Planned Parenthood estimates that the defunding in Tennessee would impact three clinics and a total of 9,000 patients. The organization is busy working on a contingency plan that would keep its doors open.
"One thing that's sure is none of our clinics will close. It's gonna be difficult, but we're committed to providing service to the women in need," said Jeff Teague, president and CEO of Planned Parenthood of Middle and East Tennessee.
Teague said the defunding will likely force Planned Parenthood's low-income patients to start absorbing more medical costs.
"We're gonna have to ask them to help pay for some of their care," he told HuffPost. "It's a particular challenge now during the bad economy, and Tennessee is a rural and poor state, so it's gonna put an additional burden on the population least likely to afford it. In a lot of cases, that means they are going to lose access to health care."
A 2009 report by the Guttmacher Institute, a reproductive health research and advocacy group, found that a majority of low-income women consider a family planning center like Planned Parenthood their primary health care provider. Seventy-three percent of Planned Parenthood clinics are located in rural or medically under-served areas, according to the organization's own data.
Indiana and Kansas both voted to cut state funds from Planned Parenthood earlier this month, and similar legislation is being considered in Texas and Oklahoma. Conservative lawmakers say they are concerned about taxpayer money being used to fund abortions, although the Hyde amendment has banned taxpayer-funded abortions for 30 years.
"Lawmakers have become so obsessed with abortion that they can't overlook that this is bad public health policy and bad policy overall," Teague said. "Ultimately, the lack of preventative care is just going to end up driving up medical costs for the state."

Popular in the Community