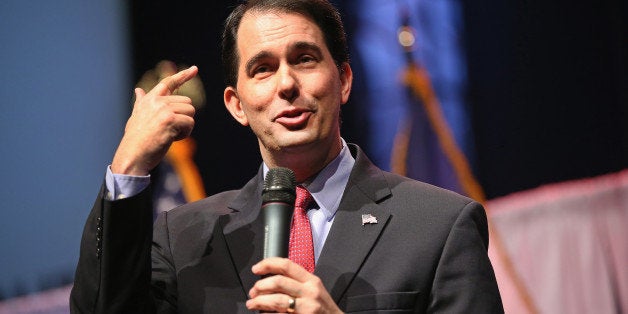 Wisconsin Gov. Scott Walker (R) hasn't even gotten his proposed budget cuts passed into law yet, but that's not stopping the state's prestigious public university system from moving to lay off staff, prompting fears of a "massive brain drain."
Within the next few weeks, the Wisconsin state legislature will begin considering the Joint Finance Committee's recommended budget, which may or may not include $300 million in cuts to the University of Wisconsin system that Walker proposed in January.
Public university systems are a common target of governors looking to slash state budgets this year. Louisiana Gov. Bobby Jindal (R) has proposed similar cuts to that state's university system, as has Gov. Pat McCrory (R) in North Carolina. But experts say the potential slashing in Wisconsin is among the most significant.
"I have not seen to the extent of Wisconsin the higher education system actually pushing through some of those changes before the cuts happen," said Michael Mitchell, a policy analyst at the Center on Budget Policy and Priorities. "But then the magnitude of the cuts in Wisconsin are pretty sizable."
"I don't think [governors and legislators] have an appreciation for or respect for just how disruptive these draconian budget cut recommendations are, even if they aren't fully realized," said Daniel Hurley, associate vice president for government relations and state policy at the American Association of State Colleges and Universities. "It just puts the institutions and the system overall in a tremendously difficult bind."
What's happening in Wisconsin so far:
Positions lost to layoffs and buyouts:
Up to 400 jobs at the University of Wisconsin-Madison
Up to 300 jobs at the University of Wisconsin-Milwaukee
According to Hurley, these preparations are "good fiscal stewardship. They can't simply wait and see what happens, they have to take, in this case, extraordinary steps in case there is not a resolution."
Aaron Crandall, president of United Faculty and Staff, American Federation of Teachers local 223, said morale is down among faculty and staff, "especially since most employees now for sure can anticipate no pay increase anytime soon, and that jobs may go unfilled, which means more work for those employees in units that have vacant positions."
The University of Wisconsin system has experienced considerable cuts since the 2008 recession, as have most public universities across the nation. Many other states, however, have begun putting money back into higher education. Only a few states are still cutting, and Wisconsin's cuts have been among the biggest.
"For that smaller group of states where we're seeing additional cuts, the question is why are those cuts happening," Mitchell said. "That's in part just a consequence of certain states experiencing smaller-than-average growth in revenue or slower economic growth. Some of these states are also states that have enacted really big tax cuts in the last year."
When asked to comment on these cuts, Walker's press secretary Laurel Patrick said "the budget gives the UW System the tools to save money and to become more efficient, more effective and more accountable to the students, to their families and to the state." Citing continued undergraduate in-state tuition freezes, she continued, "Gov. Walker is committed to ensuring Wisconsin students and working families are able to afford a great college education."
Mitchell notes a less-obvious consequence for students and potential students: "We've seen some pretty interesting studies that actually say the conversation around rising tuition actually pushes low-income families away from applying to more selective universities because they perceive the cost of higher education as going up. There's the danger that a lot of talented, low-income students could be dissuaded from either applying or pursuing higher education."
The final answer won't come until sometime in June, however, when the legislature votes on a budget plan.
Calling all HuffPost superfans!
Sign up for membership to become a founding member and help shape HuffPost's next chapter