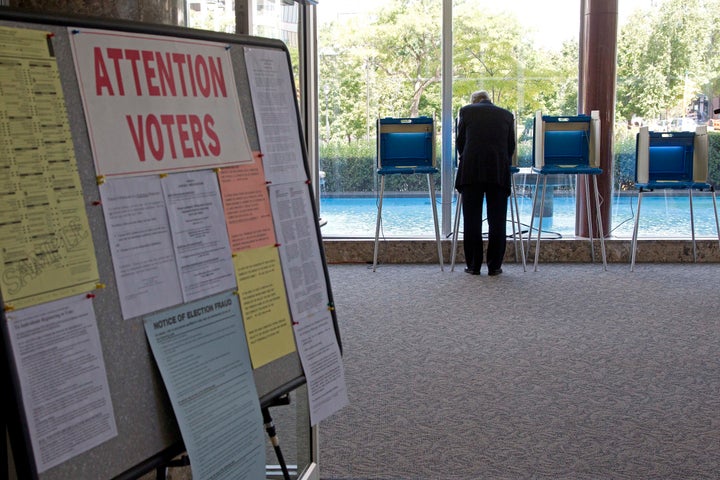 WASHINGTON -- Civil rights groups filed a third lawsuit against Wisconsin's controversial voter ID law on Tuesday, launching the first federal challenge to new voter ID requirements enacted in multiple states this year.
The National Law Center on Homelessness & Poverty, the American Civil Liberties Union, and the ACLU of Wisconsin filed their lawsuit in the U.S. District Court in Milwaukee against a new state statute requiring citizens to present photo identification to vote.
"This lawsuit is the opening act in what will be a long struggle to undo the damage done to the right to vote by strict photo ID laws and other voter suppression measures," said Jon Sherman, a lawyer with the ACLU Voting Rights Project, in a statement.
The lawsuit argues that the Wisconsin law violates the 14th and 24th amendments to the Constitution and effectively serves as a poll tax, because people have to pay to obtain a photo ID. The groups bringing the suit point to the $20 cost of obtaining a certified birth certificate in Wisconsin as an undue burden.
This is also the first suit against the voter ID requirements filed by homeless advocates, who contend the law disproportionately places a burden on homeless persons.
"It's crucial their right to vote is protected, since this is one of the few ways they can impact the political process and make their voices heard," said Heather Johnson, a lawyer for the National Law Center on Homelessness & Poverty working on the case.
According to Johnson, the Wisconsin law allows people to prove their residency with utility bills, pay stubs and mortgage documents, but specifically disallows Internet service bills, rental leases and homeless shelter verification as proof of residency. She said many more forms were accepted as proof of Wisconsin residency before the voter ID law passed.
The ACLU has been actively opposing the slew of new voter ID legislation enacted in recent years. The group submitted comment letters to the U.S. Department of Justice regarding laws in South Carolina and Texas and intervened in court cases in North Carolina, Alabama, Arizona and Georgia. Thirteen states currently have a photo ID requirement to vote; another 16 have a non-photo ID requirement.
The first election covered by Wisconsin's law will be the state's primary contest on Feb. 21, 2012. The latest suit was filed on behalf of 17 eligible voters.
One is Carl Ellis, a 52-year-old Army veteran living in a shelter who cannot use his veteran ID card to prove residency under the new law. Another is Ruthelle Frank, 84, who was born at home in 1927 and does not have a birth certificate.
"I have exercised my right to vote in every election since 1948," Frank said in a release. "I should not suddenly be barred from voting just because I don't believe in paying for identification in order to vote. That's like a poll tax and sends this country back decades ago when it comes to civil rights."
The lawsuit comes on the same day that U.S. Attorney General Eric Holder is giving a speech in Texas on voting requirements, expressing concern about the effort to "exclude people from being involved." Holder is speaking at the Lyndon Johnson Presidential Library, named for the president who signed the Voting Rights Act of 1965.
A voting laws study by New York University School of Law's Brennan Center for Justice looked at 19 statutes and two executive orders in 14 states and concluded that they could make it more difficult or more costly for up to five million citizens to vote. Although proponents of voter ID laws say the legislation is needed to prevent voter fraud, the Justice Department has found next to no evidence of such widespread fraud. And more than 10 percent of U.S. citizens lack the kind of photo ID required by these laws.
Wisconsin Gov. Scott Walker (R) signed the voter ID bill into law in May. The Republican-controlled legislature had passed the law before the summer's recall elections while they still had a solid majority in the state Senate.

Calling all HuffPost superfans!
Sign up for membership to become a founding member and help shape HuffPost's next chapter