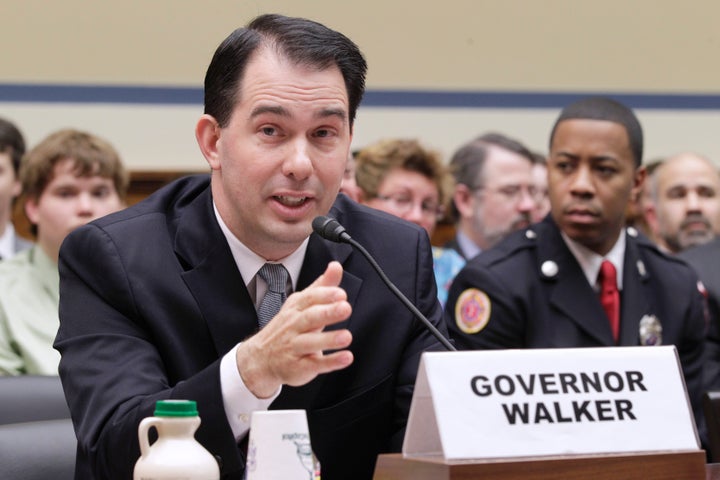 MADISON - The Republican governor of Wisconsin signed a bill on Wednesday that will require voters in the state to show photo identification when they go to the polls.
The measure, which Democrats characterize as a voter suppression effort but Republicans defend as a protection against fraud at the polls, will take partial effect just as nine state senators -- including six of Governor Scott Walker's Republican allies -- face recall challenges in mid-July.
Walker called the law a "common sense reform" that would "go a long way to protecting the integrity of elections in Wisconsin."
The law will requires poll workers to immediately begin asking voters to show state-issued IDs before they vote. But voters won't be required to actually produce the IDs until next year. In the meantime, voters who come to the polls without IDs will be handed a flyer outlining the new requirement.
Debate over the photo ID proposal highlighted the partisan divisions in Wisconsin following the bruising battle earlier this year over Walker's campaign to weaken public sector union bargaining rights.
Wisconsin Republicans had tried to enact a voter ID requirement several times over the past few years but were repeatedly thwarted by Democrats.
The Republicans' sweeping victory in last year's mid-term election cycle, which gave the party control of both houses of the state legislature as well as the governor's office, made Wednesday's long-awaited signing possible.
Eleven states now require a photo ID to vote. Kansas also added a photo ID requirement this year, but it won't take effect until January 1.
Thirty-three states have considered adding or strengthening voter identification requirements this year, according to the National Conference of State Legislatures.
Lawmakers in Minnesota sent a voter identification bill to Democratic Governor Mark Dayton on May 23. He has not acted on the bill yet.
Democrats said the measure was aimed at discouraging many of their constituents, especially college students and poor residents, rather than addressing vote fraud, which they said was not a serious problem in the state.
Mike Tate, the chairman of the Democratic Party of Wisconsin, criticized Wednesday's signing.
"Without any real need for this legislation, Republicans knew that it would most impact the elderly, students, shut-ins, African-Americans, Latinos and other groups that tend to vote Democratic,' he said.
"They have limited rights rather than expanding them, spent taxpayer dollars rather than saving them, grown government rather than shrinking it, and shown their distrust for democracy, rather than any love of it."
Voters have sought to force recall elections against six Republican and three Democratic state senators as a result of the fight over union powers.
(Writing by James B. Kelleher; Reporting by Jeff Mayers; Editing by Jerry Norton)
Popular in the Community