Nowadays finding a cabdriver in New York City who understands how to time the lights on Lexington Avenue seems totally impossible, but Emilio, my taxi driver in Madison, Wisconsin this past weekend is a semi-retired aerospace engineer who could probably build one. Soft spoken and Zen-like, Emilio was born in Japan, grew up in Texas and received an engineering degree from Wisconsin-Madison in the 1970's and moved to California, where he worked in the aerospace industry. "The last moon landing was in 1972, and we haven't done enough since then," he said. "Politicians have no vision." I agreed with him wholeheartedly and directed the discussion towards football, which was my reason for visiting Madison.
Emilio's mood was immediately more upbeat when we began discussing Wisconsin athletics. "I met my wife here," he said. She's a Wisconsin woman, so we eventually moved back here from California." Although he's not a big sports fan, Emilio has always enjoyed the crowds and the fanfare in Madison. "In the 1970's the Badgers weren't very good but they still always managed to fill the stadium," he said. "Now the stadium is still filled but it's even more exciting because we have a winning team."
The game of football has evolved demonstratively since my youth in the 1970's, not just in terms of strategy and style of play but culturally was well. Football in Madison creates a shared connection between generations that began for me on the plane ride from LaGuardia airport and continued as I checked in to my hotel. This was merely a prelude to game day, when the locals all don red shirts and even war paint to support the Badgers. The shared camaraderie in Madison may sound trite or hokey until you have an opportunity to experience it firsthand, especially when you live in a large city like New York, as I do. Although I had a group of friends with me, I made the trip to the stadium alone, but I was sharing the experience with more than 81,000 new friends at Camp Randall Stadium.
I love it when really smart people like George Will and Joyce Carol Oates discuss sports because they speak of tribalism, rituals and specific team customs sounding as if they've discovered a new element. These intellectual explanations make me feel like I've been transported to Asgard or some equally magical place, but the truth is its just Madison, Wisconsin and that's good enough for me. When I walk the streets there (or drive them with Emilio) I enjoy a special feeling that embraces me in a way that even my hometown of New York will never do when I'm wearing badger red. I actually wore a Masters red golf shirt from Augusta National, but it was close enough to blend in with the crowd and make me feel part of the group. Food is always a key factor in Madison, and the hot dogs infused with cheese and jalapenos were like most of the food I ate -- stuffed or covered with some kind of cheese but worth the try.
As for the game, just as the stadium filled to capacity as the first quarter moved along, so did the score climb, with the Badgers blowing out Bowling Green 68 - 17. No matter what the score may have been, the fans stayed to the start of the fourth quarter for "jump around," because when they do just that the stadium actually shakes. As for the game itself, Melvin Gordon produced one of the greatest rushing performances in the history of the school with 13 carries for 253 yards and five touchdowns.
I plan on reconnecting with Emilio in December when the Badger basketball team plays Duke and by that time he'll be practicing his own particular winter sport. "I learned to ice skate here," said Emilio. "You gotta do something besides hunker down and be cold."

Just watching jump-around warmed me up plenty, Emilio.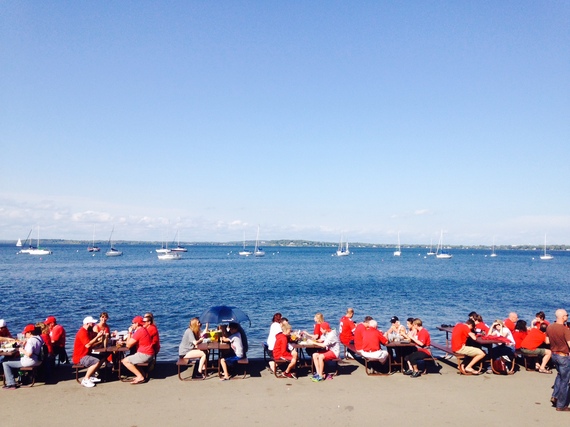 Post game festivities at Lake Mendota
Calling all HuffPost superfans!
Sign up for membership to become a founding member and help shape HuffPost's next chapter