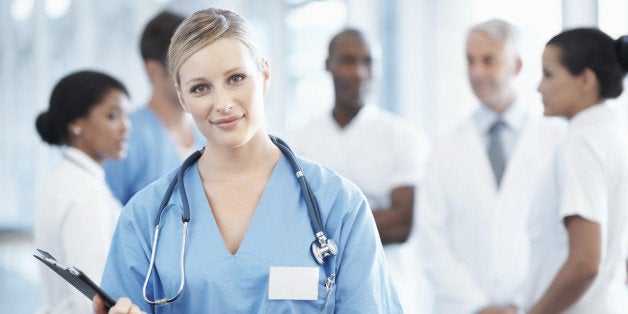 I spent the past week in Ghana surrounded by midwives, nurses and doctors. Our team was working collectively with Ghanaian health providers to improve maternal health outcomes by training in country cadre on managing postpartum hemorrhage (PPH), one of the leading causes of maternal death worldwide.
Most of the Ghanaian health providers our team was training were mothers -- mothers determined to ensure other mothers do not die of preventable causes. Occasionally, I came across a gentleman or two. He was the brave man who chose to participate in ameliorating women's health through PPH management. He would sit in the back of the classroom, head upright, eyes alert, absorbing every bit of information he could. This male doctor, midwife or nurse was just as invested or even more so than his female colleagues in his role of keeping mothers healthy. I asked one of them in particular why they were doing this.
Smiling shyly, the male birth attendant looked down at the floor. Still beaming, he raised his gaze back up at me a few seconds later.
"My mother was the backbone of my family," he responded, "I am Ashanti. It is my duty to make sure our mothers are healthy."
I found what he said to be beautiful, although, I did not quite understand how his Ashanti roots were of relevance. Two members of our in-country team were of the Ghanaian Ashanti descent and conversation with them made clear the largely matrimonial lineage of their tribe. I learned that the Ashanti people consider their mother's children to be their siblings, regardless of who the fathers were.
As my week in Ghana progressed, I met more mothers, midwives and more men partaking in our trainings. The mothers we trained were charged with the care of their children, their husbands, their homes; they were responsible for maintaining their family's farm or small business and with caring for patients. They were unquestionably busy, and yet they were overflowing with care for their patients.
One midwife invited me to her home, to teach me Ga, a language spoken by Ghanaians in the Accra region. As I could not take her up on her offer, I asked if she would kindly explain how she came to be this benevolent.
"My mother, my dear, taught me to always be kind. She taught me to share what I had, no matter how little it was. She said I could never be sure when my friend could be starving. So that is why, my dear, I offer to share my language with you -- because you have come and taught me these skills. Now I would like to teach you something in return."
Her words were abundantly sincere. It was obvious how crucial these midwives and mothers are and how influenced they were by their own mothers. Like the gentleman I had spoken with described, mothers are the backbone of the Ghanaian family. They are responsible for the health of future Ghanaian mothers and of Ghanaian children who will in turn continue to develop the country.
That day, I called my mother earlier than I normally would have. I told tell her how much I appreciated her upbringing and love. So much of who I am today is a manifestation of the values she instilled in me as a child.
As the U.S. and other countries celebrated mother's day this past weekend, many undoubtedly went the extra mile to treasure these extraordinary women. In the spirit of honoring them every day, not just on mother's day, I asked individuals from around the world to share with me, wisdoms from their mothers. Not surprisingly, they confirm how unrelenting and influential our mothers are globally. How amazing is it to have someone's unconditional affection? Here's to returning that love a whole lot more each day.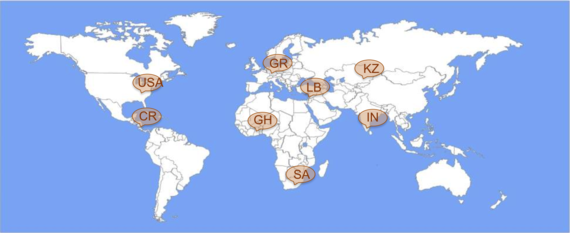 Lebanon: "My mama taught me to appreciate the intangibles, the small yet impactful things in life, whether implicitly or explicitly. Hope, respect for elders, willpower and humbleness are some of the traits she instilled in me. Though they felt short, the years I spent with my mother were formative in my journey to becoming a man and these intangibles are values that I still strive to augment in my everyday endeavors."
Germany: "What my mum used to tell me to treat people only the same way I wanted to be treated--to think before my actions. And another funny advice concerns shopping and all things, really: buy the first thing you really like and don't look for so many better things -- you won't find anything better."
United States: " My mother showed me that women make really good leaders. She was the sort of woman who took on organizational roles in her community and did them well. She was the leader of several groups at church and has been a great influence on the leader I try to embody each day."
India: "My mother is quiet and kind. She always put caring for our family ahead of everything else in her life -- including her career. She always helps people in need. She never cared about how we did in school or career but wanted us to do our best. It is the best feeling in the world to know that someone loves you unconditionally. I hope to follow in her footsteps. She inspires me more than she knows."
South Africa: "The night before I left home for university, my mother was busy packing clothes for me. She set me down and said 'My boy, I would like you to go there and study, enjoy, grab the opportunities that are presented to you in order to grow and be a better person.' Most importantly, she said, 'Be an ambassador of this family.' These words have been a lighthouse throughout the years she has been gone, giving me the strength and courage that I need to live life and inspiring greatness in me. She left an indelible mark in my life. For that I am eternally grateful and that is why I celebrate my mother's life. Gone but never forgotten."
Costa Rica: " My mother once told me, everything you do in this life is returned... so do not worry about what you get, worry about what you give.."
Kazakstan: "An important lesson that my mom has given me was always having self-respect and a high value of myself. No matter what I do I always try to make my mom proud because I know she wishes me to be able to do things that she couldn't get to do during her childhood or her young years."