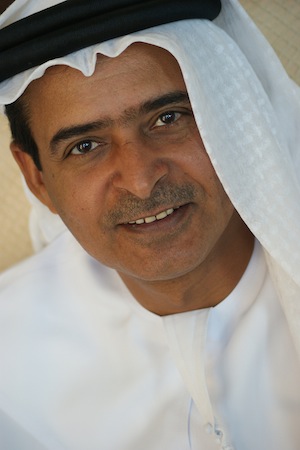 Sitting in conversation with Abdulhamid Juma, the Chairman of both the Dubai International Film Festival and the Gulf Film Festival, is a film-lover's dream come true. It's unique to find a perfect businessman who is also full of inspirational insight and possesses an infectious passion for cinema. Juma exudes an undeniable belief in the motto that has driven DIFF since its inception in 2004: "Bridging Cultures, Meeting Minds."
But perhaps what surprised me most about our meeting during this year's GFF is Juma's availability, and his generosity of time. He's ever present, accessible for filmmakers, festival insiders and press alike, filled with gems of wisdom to enlighten and inform. And his words, his enthusiasm always betray a deep connection to his life's mission, to build cinema in the Gulf, one film, one story, one filmmaker at a time.
Though perhaps abridging his vision to fit within a couple of paragraphs may prove an impossible task, I'll attempt it anyway.
From the ashes of unbearable tragedy, a great cinematic Phoenix can arise.
Juma explains that "the idea had been going around for a film festival in Dubai since the nineties," yet it wasn't until the early 2000s that the dialogue was initiated in a bigger way. Two reasons, in Juma's words, "one was the establishment of Dubai Media City in 2001, and so the festival found a home" and the second reason, much more momentous, turned out to be the events of "9/11, because then a lot of people wanted to know more about this part of the world, about Islam, about Arabs, like who are those people?" When I question how such tragedy could turn into a positive, Juma is quick to add "it's usually the case though, as they say positive things come from negative things" and continues "there was really a kind of magnet, we wanted to tell our stories by ourselves, while the West wanted to know more about us." Because up until then, Juma says, "we had not done our homework, trying to give them [the West] something positive to know us by."
How to live up to high expectations, like being the "Cannes of Arabia."
When the festival started in 2004, there were seventy-six films in the line-up, one world premiere, thirteen thousand people in attendance. The opening night film was chosen by Juma himself, Le Grand Voyage by Ismaël Ferroukhi, about which he says "it was in French and Moroccan, a beautiful film about a father and a son, a road movie we picked up from Toronto." At the latest edition of DIFF, this past December, the line-up included nearly one hundred sixty films, forty-seven world premieres and fifty-one thousand people in attendance. "We've come a long way" Juma gushes, yet continues, "after we announced the film festival, we were sandwiched between two things, one was Dubai always wanting to be the biggest, the best, and so they wanted us to become Cannes, put Dubai on the map cinematically." Of course, starting from scratch, in a country without a culture of filmmaking, those could have proven to be disastrous expectations, but Juma explains further, "it was a challenge to create a first class event, and this idea born in a place like Dubai was really interesting, because they wanted a means to bridge cultures here, but Dubai is not good in religion, is not good in politics, so we built a bridge with films." One of the great benefits of building a bridge is that it's always a two way exchange, and Juma discloses the festival helps because "it is not only us sending films for others to watch but we also need to watch films we usually do not have the chance to see anyway."
When one festival grows to focus on international projects, you build a second festival to nurture local talent.
After a couple of years of DIFF, Juma and his team noticed an increasing number of entries from UAE filmmakers, particularly in the Shorts section. He expands on the idea "we didn't have enough good platforms for that because we really had to choose, some of them were just films from kids who were starting out and then you cannot really choose them for the program, but you can't refuse them, it was very hard for us." So the idea was born of doing something within DIFF, initially a program called "Films from the Gulf" and "Emirati Films," but that also turned out to be "not enough" in Juma's words. The word "nurture" comes up a lot in conversation with Juma, and again he uses it to explain how GFF was officially born: "We thought if this festival [DIFF] is really going to go on for a long time in Dubai, we need to nurture our own people and we cannot do it in here, so lets focus. The idea came from Masoud [Amralla Al Ali, the artistic director of both DIFF and GFF] himself to start the Emirati Film Festival, because of his involvement in 2001 in something called the "UAE Film Competition" in Abu Dhabi. Out of that, Juma continues, "the idea of GFF came in 2008, so now you have a film festival which is smaller, dedicated to the people of the Gulf and you take the best of that, put it on a platform for a different audience internationally, for the bigger one [DIFF] and its synergy and everything is working."
You cannot be creative and you cannot embrace culture unless you open your door to "the Other."
When asked about the great international presence at this year's GFF, Juma enlightens "we strongly believe you cannot be creative and you cannot embrace culture unless you open your door to "the Other". The other is not only somebody who doesn't look like you, but somebody who is really far away from you." He continues, "if we want our filmmakers to learn, they have to see a lot of films, sometimes they don't have the chance or the money to travel to other film festivals, and then nobody brings films here unless they are really commercial big successes. Big Bollywood or big Hollywood. And you have to learn cinema from the world." Through DIFF, Juma has a very revolutionary personal mission, which he explains, "I invite directors of small film festivals, like from somewhere in Alabama... They are really surprised when we invite them, they come here, first of all Dubai makes you go wow, this is really something, it's overwhelming! They go to a film, it may be a Palestinian or a Saudi film for God's sake, wow! So they take that film, take it to their audience of even 700 people, in a small town in Alabama. If I do this once every year, then I'm doing my job! That's what I mean by bridging cultures."
Photo of Abdulhamid Juma courtesy of DIFF
Calling all HuffPost superfans!
Sign up for membership to become a founding member and help shape HuffPost's next chapter