The immigrant situation worldwide is in perpetual motion. Countries differ wildly in their friendliness to the migrants—and the US, with its very diverse 50 states is no exception: the newcomers feel more accepted on the East and West Coasts.
It is common knowledge that American likes-and-dislikes of the immigrants continually experience ups or downs, depending on the socio-political circumstances. Today, in the Trump era, the "likes" seem to be down, while "dislikes" – on the rise. It is my hope that concrete positive facts can move the dislikes of open-minded people towards more inclusivity. Here come such facts focusing on immigrant women, whom I researched for the upcoming book.
Group Picture of Immigrant Womankind
It is my observation that naturalized immigrant women are a distinct demographic, on the intersection of ethnic minorities and gender. Look at their US setting:
· They make the majority among immigrants today: 51.4 percent, and counting
· They make up 13 percent of all female population (a huge market and substantial workforce)
· They are worthy contributors to economy: 13 percent of immigrant women are entrepreneurs, somewhat more than the native-born (12%)
· They are highly educated: 11.6 percent of first-generation immigrants hold Masters and Doctoral degrees (as compared with 10.8 percent of the native-born)
Naturally, they face the new culture and language challenges — in addition to typical hurdles that all women experience, such as glass ceiling and life-work balance. The language-and-culture liability makes immigrant womankind the underdogs in a society which has little leverage for women and plenty of prejudice against immigrants at large.
Is there any light at the end of this tunnel?
The gaps in social and material standing among diverse immigrant women are huge: the majority barely survive, while the prominent outliers happily thrive. How the latter make it in America deserves special attention if only because prominent immigrants' spectacular success under stress sets a golden standard for all achievers-to-be motivated to overcome multiple barriers. Here's one relevant story.
Ana Benitez, originally from Cuba: Disrupting Entertainment-Feed Channels
Ana Benitez, President & Co-Founder of Storyrocket, a Miami company with a genius concept, came a long way from an education-enthused immigrant family to becoming a producer who had won prestigious Emmy awards twice, and then co-founded a successful entertainment agency Benitez Karasz. I met her by chance, as an exhibitor at Book Expo America, fell under her spell, and came to meet her on Sunday, right after interviewing the creators of The Last Tycoon. The core impression from this initial dialog was that Ana (pictured) holds the rare trait: her skills and knowledge get seamlessly transferred/translated into the new skill set at every next venture, with snowballing effect.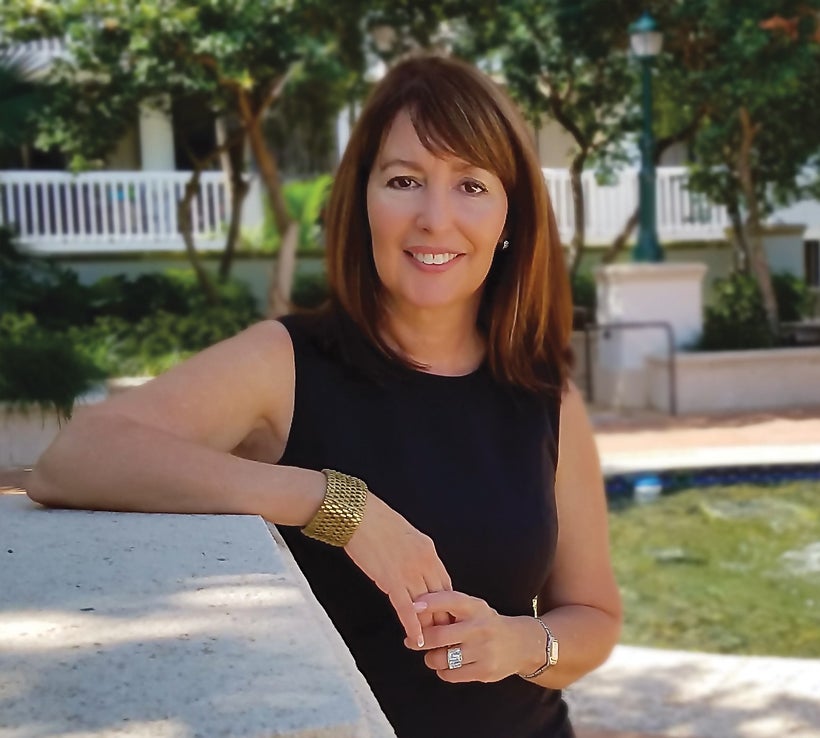 Read how Ana made it in America.
1. Activating her courage gene
"Being a Latina in the entertainment business takes courage, Ana said, but growing up in a family of immigrants you see courage in action every day, and it became part of my DNA." She believes courage is vital for any entrepreneur, Latina or not. There are millions of great ideas for business but one must take the courage to act - and energetic Ana evolved to be a decider and doer in life and work. "To a winning life" became her courageous motto.
2. Taking nothing for granted
Her vision, risk-taking, and communication skills made Ana part of the elite group of special-events producers at Univision, the highest-rated Spanish language network in the US. Working for television behind the scenes is time-consuming and frequently nerve-racking: leaving one little detail unattended can ruin the show. Up to the task, Ana never took her past successes for granted, giving the job her 100 percent—which resulted in 4 nominations and 2 Emmys: for Su Ultimo Adios, the late Selena Quintanilla's last concert, and Premio Lo Nuestro, Univision's version of The Grammys. Oh, the sweet taste of success!
3. Disrupting old to build new
There is something Ana wants to disrupt: the entertainment-feed channels. Let me explain. While many writers dream of placing their stories into the hands of movie- or TV-makers, putting content into the right hands is no easy feat even for best-selling authors. On the other hand, the producers in the entertainment business always hunt for original content—but their vision is limited by the agents/suppliers they know—a vicious circle, indeed! Hollywood is conservative in its ways. But here comes the disruptive idea of Storyrocket that emerged out of the entertainment insiders' know-how, recognizing this double need, and broadening both writers' and producers' opportunities to find the right match. Fortified with a robust search engine, their Storyrocket's online marketplace allows members a wealth of options. Its free membership model gets revenue from expanded project postings; those who want to use it constantly need to pay.
4. Having a long-term vision
Since great content is adaptable to multiple markets, Ana and her colleagues plan to cross-promote the posted content, by expanding the site to multiple languages. Launched in English, it will be available in Spanish by the end of 2017 and in French in 2018, opening the possibilities to hungry production markets in Mexico, Colombia, Argentina, Spain, France and Canada. The long-term vision is to make the site available "in-language" for the top 20 film and TV-producing countries worldwide. Breathtaking!
Ana's example illustrates how the American nation continually thrives with the creative immigrants' input. Thank you, Ana, and good luck!
The current US government strives to implement controversial legislation on immigration. In the vacuum of the leaders with fresh ideas, the massive protests have tiny result. Therefore, people of good will shouldn't hope that the situation will somehow evolve for the better all by itself. Take nothing for granted – act!
The positive action I suggest includes raising awareness of what documented immigrants bring to the all-American table. Especially, we need to appreciate the input of immigrant womankind, often dismissed as passive or subservient.
REAL LIFE. REAL NEWS. REAL VOICES.
Help us tell more of the stories that matter from voices that too often remain unheard.
This post was published on the now-closed HuffPost Contributor platform. Contributors control their own work and posted freely to our site. If you need to flag this entry as abusive,
send us an email
.