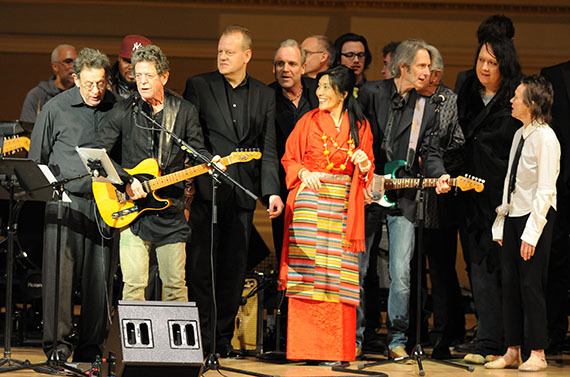 In a world that's always switched on, spinning ever faster, how do we slow down that relentless momentum long enough to find our center?
Having worked in large corporations most of my life, subjected to the pressures and stress these environments cultivate, I discovered a simple answer to that question: with music. Like the expression, "Music has charms to soothe a savage beast," my mind is more tranquil when I listen to music I like, be it jazz, rock, classical or the chill out sounds from yoga class. Included in this mix, I've been listening to Dechen Shak, who performs traditional Tibetan music with harmonic melodies and inspiring lyrics, which have had a soothing effect on my otherwise turbo speed existence.
Her career is an interesting story of how an artist representing traditional wisdom made their work more approachable by evolving to a contemporary sound with the encouragement of a rock producer and a pop diva.
I first heard Dechen on the radio in 1989 with a single that took age-old Buddhist mantras and songs her father, Dagsay Rinpoche (who is a Lama), composed and set them to music. Soon after, she quite her job to focus on her music and the resulting album Dewa Che received Gold Record status in Switzerland and was voted in the United States as "Best Spiritual Album." Her music was getting better known and in 1994 Dechen was asked to sing on the soundtrack of Bernardo Bertolucci's movie Little Buddha. Nine more albums followed as well as many international concerts in Europe, USA and Asia, including performing for the Dalai Lama.
One element of Dechen's work I find very inspiring is how she channels some of the proceeds from her albums to a project in Tibet, providing vocational training for young Tibetans to help sustain themselves and their families.
A very special musical cooperation started in 2009 with the project BEYOND. Working with Tina Turner, Dechen represented the Buddhist voice on a spiritual album promoting peace and understanding between various religious faiths. The BEYOND records were well received and went on to achieve gold and platinum status.
Following this collaboration, a solo album called JEWEL brought Dechen and her ensemble to Hong Kong, South Korea and India. As a special highlight she was invited by Philip Glass to perform at New York's Carnegie Hall along with Lou Reed and Laurie Anderson. The Wall Street Journal gave the concert a very positive review and quoted Dechen:
"I had the feeling as if out of Carnegie Hall, I'm sending this prayer out to the world that there can be peace in the world and Tibet."
ASIAN JEWEL followed in 2014, featuring two renowned Chinese musicians. I was happily surprised to hear that Tibetan music is getting more popular in Mainland China as the government has now allowed more cultural diversity in the arts.
As Dechen's musical experience grew, she started to explore a more contemporary sound in order to reach a broader public. Out of respect for the Tibetan Buddhist tradition, Dechen and her producer Helge van Dyk travelled to India and met with the sister of the Dalai Lama, Mrs. Jetsün Pema, to receive advice on how to modernize the traditional music. They were delighted when they were told: 'the time needs this'. They also visited Dharamsala in Northern India, which is the homeland in exile for Tibetans. There they were invited to special concert and as an exception, Helge was the only Westerner allowed in the audience. He was so impressed by the power and high energy of the music he could only say: 'this is rock and roll!'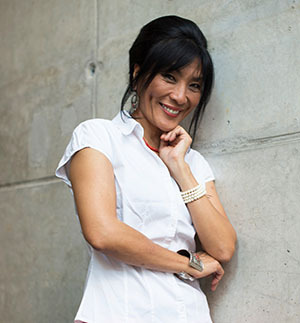 Dechen had some challenges at the start of the album: "I remember when Helge said at the very beginning of this production that this album will be a big challenge for both of us. We wanted to create a modern way of transmitting the ancient Tibetan texts and songs for a wider audience without loosing the essence. With the support of Helge I dared to go into the special energy of my ethnic voice. At the beginning I was quite hesitant because I didn't know if I could manage it. And then when Tina Turner also encouraged me to use the power of my voice, I felt I wanted to give it a try."
I was surprised to hear on some of the songs from the new album Day Tomorrow, what sounded like Dechen rapping part of the lyrics. When I asked her if this was her way of modernizing the sound, she said it is a very old tradition in monasteries for monks to recite certain prayers in a very speedy rap-like manner in order to keep their mind focused, and also because the prayers are often repeated 100,000 times or more.
The production of the album was enhanced by the help of some top L.A. studio musicians like Leland Sklar on bass guitar, Martin Tillman on E-Cello and Satnam Ramgotra on percussion. And the finishing touches were done in the inspiring environment of Peter Gabriel's Real World Studios near Bristol, England.
The current album focuses on the theme of sustainability for our planet and how our mindful actions Today can create the base for a good Tomorrow. This is the first time Dechen is singing not only in Tibetan but also in French, with a mix of soft meditative mantras and also some very groovy songs with a dynamic beat. All these elements can be heard in the video 'Le Bonheur', which is a prayer for peace in the world and it's Dechen's heartfelt wish to reach as many people as possible with this positive message.
As much as I love the traditional, soothing songs on her past albums I have to admit the new sounds put a smile on my face and make me want to get up and dance. As a stress buster and a way of supporting a better tomorrow, I'm happy to have this on my playlist to soothe the savage beast of my mind.
(Day Tomorrow is available on iTunes. For more information: www.dechen-shak.com)
Related
Popular in the Community