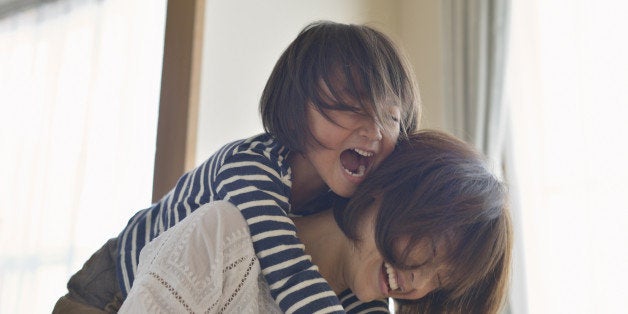 I am so fortunate to chat with my cohost Bianca Kajlich and our insightful guests every Wednesday on our Atomic Moms podcast. We've been hearing a lot about the Mommy Wars, and we'd like to offer asylum. Atomic Moms is a no shame zone. We share all kinds of parenting methods and experiences with a sense of humor and without judgement. Here are four lessons from our guests that I'm bringing into the new year.
1. Attunement
Dr. Drew Pinsky, Board Certified Internist, Media Personality:
I can't say how many times I go out to lecture and it's..."'Tell me the recipe for great kids. So we can just follow that recipe." That is an anethema to the way it's done. Even that kind of language is wrong. Here's what you do. Sit there and see what occurs to you as you attune to your child's body.
2. Body Image
Jake Martin, Energy Healer:
You can tell your daughter twenty times a day how pretty she is because I know the last thing you want is your daughter to grow up with any kind of body issues... but she just walks in the room and sees you looking in the mirror grabbing your fat roll and that speaks more to her on a subconscious level. And our subconscious is what really creates our life.
3. Forgiveness
Alisha Tamburri PhD, Hypnobirthing Coach & Doula:
When you've yelled at your child or done something that maybe was inappropriate or might have hurt your child, put your arms around your child -- no matter what age he or she is -- tell him, "Mommy is so sorry. I didn't mean to do that. I love you so much. Will you forgive me? Mommy lost control." And that way -- it's gonna happen. We're human. We all do things sometimes. No one's perfect. And that teaches the child that when he or she makes a mistake, they can also say they made a mistake. And I love you. I'm sorry.
4. Health
Steve Zim, Celebrity Trainer:

When you wake up in the morning, have a glass of water first thing. Water is the number one burner of fat in your body because you eliminate more. The more you eliminate, the more you're pulling fat...People don't drink enough water. And our bodies sometimes can't tell the difference between being thirsty and being hungry. So we eat because we feel hungry, but what we really are is thirsty.
Watch our Atomic Mom workouts with Steve Zim HERE!
On the latest Atomic Moms podcast we talk traveling with babies, anxiety and depression, and friends without kids.
Subscribe on iTunes HERE. Download, listen, and every Wednesday we'll post a new one.