Recently, I had the great pleasure of meeting Jeff Unger, founder of the innovative legal services firm eMinutes, through a mutual friend, Romy Taormina, a Count Me In Awardee and the co-founder and "Nausea Relief Chief" of Psi Health Solutions. Jeff and I got to talking and he told me a little bit about his work. In a word: Wow.

Jeff, who's 43, finished Babson College in three years, and law school in two. But instead of going into the family business -- his grandmother founded Martin Wheel, one of the largest manufacturers of wheels in the world -- he moved to Los Angeles and started eMinutes. His clients include Grammy-winning musicians, Oscar Award-winning actors, as well as Fortune 500 companies.

Despite not following in their footsteps, he still attributes much of his success and entrepreneurial spirit to his mother and grandmother. "My grandmother ruled the family and ran an empire," he says. "She had hundreds of employees, and in Akron, Ohio, that made her a very big deal. She was awesome!"

"My mother is a rock star too," he continues. "She was a partier in college who ultimately got an MBA in finance and took the company to a whole new level. Later in life, I recognize that having such strong female role models eliminated the entire concept of women being treated differently than men in business. It's hard for me to even conceptualize that."

His grandmother also taught him a big lesson about charity ("tzedakah" in Hebrew): Whenever a neighbor asked for a donation to an organization (this was in the days when neighbors knocked on your door to ask for a contribution for Red Cross, for example), you always had to give it.
"Not only did the organization need it, but the neighbor was doing a good deed," he says. "She explained that since she worked and didn't have time to be a solicitor, the least she could do was to give a gift. So this taught me that not only is it important to do what you can for nonprofits, but to have respect for the solicitor as well."
Jeff (pictured here with women entrepreneurs at a recent CMI Pitch Party in LA) clearly took his grandmother's words to heart and today is giving back to women-owned businesses in a big way.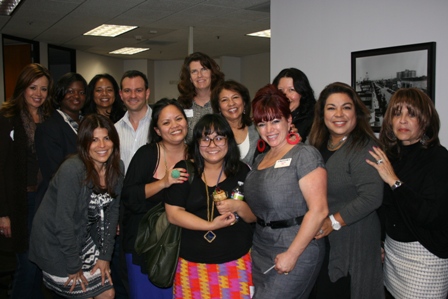 Jeff is giving away -- yes, FREE -- his services to 500 entrepreneurs in New York and California to get them incorporated. He's even paying the filing fees out of his own pocket. And if you've already got a company, he'll review it all to "make sure the foundation of their house is in order and all buttoned up."

Why would anyone do this, you ask? Good question. I wondered the same thing. And here's what he told me.

"I was out to dinner with friends and they said I had the most worthless profession in terms of giving back," he said with a laugh. "I want to give something back. I started my firm in 1997, and a ton of people helped me. So now I'm helping these first-time entrepreneurs."

As you probably know, I love to help entrepreneurs, too. So when he told me about this I immediately decided we had to join forces. And that's exactly what we're doing! On May 11, Jeff is going to be speaking at our Urban Rebound business growth event for women at the Skirball Center in Los Angeles. CMI will be awarding 100 women business owners who pitch at the event nine months of FREE professional coaching and business education to help grow their revenues to $250,000 or more. And Jeff's free incorporation package will be part of the prize, too. We're also giving 10 Pitch Winners a $1,000 Jump Start cash prize, so it's a huge return for a two-minute investment.
"I'm learning so much by talking to first-time entrepreneurs," he says. "I've worked with the most sophisticated, and now I'm working with the least. Having been a Babson student and very entrepreneurial myself, I wanted to serve the market for entrepreneurs."

Grandma would be proud.

*
Join us for Urban Rebound-Los Angeles, May 10th and 11th! Pitch your company and meet Jeff and I and lots of other amazing small business experts! You never know what awaits you. Visit www.countmein.org/events for more info.