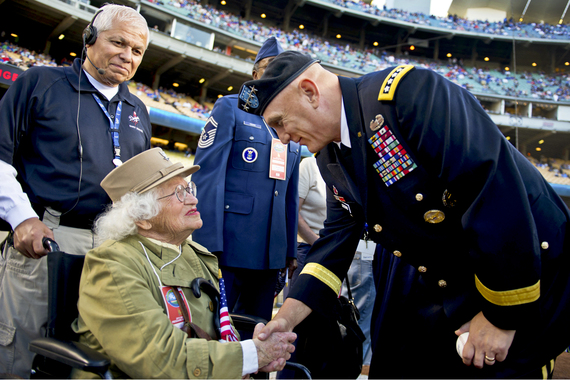 A month ago, the oldest living female World War II veteran visited the White House and got a warm welcome from President Obama and Vice President Biden.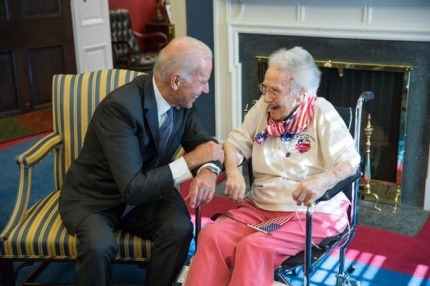 Vice President Joe Biden greets Lucy Coffey in his West Wing Office, July 25, 2014. (Official White House Photo by Lawrence Jackson)
Lucy Coffey, now 108, served in the Women's Army Auxiliary Corps (WAAC) and was one of 400,000 American women who served in uniform during World War II. During her WWII service, Coffey rose to the rank of sergeant, served in the Battle of Luzon, earning the Philippine Liberation Ribbon with a bronze star and also earned an Asiatic Pacific Theatre Ribbon with one bronze star, a World War II Victory Medal, the WAC Service Medal, and a Good Conduct Medal, according to the White House.
Please watch the delightful video, below, of Coffey's meeting with President Obama and Vice President Biden. Coffey also received a personal tour of both wings of the White House, and visited the Rose Garden.
Gestures such as this one are priceless to those of us who are aware of the rapidly shrinking number of World War II veterans and are certain to become some of the most memorable highlights in the lives of those who experience them, especially at such an advanced age.
This brings me to another World War II veteran, another woman, and the oldest living female California World War II veteran, Bea Cohen, now 104. (Lead photo)
Mrs. Cohen, an immigrant from Romania and now a Los Angeles resident, not only served honorably in our armed forces during World War II, but she is also one of the few people still alive who witnessed the beginning of World War I in 1914, when, at age four, she watched low- flying airplanes drop bombs on the factories near her home in Romania.
I learned how Cohen wanted to do even more for her adopted country than working at Douglas Aircraft Company as a "Rosie the Riveter" and thus joined the U.S. Army, where she was assigned as a Private First Class to Elveden, England, about 90-miles from London. There, she "worked in the communications department with top-secret mimeographed documents, kitchen patrol and relieved the stress of being in the military by singing in a choir and playing in an all female baseball team, a sport she loves."
After the war, Ms. Cohen continued to serve her country by working with ex-POW and military family services groups and by contributing her time and effort to many veterans and philanthropic causes and organizations. She has continued to do so even after becoming legally blind in 1990 and after losing her husband and soul mate, Mr. Cohen, in 2003.
What struck me most in the article was Mrs. Cohen's answer when she was asked what she would like to accomplish. Her answer: "...to collect clean, white socks for homeless veterans, and to meet First Lady Michelle Obama."
Touched both by her compassion for less fortunate veterans and by what might be a difficult wish to realize, I decided to try to help make the second part of Bea Cohen's wish come true.
First, in June 2012, I wrote a piece on Mrs. Cohen's fascinating background and an "Open Letter" to First Lady Michelle Obama explaining Mrs. Cohen's desire to meet her. The letter concluded:
Mrs. Obama, I know that Ms. Cohen will singlehandedly and easily accomplish her first objective [collect clean, white socks for homeless veterans]

But only you can make her second objective -- her dream -- come true.

As you know, we are losing our World War II veterans at a disturbing rate of 1,000 each day. For Ms. Cohen, at the age of 102, time is so precious and so is her wish to meet you.

I hope that you will be able to make Ms. Cohen's wish come true.
I followed up with personal letters and emails to the White House, to political figures and groups and to others who I thought could help Mrs. Cohen.
During the political campaign in the fall of 2012, I replied to just about every request for my vote and my money with a copy of my "Open Letter" and a note saying more or less, "Help Mrs. Cohen meet the First Lady, and I will help your campaign."
A year later -- Mrs. Cohen was 103 then, and another 200,000 World War II veterans had left us in the intervening year -- while honors and recognition continued to be bestowed upon her, Mrs. Cohen still had not realized her dream
My pleas and letters continued, albeit with a more urgent tone.
When I read about Lucy Coffey's visit to the White House, my hopes immediately rose and I scanned the web for any news of Bea Cohen's visit to the White House.
My heart sank almost as rapidly when I came across a recent obituary of a person with the same name as Mrs. Cohen.
But then, more recent articles and photographs of Mrs. Cohen appeared confirming that she was doing well.
First, a photo tweeted by Bellamy Young in April showing two beautiful women, the actress and Bea Cohen, whom Young refers to as one of the "beautiful women warriors." (Below)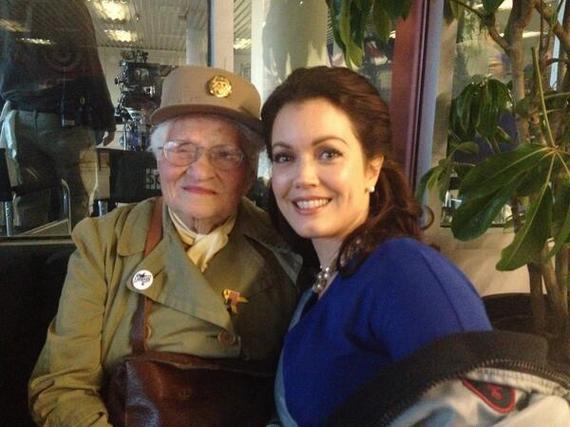 Then, a photo of Mrs. Cohen speaking at the Los Angeles Air Force Bases' Retiree Expo, on May 31, 2014, where Cohen's riveter days at Douglas Aircraft and her World War II service are recalled and honored.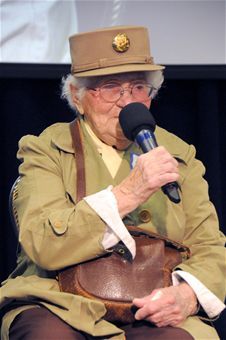 Finally, I struck gold. A Daily News article covering Michelle Obama's appearance at a July 16 "Unite for Veterans" event shows a photo of the First Lady meeting Mrs. Cohen. You can see the photo here.
In her wish, Bea Cohen did not specify where she wanted to meet the First Lady. It happened at the Hyatt Regency Century Plaza hotel in Los Angeles and not the White House, but the First Lady of the United States is the First Lady anywhere and everywhere and her gracefulness and graciousness follow her everywhere.
I am sure, at age 104, Mrs. Cohen is very happy that her wish finally came true.
Lead photo: Army Chief of Staff Gen. Ray Odierno shakes hands with Bea Cohen, California's oldest living woman veteran, at Dodger Stadium in Los Angeles, June 12, 2012. U.S. Army photo by Staff Sgt. Teddy Wade
Popular in the Community