Seven years ago, I started Wish of a Lifetime, a non-profit that grants lifelong wishes to the oldest people in our country, because they are the forgotten ones and we aim to change that. It has been the most rewarding journey of my life and together with our staff, interns, volunteers, supporters and Brookdale senior living, our founding corporate sponsor and leading operator of senior living communities, we have granted over 1,000 individual wishes in all 50 states.
All of our wishes hold special meaning, but on Memorial Day, I want to share a few wishes we've granted to veterans who risked their lives in the pursuit of protecting our freedom. Not surprisingly, when given the opportunity to receive their "wish of a lifetime," many veterans wish for an experience tied to their time of service. While these veterans' wishes involve paying tribute to others who served, it is important that we do the same.
Marion Rodgers is 92-years-old and not only did he serve our country in WWII, but he did so at a time when most Americans thought of him as a second-class citizen. If fighting for your country makes you a hero, then fighting for a country that doesn't offer you equality makes you legendary. Marion was part of the Tuskegee airmen, the first African-American military airmen in the U.S. Armed Forces. He served in active duty for 17 years, was promoted to commander of the 99th fighter squadron, and flew 68 combat missions over Germany.
He went on to work at both NORAD and NASA on Apollo 13 as a program manager. Marion now lives at a Brookdale community in Colorado and his "wish of a lifetime" was to once again fly in a P-51 Mustang, the same plane he flew during the war. We found a P-51 Mustang in California, and worked with the Commemorative Air Force so he could take the flight 70 years later. When he stepped out of the P-51 with a huge grin on his face, he said, "I have to live a lot longer, so I can remember this for a long time."
89-year-old Ed Stewart is a U.S. Army veteran who served as a medic during WWII at the 157th General Hospital in Liverpool, England. On D-Day, Ed and his infantry were stationed in the English Channel close to the shore of Normandy and were constantly under enemy fire. As a medic, Ed had to be prepared to run into the line of fire without any hesitation in order to save a fellow soldier's life.
"Medics were not allowed to find a hiding spot during the war," Ed said.
Prior to the war, he served under General Eisenhower and met war heroes General Patton and General MacArthur. Ed is very proud to have served his country - his eyes tear up every time patriotism is mentioned.
But Ed still wishes for one thing - though he served during WWII, he never had the opportunity to view the memorials built in Washington, D.C. in honor of our veterans, some of whom died in his arms. That will change this summer when WOL and Brookdale grant him the opportunity to pay respect to his fallen comrades and view the memorials.
Another veteran who wished to visit the WWII Memorial in Washington, D.C. is 91-year-old Annette Zeisler, who served during WWII with her husband, two older brothers and twin brother. Annette said she couldn't sit and wait while her family served, so she joined the U.S. Navy as a WAVES (Women Accepted for Volunteer Emergency Service). Annette was stationed in the WAVES Quarter "K" in Arlington, VA, near Washington, D.C. and cherishes her memories from her service.
After the war, Annette dedicated much of her time to nonprofits benefitting veterans, including the Wounded Warrior Project and Veterans of Foreign Wars (VFW). When the WWII Memorial opened in 2004, Annette visited with her husband. This May, Annette was granted her "wish of a lifetime" to revisit the Memorial to honor her three brothers and her husband, who have all passed away since her last trip.
93-year-old Charles "CW" Bird, who served in the Navy from 1939-1945, is another veteran who wished to visit a WWII memorial. CW was in Pearl Harbor the day after the attack and was immediately sent to the South Pacific for retaliation against enemy forces. CW also fought in the Battle of Midway in 1942 and received a battle star for his valiance and courage. Upon being discharged from the Navy in 1945, CW had reached the rank of a Chief Petty Officer and received nine battle stars throughout the years of his service.
This past April, WOL and Brookdale granted CW's wish to travel to New Orleans to visit The National WWII Museum and tour the USS Tang, a WWII submarine, to learn how it's operated. His wish meant so much to him because he wanted to honor the thousands of brave men and women who sacrificed their lives to ensure our independence. While there, the museum honored CW prior to the short film on the USS Tang, and many visitors came up to him afterward to thank him for his service.
Marion, Ed, Annette and CW's wishes remind us of the extraordinary contributions our eldest generation have made to our country. And as the WWII generation continues to age, it reminds us how important it is to make sure that their stories live on.
On this Memorial Day and every day, we thank all the heroes who have served in the U.S. Armed Forces for what they have done and continue to do to enrich the lives of all Americans.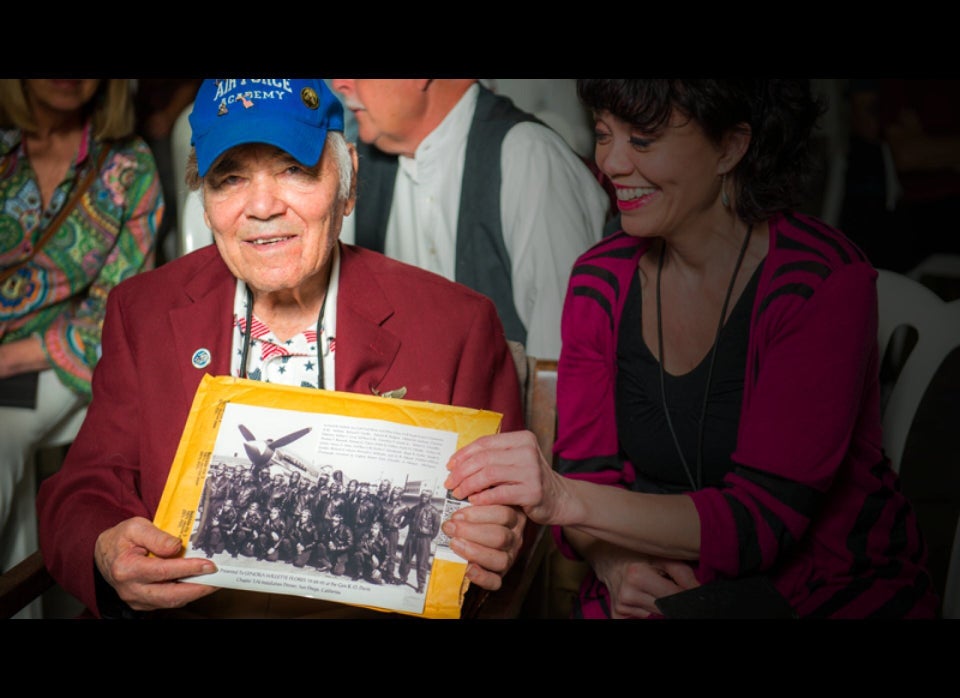 Wishes for Our Warriors
Popular in the Community