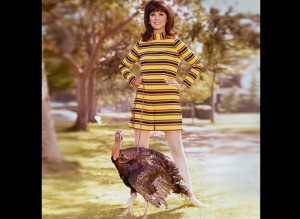 Everyone knows that Thanksgiving is a time for families to express gratitude for the many blessings in their lives, to gather around a delicious meal and--of course--to drive one another completely crazy... as only families can do!

One of the best parts of Thanksgiving for me is re-watching some of the classic holiday blunders that have been depicted on television. I remember laughing uncontrollably on the set of That Girl back in 1967 when we shot the episode, "Thanksgiving Comes But Once A Year, Hopefully" during our second season. My character, Ann, spends most of the episode shuffling back and forth between two apartments, simultaneously ruining two oven's worth of dishes while trying desperately to entertain her boyfriend's parents. There was a casserole burning in the oven, a minced pie washed out the window by a fireman--I even posed with a turkey on a leash for the promo shot!

Whether dealing with the drama of in-laws or botching a traditional family recipe, these are some of my absolute favorite outrageous Thanksgiving blunders on TV.

1. That Girl: "Thanksgiving Comes But Once A Year, Hopefully"

A classic in the "meet the parents" trope, in this episode, Ann Marie ends up burning not just one--but two--sets of Thanksgiving dinners while desperately trying to entertain two sets of finicky parents. What starts out as an exercise in staying calm under pressure quickly snowballs into a full-blown Thanksgiving catastrophe, compete with a visit from the fire department.
2. Friends: "The One With All the Thanksgivings"

In another classic blunder-filled Thanksgiving Friends episode, Monica dons a raw turkey--complete with sunglasses--on her head. Chandler spontaneously professes his love for Monica for the first time while she performs an absurd "turkey dance."

3. Cheers: "Thanksgiving Orphans"

In one of the most classic moments in television comedy history, the cast of Cheers engages in an epic, full-fledged Thanksgiving food fight. From globs of gravy to handful of peas and sweet potatoes, the cast didn't hold anything back during this most entertaining of holiday meals.
4. How I Met Your Mother: "Happy Slapsgiving"

This episode is all about five dear friends spending Thanksgiving together. Barney, Marshall, and the crew celebrate new engagements, come to terms with old flings and, of course, slap each other silly, per the terms of one particular old bet.
5. Roseanne: "Thanksgiving 1991"

True to the spirit of Roseanne, this Thanksgiving episode is all about four generations of family... arguing about four generation's worth of family drama!

6. Everybody Loves Raymond: "Debra Drops The Turkey"

In a legendary "botched turkey" TV moment, Debra and the buttered up bird both slip and slide not one, not two, but three times before she exasperatingly shoves it in the oven. Ray's bewildered expression afterwards is the whipped cream on the pumpkin pie.
7. WKRP in Cincinnati: "Turkeys Away"

"As God is my witness...I thought turkeys could fly!" This is the killer line from newsman Les Nessman as he covers a local giveaway which features live turkeys dropping from a helicopter.

8. Will and Grace: "Jack Homo for Holidays"
What starts as a lie to hide Jack's homosexuality from his visiting mother quickly deteriorates into a hilarious competition between Karen and Grace as they argue over who fake-dated Jack better.
9. Friends: "The One Where Ross..."

In this episode, Rachel attempts to make a "traditional English trifle" for Thanksgiving dessert but mistakenly mixes up the recipe with one for Shepherd's Pie. The result, according to Ross: "It tastes like feet!"

10. The Brady Brunch: "A Family Effort"

Continuing the good old wholesome family fun model, this Thanksgiving episode of The Brady Bunch is as squeaky clean as they come. Greg directs a home movie--featuring his family in full pilgrim garb--chronicling the Puritan's first Thanksgiving in America.

11. The Cosby Show: "Cliff's Wet Thanksgiving"

This episode starts with an exasperated Bill Cosby returning home from the grocery store on Thanksgiving--completely soaked from a torrential rainstorm--only to be nagged by his wife for forgetting canned pumpkin!


12. The Muppet Show: "Thanksgiving Episode"

In this classic episode of The Muppet Show, a loony Swedish Chef attempts to roast one very unwieldy turkey. Needless to say, it turns out to be a wild turkey chase.