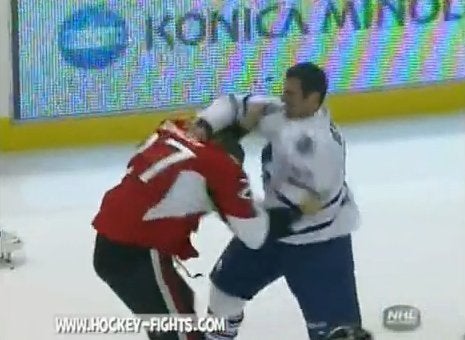 Two games. That's the suspension imposed by the NHL on New York Islanders Defenseman James Wisniewski, in order to punish the above gesture aimed toward New York Rangers forward Sean Avery.
As it so happens, a two-game ban is one more than was enforced on Chicago Blackhawks defenseman Nick Boynton during pre-season action, when he made a throat-slashing gesture in the direction of a Tampa Bay Lightning player. It is 23 games less than former Islanders forward Chris Simon was suspended following an incident in which Simon wielded his stick like a club and bashed Rangers forward Ryan Hollweg across the face. For the math geeks out there, that means that the NHL considers aggravated assault only 12-and-a-half times worse than suggesting via improvised sign language that one's opponent -- well, rather than spell it out, let's just concede that Wisniewski likely was not recommending that Avery brush his teeth.
Has all perspective been lost? Why does it no longer seem preposterous that a professional sports league can punish players and impair the success of its member franchises for non-violent actions that fall well within the realm of typical on-field (or on-ice) conduct? Just last Sunday, NFL officials likely reversed the outcome of the tilt between the Tennessee Titans and the Dallas Cowboys by flagging Marc Colombo of the Cowboys for excessive celebration. The non-choreographed display itself wasn't necessarily at fault -- however, Colombo fell afoul of the letter of the law by accidentally stumbling to the ground immediately following his celebration with tight end Jason Witten. The Cowboys now teeter on the brink of playoff irrelevancy and the jobs of the head coach and his staff hang in the balance. In a 16-game season, every week matters. But if Wade Phillips loses his job during the course of the 2010 season, at least he'll be able to take solace in the knowledge that the evil that is spontaneous exuberance, stemming from athletic accomplishment, is that much closer to being stomped out. Right?
Two games is not a slap on the wrist. This suspension will, most definitely, harm the Islanders' on-ice prospects. The Islanders are already without All-Star defenseman Mark Streit, a training camp casualty. Later in the preseason, winger Kyle Okposo went down with a shoulder injury. Then, in their first game of the season, they lost first-line center John Tavares to a concussion. Suffice it to say, they could ill afford to play further shorthanded.
What exactly has the NHL proven? One assumes that, no matter how many suspensions are handed down, players will continue to seek physical and psychological advantages over their opponents at every opportunity. A league source smugly asked ESPN's Scott Burnside: ""When are these players going to figure it out? We do have cameras at games." Good question. Maybe they'll begin paying more attention to the cameras -- and lower their respective adrenaline levels -- when they stop competing in a sport that features constant collisions and the ever-present possibility of catastrophic bodily harm.
For those who follow the sport, Wisniewski's actions are nothing out of the ordinary. As the aforementioned Chris Simon saga demonstrates, these rivalries are intense. Islanders players don't like Rangers players. Rangers players don't like Islanders players. And no one, absolutely no one, likes Sean Avery. For the most part, the NHL is more than happy to profit from the enmity and drama engendered from these match-ups. Yet for a league that can ill afford to dampen fan enthusiasm, it's a bit rich for them to avert their eyes and cry foul when the athletes actually act as if they have some sort of personal investment in their craft.
Calling all HuffPost superfans!
Sign up for membership to become a founding member and help shape HuffPost's next chapter