When I got the news that The Nobel Peace Prize was awarded Friday to a "quartet" of four Tunisian civil society groups, I was in the "AFOUFA" hair salon in La Marsa, an upscale suburb of Tunisia doing something I rarely do: getting my hair done. I went there to immerse myself in a "woman's space." I wanted to absorb in some small way what Tunisian women discuss on a daily basis for research on a script I am writing. When so many of the public spaces here: cafes, restaurants, offices and mosques seem to be dominated by men, I wanted to go somewhere to delve freely into the hearts and minds of women. Almost immediately, my preconceptions are put to the test.
Inside, the flat screen TV is tuned to a French news channel, AF24. Instead of cliché female banter about fashion, beauty, families or love affairs, Afoufa and her clients are discussing politics. She has a torn-out magazine photo of the current President, Beji Caid Sebsi taped to her mirror, but whispering in my ear, she pulls from a drawer stuffed with magazines a faded Jeune Afrique with a picture of Ben Ali, Tunisia's disgraced dictator, on the cover. She nudges me sheepishly, saying
"Of course we love Bajbouj (the endearment Tunisians use for their current President), but I'm embarrassed to say I miss Ben Ali... I felt safer."
The conversation then turned to the hairstyles of female politicians, and whether Hilary Clinton or Angela Merkel had better haircuts.
My phone buzzed with a text that the Nobel Peace Prize had been awarded to a coalition of four civil society groups in Tunisia who had helped to negotiate a peaceful transition to a pluralistic democracy after calls for its short-term Islamist government to step down. The irony of sitting in a Tunisian hair salon, comparing Angela Merkel's head of badly coiffed helmet hair to my own sorry tresses at the exact moment that Tunisia was being awarded the Noble Prize is not lost on me: Merkel, called "the most powerful woman in the world," by the New Yorker, was rumored to be shortlisted for the prize.
According to my Tunisian friends who work in the film industry and the vibrant social entrepreneur sector, Tunisian civil society has always been dynamic, outspoken and unafraid to hold its elected officials accountable. It was Tunisia's Jasmine Revolution that birthed the wave of popular uprisings that spread across North Africa in the last five years. And it is only in Tunisia where women, their position and rights in Muslim society, are an integral part of the national dialogue. This is not the case in the neighboring countries of Syria, Libya, Egypt and Yemen, where women's rights have suffered a staggering setback as a result of insurgent Islamist rule.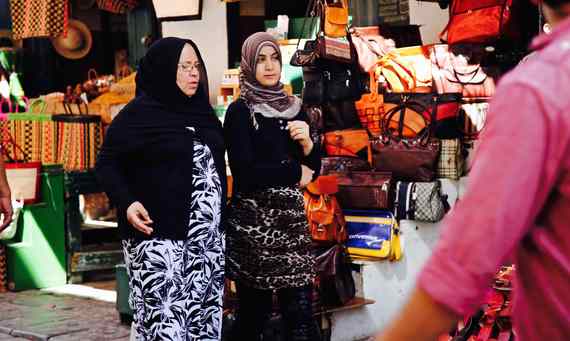 Photo by Amie Williams It's important to note that the head of one of the lauded quartet is a woman, Wided Bouchamaou who is also a staunch spokesperson for much-needed economic reform. She is the President of UTICA, and was also awarded last year, alongside Richard Branson, the Business for Peace Award in Oslo, which recognizes leaders "who have provided for constructive efforts to build strong and effective relationships between the world of business and society."
In fact, many of Tunisian's firebrand activists and bloggers are women. I recently met young Rahma Saghier, a university political science student whose blog Words From Tunisia, regularly grapple with the complexity of "living while female" in Tunisia. She warns her readers to be careful about championing the achievements of women in her country, where one in five women suffer from domestic violence, according to The National Survey on Violence towards Women in Tunisia. While Tunisian women's rights are held up as some of the most advanced in the Arab world, Rahma writes that this is largely an honorary label, more about legislation that real life. She teaches me a new Arabic word: Almar'a Alhadeedeya or Iron Lady, and speaks of a deep feminine paradox she sees in her country: the external super-woman inwardly struggling with the day-to-day frustrations and limitations of a society still largely dominated by a male elite.
"When I first heard, all I could think of was the fights we women had in front of the Constituent Assembly in August of 2013."
She had gone there with hundreds of others to protest the articles being written in the new constitution that were threatening to roll back women's gains, in place in Tunisia since the 1950's.
"It was the middle of Ramadan, very hot, and we brought our food to break our fast, sometimes staying up the entire night."
Fatma was very proud of the prize, but her cautionary tale was one I heard echoed throughout the day I spent on the streets of the impoverished neighborhood of Ettadhamon, one of the "quartiers populaires," in Tunis, where over 300,000 people live in over-crowded conditions, with soaring unemployment.
"Yes we got it for building peace, but this peace is built on many little pieces, many layers underneath it, which are constantly shifting."
The paradox continues. The widely reported terrorist Bardo Museum and Sousse Beach attacks that killed 50 people have confounded peace-loving Tunisians and scared away the rest of the world, pushing an already struggling economy to the edge. Only a day before the Nobel Prize announcement, there was an assassination attempt on Ridha Charfeddine, a centrist member of Parliament and owner of a local soccer team. Besides now being recognized as a laboratory for democracy in a region that seems bent on destroying it, Tunisia also boasts the highest number of young people, both men and women, who have left to join jihadist groups in Syria and Libya. Some reports put this number well past 5,000.
Perhaps this is why my hairdresser Afoufa finds solace in keeping a hidden portrait of Ben Ali in her salon drawer, to the horror of my friend, Leila Ben Gacem, who was front and center during the Jasmine Revolution. The day of the Noble Prize announcement, she posted on her Facebook page,
"It's a mess in the right direction... hold on Tunisians, I am confident we will honor our martyrs!"
She goes on to say "I think we have an amazing civil society, which is why I believe we are un-Daeshable," referring to the official name for ISIS.
I am also heartened to see four very different organizations, with different but complimentary goals, working together, side by side, to resolve a political crisis. Something my own government and society could certainly learn a great deal from. As the daughter of a conservative corporate lawyer, and a populist filmmaker who has chronicled both the struggles of a dying labor movement and the achievements of extraordinary working-class women, I see in this quartet a symbol of hope for all sectors of society. Perhaps the shifting ground Fatma speaks of are the necessary fissures we need to crack wide open, in order to see transparently through to the other side of fragile democracies, where peace is not just a prestigious prize, but a daily reality.
Calling all HuffPost superfans!
Sign up for membership to become a founding member and help shape HuffPost's next chapter