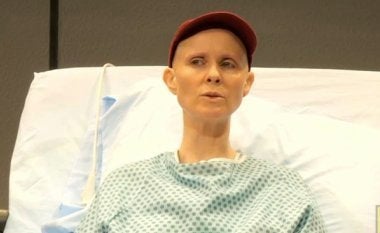 When I saw Margaret Edson's Wit the first time, back in 1998, I identified with its central character, an English professor who specializes in John Donne's Holy Sonnets, a person who cares deeply about ideas. I also identified with her as a somewhat snobbish, obstinate person trying to deal with a world that defied her will.
This time I identified with Prof. Vivian Bearing in a different way. She has cancer. So did I. This time I saw her as a woman battling against an unlucky fate. As a result the play itself seemed stronger and far more moving.
It says a great deal about a play that one can experience it in two such different ways.
The title refers to the early 17th century veneration of word play, a manifestation -- then -- not of mere cleverness but of the more profound functioning of the mind. Edson demonstrates some wit of her own juxtaposing a scholarly obsession with the punctuation of Donne's sonnet "Death Be Not Proud" with Margaret Wise Brown's 1942 children's book, The Runaway Bunny.
At this point it might be useful to discuss the history of the play, which can tell us a great deal -- perhaps too much -- about how a play of substance is treated in the American theater.
At the time of its first production I attended a panel at which Edson's agent spoke about the circuitous way the play came to be produced. When she wrote it, in 1991, Edson, an elementary school teacher in Atlanta, did not have an agent. But she had confidence enough in her work that she assumed if she sent it to the "not-for-profit" theaters around the country they would recognize its merit.
One theater, South Coast Rep in Costa Mesa, CA, did and produced the play in 1995. All of the other "not for profit" theaters rejected it, some without even giving her the courtesy of a rejection letter. There are valid reasons they might have rejected it. You have to have an unusually strong actress to play the central role -- not all "not for profit" theaters are so lucky. Moreover it does play with academic ideas, not what everyone goes to the theater for. But isn't that precisely why we have "not for profit" theaters?
I have put "scare quotes" around the words "not for profit" to reinforce my ironic attitude toward them. A few years ago Theatre Development Fund did a study of such theaters and demonstrated that their politics are every bit as complex -- and crass -- as the commercial theater they were intended to replace. "Outrageous Fortune," the title of the study, chronicles the painful way playwrights see their fate at the hands of these bureaucratic fiefdoms. Although they are ostensibly "not for profit," they're all on the lookout for plays that might transfer to New York and become "for profit."
Rather than admit defeat, Edson sent her play to a childhood friend who happened to be the assistant to Doug Hughes, then the artistic director of Seattle Rep. He liked it and showed it to Hughes, who was about to become the artistic director of the Long Wharf Theater. He said he would produce it when he got to New Haven.
As it happened, the casting director for Long Wharf was Bernard Telsey, who was also the co-founder (with Robert LuPone) and co-director of an Off-Off Broadway theater, Manhattan Class Company. When Telsey read the script he was impressed enough to want to produce it in New York after the New Haven run. He also discovered that his dramaturg was one of the legion of such gatekeepers who had rejected it.
MCC gave it a beautiful production with a stunning performance by Kathleen Chalfant as Prof. Bearing. It opened to great reviews and transferred to an Off-Broadway theater. In 1999 it won the Pulitzer Prize. Now it has been revived -- at Manhattan Theater Club's Broadway venue, the Samuel J. Friedman Theater -- with Cynthia Nixon in the leading role.
Apart from the rigors of the journey she undergoes, the role of Prof. Bearing is difficult because nothing about her is sympathetic. She is an unsympathetic human being who enjoys wielding authority over her admittedly clueless students. She only becomes human as the medical profession treats her with the same unfeeling analytical attitude she had as a teacher.
It takes some innate charisma for an actress to make us identify with so off-putting a character. Nor does Nixon's physical appearance help matters. She wears a shapeless hospital gown. A baseball cap covers her bald head. It might be a suitable costume for a clown. But it gives this prickly classroom dictator a vulnerability. Nixon, who is constantly addressing us through the fourth wall, manages to make us her accomplice.
When the tables are turned and she is treated in the same icy, clinical way she has constantly treated others, we don't feel "turnabout is fair play." We see how unprepared she is for such a remorseless change of fate. We regard her helplessness with pity.
In fact Prof. Bearing has been hospitalized not just for treatment but as a specimen for clinical analysis. The main research doctor, played with suitable gravity and aloofness by the always estimable Michael Countryman, regards her with the same dispassion as she has always regarded everyone around her. (That she has no family is not her fault -- that she seems to have no friends comes as no surprise.)
His assistant, beautifully played by Greg Keller, was once Prof. Bearing's student, though he makes it clear it was not because of any interest in 17th century poetry but simply because it would look good on his resume. He is still intimidated by his former teacher (as well as by his current mentor), but Keller does show us a few moments when his own spirit overcomes his career-ism. There is a nice humorous moment when Bearing, who gave him an A minus in her course, regrets she didn't give him an A.
Two other performances must be mentioned -- Suzanne Bertish is impressive as Bearing's mentor, who transmits to her her own obsession with Elizabethan punctuation. She also brings unexpected humor and warmth to a later scene when she visits Bearing in the hospital.
One of the things I brought away from my own extended hospitalization was an awe of nurses, who often have as much knowledge as the doctors they serve but who also bring compassion to their cheerless surroundings. Carra Patterson embodies nursing at its best.
But the reason this production, directed by Lynne Meadow, is so powerful is the radiant performance of Nixon. She never sentimentalizes Bearing. But she projects the humanity of a controlling woman succumbing to things beyond her control.
Santo Loquasto's sets provide a simple but effective backdrop for this harrowing chronicle. (A nice paper for a graduate student in theater might be a comparison of Loquasto's understated work with the similarly understated but banal set in The Gershwins' Porgy and Bess. Jennifer von Mayerhauser's costumes show considerable imagination for characters in largely mundane circumstances. Peter Kaczorowski's lighting is haunting throughout, especially in the unearthly final moments.
It is upsetting to think that so powerful a play reached New York almost by accident. It is gratifying that Wit has made a splendid return, reminding us of what an evening in the theater can be.
Calling all HuffPost superfans!
Sign up for membership to become a founding member and help shape HuffPost's next chapter