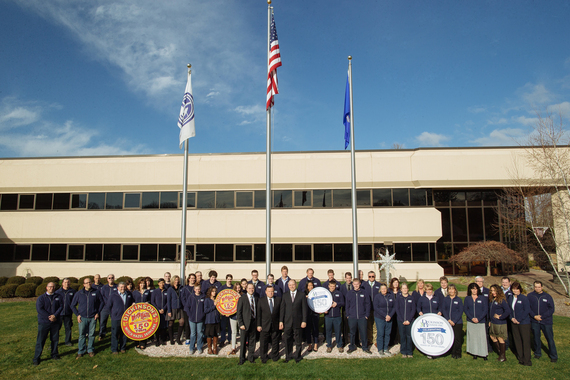 Hamamelis Virginia Linné also known as snapping hazel, winterbloom, or Witch Hazel, is indigenous to the forest areas of the Northeast, not too far from the Connecticut based American Distilling facility that the Jackowitz family has kept on the map for over a quarter of a century. This hardy plant flowers in the winter with unique yellow blossoms. The twigs and bark, when distilled, create a clear, natural astringent, known today as Witch Hazel.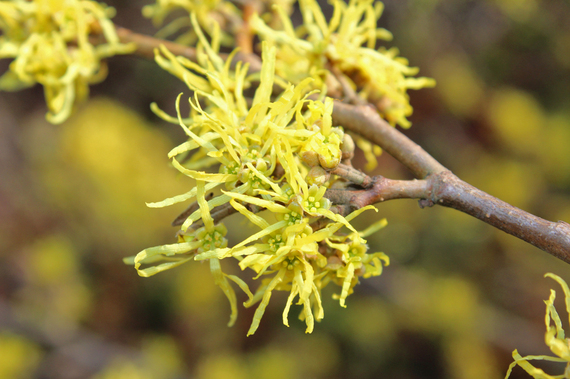 Native Americans were the first to recognize the value of Witch Hazel, as the medicine men of the tribe would cook it up and use it to treat cuts, scrapes, and other skin irritations. Now, hundreds of years later, Witch Hazel is used for much more than just skin care. The astringent is a key ingredient in products worldwide ranging from personal hygiene, to hair care, oral care, eye care and many more.
How did this natural astringent eventually end up in the hands of millions of consumers around the world? First, it's a natural product that creates great results in skin care. Anything that works well tends to survive lifetimes. The second, and more likely reason, has everything to do with Ed Jackowitz, an entrepreneur and engineer who recognized a "golden" opportunity when he saw it over 35 years ago.
Witch Hazel has a long history that has become part of the foundation of the American skincare industry. After the civil war, Reverend Thomas Newton Dickinson Sr. was among the first to commercially produce witch hazel products. Upon his passing, the company was left to his two sons, Edward E. Dickinson and Thomas N. Dickinson Jr. This transition laid the groundwork for what eventually became two separate Dickinson's brands (T.N. Dickinson's and Dickinson's Original Witch Hazel) with distinct formulas uses.
By the mid 1970s, a young supermarket executive, Ed Jackowitz, found an entrepreneurial opportunity to own his own business. His wife Carol had worked for the Blankenbiller family who owned American Distilling at the time. She heard through the grapevine that the family was looking to sell the business. Ed Jackowitz saw the potential for Witch Hazel and ended up buying American Distilling with his wife, and began the next stage of growth of one of the only natural, single ingredient, astringents in the world.
It was 1981 and back then, there were just a few employees at American Distilling. Jackowitz saw that the greatest opportunity for the company at that time would come from their ability to mass produce the product by filling bulk orders, since the large orders would generate the capital needed to improve their operational systems. He realized that once the operational systems were modernized, the firm would then be in a better position to mass produce and market branded Dickinson products for direct retail sales. By day, Jackowitz continued to manage the supermarket so that revenues from his business could be used to pay their staff. By night, Jackowitz ran his own business, filling Witch Hazel bottles by hand. Eventually he had the money to invest in the equipment he would need to produce Witch Hazel better, faster, and cheaper. Once the new equipment was in place, he scaled up, big time.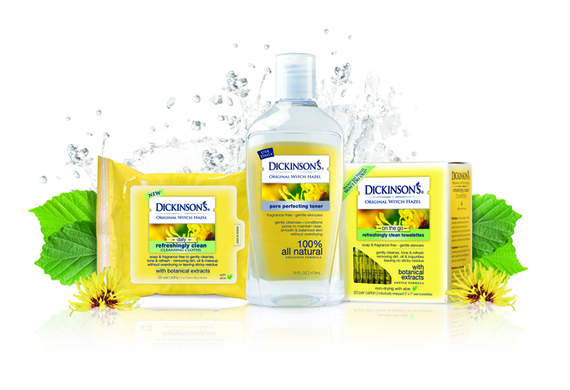 Today, it would be challenging to find a first aid or cosmetic aisle in any supermarket or drug store in the country without Witch Hazel. You will find their traditional Witch Hazel products under the T.N. Dickinson's and Dickinson's Original Witch Hazel Brands. As well, Witch Hazel may be found as an ingredient in hundreds of other first aid and cosmetic products made by massive industry leaders like Pfizer, Johnson & Johnson, and Avon.
American Distilling has grown from four employees, to just under one hundred. Ed Jackowitz still remains at the helm, while his son Kevin manages all marketing and creative for the firm, and his son Bryan is President of the retail brands. It's very much a family affair at American Distilling, which is one of the keys to their success.
I recently toured American Distilling with Kevin Jackowitz, and had the opportunity to ask him what it takes to build a successful manufacturing business. Here are his 3 simple success lessons to leading, growing, and scaling any business to the top.
People matter: "We are a family business," says Kevin Jackowitz. "And I'm not simply talking about the fact that my father, my brother, and I are running the firm. No, to us, every employee of the company is family and we treat them like that." Kevin says that many of their employees have been with the firm for decades. For example, he introduced me to Al Bowser, an employee who has been in their manufacturing plant since the Dickinson family owned it. Kevin explained that in any manufacturing business there is a ton of wrote work that has to be done over and over all day long. Perfection of the product is a byproduct of the pride of the employees. Kevin said that you will never see a dirty floor at their plant or a crooked label on a bottle for one simple reason, the employees care. Kevin reiterated, "This is our home and we are all family, and we treat the facility and the people as such." Jackowitz says that many of their employees have come from other manufacturing plants where they say that they feel like a number, that they don't matter. At American Distilling, everyone knows each other's name, employees are empowered to make decisions and even change processes, and everyone understands that every single job within the organization is as important as the next.
Pride in Sustainability: One of the business practices that seems to set American Distilling apart from many other manufacturing businesses is that they have an absolute focus on leaving the environment better than they found it. Although profit is always important in business, profitability is not the driving motivator behind the scenes at this firm, environmental sustainability is. For example, they only harvest their Witch Hazel plants in areas that are approved according to the National Organic Program regulations prior to use. The harvested Witch Hazel is brought to their manufacturing facility in Connecticut. The facility extracts the therapeutic organic constituents of the Witch Hazel to produce a variety of finished products. Then, the leftover plant material is recycled into biodegradable landscape mulch, leaving zero waste. In addition to their eco-friendly policies, the company is proud that they recycle consumables within the plant, never test their products on animals, use electricity from renewable resources, and have installed a state of the art heat reclamation system, which provides the vast majority of the facility's heating and hot water requirements. Kevin Jackowitz says that doing business well is not enough for them, they believe in doing what's right too.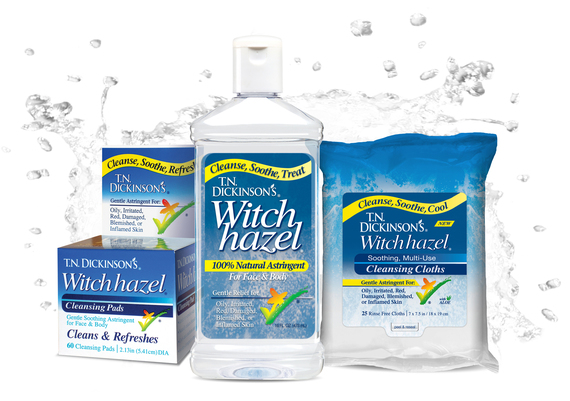 Listening to Consumers: It was interesting visiting the office of Ed Jackowitz because his shelves are lined with Witch Hazel bottles going back decades. I recognized the old black and red bottle that was in my family medicine cabinet growing up. Over the years, the product has remained the same, but the branding, packaging, and marketing has changed significantly. As well, new uses for Witch Hazel have allowed for additional product extensions. I asked Kevin, how come everything except the actual product has changed so much over time. He explained that the company branding has evolved because consumer tastes have changed with the times. "So, you remember the old black and red bottle of Witch Hazel growing up. Based on that packaging, would you feel comfortable putting that on your face today," asked Kevin. He went on to explain that they talk to their customers a lot. Customers feel better about a product if it has appealing astetics - pretty, rounded, clear bottles, with relational pictures of the plant, he explained. As well, he says consumers feel better about a product when it is touted as all natural or organic. Kevin says that American Distilling is diligent about talking to the end users through surveys and focus groups. They've had products that never came to market because the focus group kicked it back. As well, they've seen product segments soar because they listened to market feedback. Dickinson's Witch Hazel is sold around the world, which means that they must listen to consumers from all walks of life, in many different countries. It is for this reason that packaging and esthetics change from country to country. As Kevin says, "If you want to know what your customers want, all you have to do is ask them!"
The American Distilling family is excited that this year celebrates 150 years of Witch Hazel skin care. While many companies can never seem to figure out which way the top, Ed Jackowitz, and his sons Kevin and Bryan, have totally figured out "witch" way to the top.
Related
Popular in the Community