Online education changed my life.
It's really that simple. Living in a small town, I didn't have access to higher education. And I didn't have time to travel over an hour to attend college while raising a young family and working full time.
Enter online education. It was the perfect opportunity for me to finish my education and still do everything else I needed to do. Fast forward a dozen years later, I'm honored to teach at non-profit online university and love teaching students from all over the globe.
That's why I was so excited to have the opportunity to talk with Michal Borkowski. He's the CEO and co-founder of Brainly, a social learning network for students that's changing education for millions. I personally understand the potential online learning, at every level, can have on student's lives. And I understand that the future of education lies in the crossroads of technology and innovation.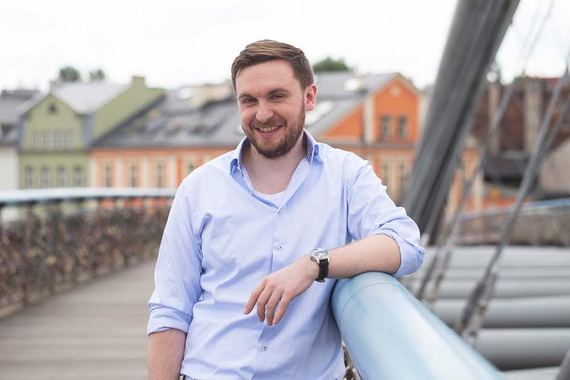 Leaders, celebrities, and educators all have their own ideas how education should look like and how to students should learn skills in a faster, more sustainable pace. As of yet, there's no understanding or consensus on how new technologies will be integrated into education, and consequently, into the lives of school-age children.
Borkowski discussed how Brainly is shaping the way of the future for educators, students, and how learning is ripe for change.
How should education change in your mind?
Schools are so strapped for resources that they're often obliged to take a one-size-fits-all approach to learning rather than account for the individual needs of each student. Educators know this, which is why personalized learning has become such a buzzword recently. Personalized education works because it focuses on the needs of the individual student rather than teaching the same topic the same way to every individual.
Personalized education should not mean that students are isolated within their own specific academic paths. Instead, it means that other people are critical components of how a particular learner's educational path is established. We believe that the addition of social dynamics to a study program can train "soft" social skills like leadership and motivation, which are crucial to a student's future success.
According to a study released by RAND Corporation, the longer students use personalized learning, the better their growth in achievement becomes. This makes it critical that we make the switch to personalized education sooner than later. No two students share the exact same interests, study habits, or learning capabilities. The earlier we start maximizing the student's potential, they better they will be long-term.
How did you acquire your 80 million users? What's your growth strategy moving forward?
Brainly originally launched as Zadane.pl in Poland seven years ago. Within our first 6 months, we registered 1 million unique users. Brainly ignites excitement in our users by making learning engaging. The concept of students helping students encourages collaboration and makes it easy for users to find the answers and increase their knowledge on a topic.
Brainly is different from most approaches because it is our belief that personalized education can go along with social learning. Finding the right people to learn and study with increases the effectiveness of those processes and delivers more assimilable content. Instead of reinforcing antiquated learning techniques, we encourage students to interact with another, ask questions and spark a conversation.
The more students are engaged in the learning process, the more they remember for the long haul and the better their future learning experiences will be.
Education is a game-changer. It opens doors, improves happiness, and launches careers. Our vision is to equalize students' chances around the world by providing access to high-quality education and information to anyone who wants it and by connecting students with a community of like-minded peers. As technology advances and influences learning tools, it's increasingly possible to level the educational playing field by granting every student access to a built-in support system.
Our community of learners around the world has grown organically. The power of Brainly is our open knowledge base, which attracts millions of learners each month. They come for help and knowledge and stay for the community and educational interactions, which are the heart and soul of the Brainly experience. We are now focusing on expanding our community and perfecting our product. There's still a lot to be done to ensure that students receive the help they need. But we have a good vision of how to get there.
What's the main criticism you encounter? Do you get pushback from educators?
Unfortunately, not every educator is onboard with the idea of Brainly. The opinion shifts based on the country they reside in. Brainly focuses on earning their trust. In some countries, educators are more hesitant to introduce new technologies into the learning experience, though in other countries educators are actively pursuing new learning technologies.

In all cases, it's very important for us to earn the trust of educators by demonstrating that we have no intention of substituting or replacing conventional in-school learning methodologies, and by being clear that we deeply value and appreciate the difficult jobs that teachers tackle each day. Students are our main focus, but we're thrilled to see that many educators and parents also value a community where young people can learn and interact while having fun.
We've had countless conversations with educators, and one of the most common responses we hear is that Brainly can take the night shift from overworked teachers by providing students with the help they need outside of regular school hours. And this is very much true, especially since the vast majority of students can't afford expensive private tutoring or after-school classes.
What are the main challenges?
One of the ways Brainly succeeds at earning educators' trust is through our collaborative culture. We understand teachers and parents play prominent roles in the student's education and hold multiple focus groups to include them in ongoing academic research. The valuable insight Brainly gains from this collaborative partnership directly impacts the products we release to our users. All of this makes it possible to put the students and their needs first.
Under Trump, school choice is once again being discussed; how do you see Brainly in the context of the wider educational debate in the US?

The whole point of Brainly is to put students first. Like any company, we do keep a close eye on political shifts, but at the end of the day our product is student-centered and transcends politics in the same way it transcends the various national and cultural differences we've encountered in our 35 global markets.
Regardless of where someone grows up or what political views their parents hold, and regardless of who happens to be in office at a given time, students will always face a common set of core learning problems, just as they'll continue to be united by their impulse to turn to one another for help. So at Brainly, we have less interest in the ebb and flow of politics than we have in doing what we do best, which has always been to connect students to a community of like-minded learners.
Do you have data to share about the effectiveness of your platform?
Every household is unique. Whether it's a two-parent or one parent home, chances are those parents work full-time jobs. Not all households have individuals actively present to help kids master the skills students need to make it in the real world. Brainly solves this ongoing problem for students according to Borkowski.

We've surveyed more than 20,000 students worldwide to see how young learners seek help when they're studying or completing homework. Unfortunately, about 60% of students said their family members do not or cannot help them in these areas. This is why we created an online learning environment where students can interact with other students to improve their knowledge."
Another study we recently conducted sought to understand how Brainly helps students learn. We found that 77% of our users improved their grades by asking and answering questions on Brainly, while 82% of users reported that after asking and answering questions on Brainly they felt that their learning outcomes had improved
Brainly technology gives students free access to more resources (other students) all over the world, making it easier to find the answers they need. In return, they get the opportunity to help other students on their best topics.
Brainly focuses on three core values: stay curious, lend a hand, and strive for better. Focusing on these three core values promotes and increases education engagement, interest, and drive for its users. Brainly is changing the way students learn by giving old-school ideas an overdue update.
Kids helping kids is a concept that's been around for ages. Brainly moved that concept to where those students spend their free time, on the Internet. Partnering online collaboration with education is changing the future and helping students meet new demands and future expectations.
REAL LIFE. REAL NEWS. REAL VOICES.
Help us tell more of the stories that matter from voices that too often remain unheard.