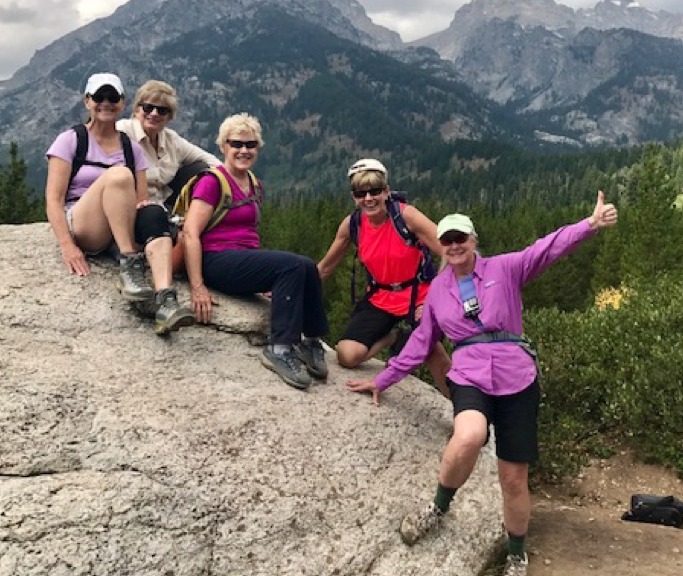 (And, advice for my high school grandson)
When the Beatles first released the song With a Little Help from my Friends, I was almost 16 years old. Now, at age 65, my oldest grandchild is almost 16 years old. If there is one thing I really want to impress upon him, it is to pay special attention to those friendships he is now making in high school. (I would also tell him to study hard and cultivate his athletic skills, but he already does that, so it's the "hang onto your friends" skill that I want to emphasize.)
I, along with my high school friends, turned 65 this year. Sociologists would define us as "the young old" – the group between 65 and 74. When we were in high school, we never planned for life at 65 – it was so far away it was beyond comprehension. Now that we are here, what have we learned about the value of friendships?
First, once you are 65, I can pretty much guarantee that you will not be able to keep straight all the stories of your life. Events, and people, and jobs, and decades, run together - into a complicated narrative. A quilt of many colors, as they say. Having friends who have known you throughout is priceless. At 65, my high school friends are a mix of happily retired, nervously retired, partially retired, soon to retire, and never going to retire. We are married, single (but with sleep over boyfriends), parents, stepparents and grandparents. We range from gun-toting to never allowing a gun in the house, from Republican to Democrat, from straight to gay (OK - only one gay person, but if you count our present numbers that's over 10%). Most importantly, we have become people who can complete each other's stories - often more accurately than we can ourselves. Maybe you will be lucky enough to have a spouse that will stay with you for decades and can also complete your stories. Good for you, but you still need the friends. They provide an outside perspective that is fun, deep, and life-affirming.
What's it like to hang onto friends for decades? Well, don't expect that you will agree with them all the time. Don't even expect that you will want to see them each and every year. Sometimes you may be off - distracted by a new love, the end of a marriage, the death of a parent, the responsibilities of a new job. But when you remember to pay attention again – a true friend will still be there. Realize that you may let one another down once in a while – true friendship does not require perfection. Hang on -and forgive - and reconnect when you can. It keeps getting richer.
For us, I believe it has evolved into an experience of "being held." It is a friendship intimacy that comes from knowing you have this web of friends, people who laugh with you (not at you - although sometimes there's a bit of good natured laughing at you too) - who help you make sense of life events, of aging, of helping you feel you're not crazy or alone when life gets hard. Amongst my friends we have experienced: a few cheating spouses, several divorces, deaths of parents and siblings - sometimes from a shocking accident and sometimes from a slow meandering painful death - several remarriages, family members with substance abuse problems, several new body parts for ourselves and our spouses (knees, hips, shoulders), the joy of grandchildren, and even the very sad death of one of our own after watching her endure a frightening ten months of brain cancer. We have attended one another's weddings (and for some of us, those wedding invites were sent out more than once...), funerals of family members, decade birthday parties, recognition & retirement events.
For our next step, we need to renew our commitment to these friendships. So far, we have lucked into this. But now - at 65, maybe we need to pay more attention. We only have three mothers left - and no fathers. We grow in and out of roles as each other's parents, and siblings, and even children. Each of us hold various portions of all those memories that we each need to have reflected back to us to remind us who we are, to help us define who we are here, now, at this time and place.
The commitment is simple; it is a recognition that we know one another and a promise to continue showing up for one another. If you contact me, I will respond - happily so. If I contact you, you will respond - happily so. We can offer one another words of advice, or just a listening ear, as may be appropriate. I don't expect you to solve my issues, I realize I can't solve yours. But the fact that we have 50 plus years of overlapping lives brings substance to a self that still, even at age 65, can often be hard to know. We are helped enormously in our journeys by the fact that we unfailingly seem to make each other laugh. We see one another reflected in the others' eyes and memories, and that helps make us real.
My wish for my oldest grandson, who is turning 16 this week, is that he and his friends will realize that being a friend, and having a friend, is at the very top of the life skills they are now learning.
REAL LIFE. REAL NEWS. REAL VOICES.
Help us tell more of the stories that matter from voices that too often remain unheard.
This post was published on the now-closed HuffPost Contributor platform. Contributors control their own work and posted freely to our site. If you need to flag this entry as abusive,
send us an email
.