Something extraordinary might have happened today in China. I was preparing to write a blog about China's latest crush of illegal ivory -- the third such event in the last two years. Instead, the global conservation community was greeted at the crush site in Beijing today with a surprise announcement that China's Government plans to cease the processing and domestic sale of ivory.
It would be hard to overstate how significant this announcement may turn out to be. Its potential impact could be critical to the fate of Africa's declining elephant populations, which have been targeted by ruthless criminal syndicates across sub-Saharan Africa to supply the international demand for ivory. In the past several years more than 100,000 elephants have been slaughtered in Africa; that is roughly 96 elephants a day, or one every 15 minutes.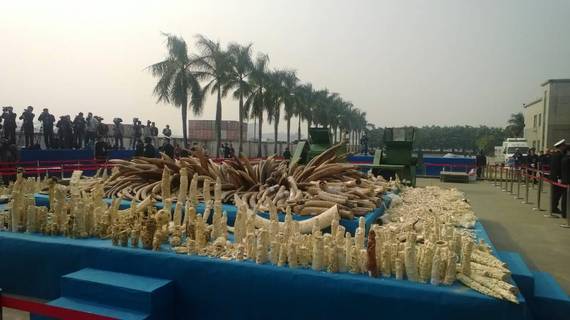 In January 2014, the Chinese Government destroyed more than six tons of confiscated ivory. Photo ©WCS.
China is by far the largest market for illegal ivory in the world. Most of the ivory leaving Africa is destined for China and that illegal trade is the primary driver for the poaching crisis that has spread across Africa during the last decade. China's announcement today has the potential to be a game changer.
Shutting down the legal ivory industry in China will remove the cloak behind which the illegal trade has been hiding. Furthermore, China's statement will precipitate similar commitments from other regional consumer countries; for this reason alone, this move should be recognized for its significance.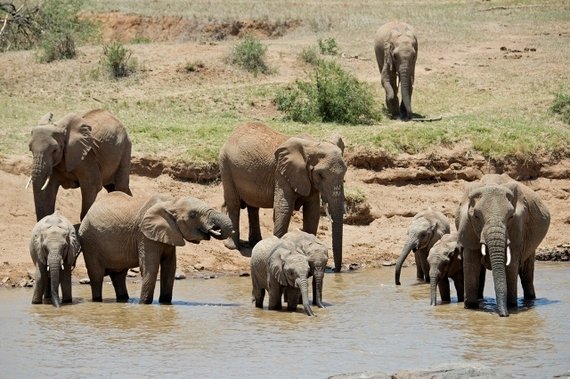 Approximately 96 elephants are slaughtered on a daily basis for their ivory in Africa today. Photo by Julie Larsen Maher ©WCS.
If these benefits are to be realized, China must now follow through on the new global leadership course it appears to be seizing through its domestic ivory policy. In addition to the destruction of confiscated ivory stocks, the Chinese government now needs to announce effective trafficking deterrents, such as a commitment to successful prosecution of criminals, significant fines, long jail sentences, and asset seizures.
Of course, this will not solve Africa's poaching crisis by itself. We, the global community, must increase our commitment to elephant range states in improving protection of their wild elephants. We must also dismantle the criminal networks that are driving the trafficking. In short, we need to respond to China's leadership by re-committing to Stopping the Killing, Stopping the Trafficking, and Stopping the Demand.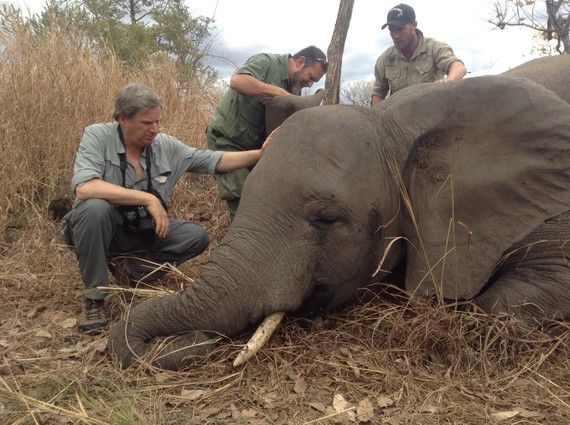 Cristián Samper with WCS/Niassa Reserve field op team in Mozambique investigating carcass left by poachers. Photo by Alastair Nelson ©WCS.
Earlier this year, the China State Forestry Administration released a revised list of licensed ivory carving factories, legal ivory retailers, and sellers. Ten percent of factories or retailers previously listed have been removed. With today's announcement, we look forward to China clarifying a timetable for closing the remaining factories. It will do so knowing it can continue to maintain a rich carving heritage with the substitution of other materials for ivory.

Consumers in the U.S., China, and other countries should join hands on this issue. As the Chinese Government encourages greater ecological awareness, the global community must support China as it addresses its role in the elephant poaching crisis. Supply-side measures are essential but insufficient; elephants will never be safe until consumers no longer see ivory as desirable, demand plummets, and - especially relevant today - there is no longer a place to buy it.
------------------------------------------------------------
Cristián Samper is president and CEO of WCS (Wildlife Conservation Society) and a member of President Obama's Advisory Council on Wildlife Trafficking. Follow Cristián on Twitter at: @CristianSamper.
Calling all HuffPost superfans!
Sign up for membership to become a founding member and help shape HuffPost's next chapter