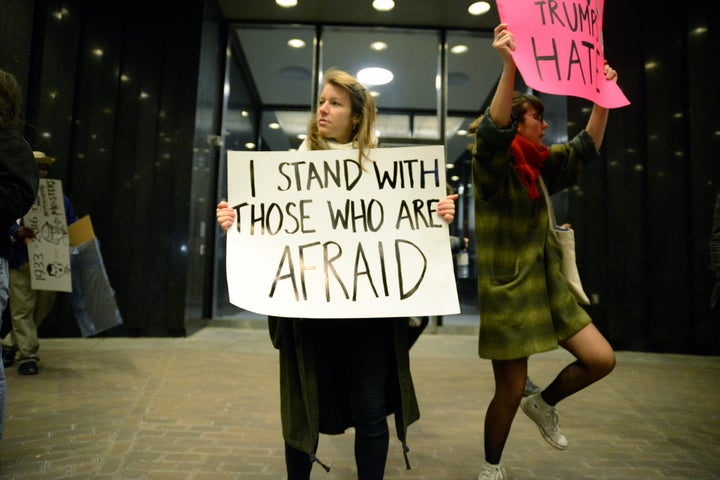 Less than 24 hours after Donald Trump won the election, Dr. Stacey Leigh Rubin ― an OB-GYN with Johns Hopkins and a fellow with Physicians for Reproductive Health ― saw a change in her patients.
Rubin told The Huffington Post that many are concerned about what a Trump-Pence administration means for their reproductive rights, and are wondering what they need to do to protect themselves right now.
"The day after the election, I had a patient scheduled to come in to get an IUD. When I asked her to confirm that she still wanted the procedure ― which is [a] standard [part of our care], she became very emotional and tearful. She said, 'Yes, of course I do. I'm so glad I had this appointment already, because in a couple of months I might not be able to afford an IUD.'"
"We actually cried together," Rubin continued. "We don't know what the new administration is going to do, and how it is going to impact women's ability to control their own bodies and lives. But that uncertainty has been causing a lot of fear and anxiety."
And while Trump told the Wall Street Journal last week that he intends to preserve certain aspects of the Affordable Care Act, he campaigned on the promise that he would repeal Obama's health care law, which includes a provision to cover contraception at no-cost to women. On Sunday, House Speaker Paul Ryan refused to address what he called the "nitty-gritty details" of whether full coverage of birth control would continue should the law be repealed.
But women's health care providers say they're also seeing similar concerns reflected in the conversations they have with patients, face-to-face, as well as the services they are providing. 
"We're getting additional calls to get scheduled for an IUD ASAP," said Rubin, adding Facebook acquaintances who know she is an OB-GYN have been sending her private messages, asking her what the election results mean for them.
Cecile Richards, president of the Planned Parenthood Federation of America, told Rachel Maddow that the organization has seen an increase in the number of women calling in to make appointments to get birth control. "They are of course concerned that Donald Trump will follow-through on his pledge to overturn the Affordable Care Act," she said. "So we are seeing lots of new patients come into our health centers."
But even OB-GYNs who say they haven't experienced a huge upswing in patients requesting IUDs in the last week say that they are bracing for what the next four years could bring ― not only in terms of contraception, but abortion access. The Vice President-elect Mike Pence has led the charge to defund Planned Parenthood and publicly called for Roe v. Wade to be overturned, promising to consign it to "the ash heap of history where it belongs." As governor of Indiana, he signed a law that would require fetal tissue be cremated or buried after an abortion ― essentially, a funeral ― though that law has been blocked from going into effect. 
"None of us know what is going to happen," Dr. Jennifer Gunter, an OB-GYN and writer, told The Huffington Post. She hasn't heard from many worried patients, but is personally preparing for the possibility that her ability to provide women with comprehensive care could be diminished.
Gunter laughed ruefully. "I'm pretty much prepared for a gynecologic apocalypse ― and you can quote me on that."
Calling all HuffPost superfans!
Sign up for membership to become a founding member and help shape HuffPost's next chapter
BEFORE YOU GO
PHOTO GALLERY
23 Empowering Images From Poland's Huge Abortion Rights Protest