By Hong Soon-do, Beijing correspondent, AsiaToday - There were quite many dramatic moments at the Rio Olympics which concluded on Monday. And the victory of the Chinese women's volleyball team right before the Olympics' closing ceremonies was surely one of the most dramatic events at the Olympics. The miraculous victory has not only cheered the whole country up, but also brought new social phenomenon like patriotism to the country.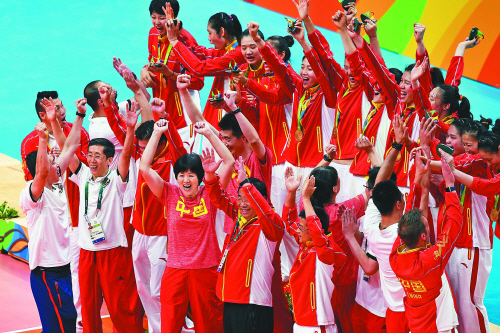 [The Chinese women's volleyball team won a gold medal after beating Serbia in the volleyball final on August 20. Front row, third person from the left is the team's head coach Jenny Lang Ping./ Source: Xinhua News Agency]
Initially, the squad was the favorite in the Rio Olympics. In fact, the girls, with an average age of 24 years old and an average height of 188.5cm, showed off their top skills in various competitions. However, the squad started its campaign with losses against the Netherlands, Serbia and the U.S. Pushed to the fourth place in group, the Chinese team met the powerful defending Olympic champions Brazil.
When almost no one thought they could win, the squad mounted an impressive comeback to beat the hosts 3-2 before they avenged their group loss on the Netherlands in the semifinals. It was no different when they got into the final. They took a surprise 3-1 victory over Serbia they lost in the group stage, and won the gold.
China had the worst-ever results in Rio. Its initial goal was to come in second in the gold medal tally, behind the United States. While it has often finished second in the Games, China's number of gold medals was significantly down with 22 gold medals ahead of the women's volleyball final. Obviously, many Chinese were disappointed with the country's poor results. Some of the Olympic players received violent criticism.
But when the Chinese women's volleyball team had a surprise victory in the final, the public stopped criticizing and everyone was thrilled by the victory as if China won the first place in the medal table in Rio. The victory revived talk of a "patriotic women's volleyball spirit" that first emerged more than three decades ago. The win also made chief coach Jenny Lang Ping became a national hero. The 56-year-old former ace spiker earned the nickname "Lang leader" for winning Olympic gold as both a player and a coach.
The future of the Chinese women's volleyball team led by 22-year-old spiker Zhu Ting is bright. Some predict that the winning team will sweep the world stage for a decade at least. It seems China's patriotism fever calling for the "spirit of women's volleyball" will also become stronger.
Calling all HuffPost superfans!
Sign up for membership to become a founding member and help shape HuffPost's next chapter