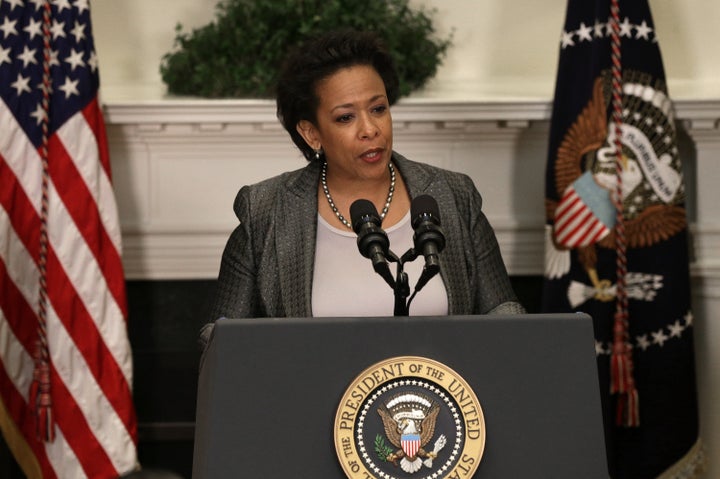 With the nomination of Lorretta Lynch for attorney general, it is a crucial time to learn from past mistakes and oversights. We call on Lynch to learn from the past and work towards true accountability and fairness for all.
"Broken windows" is a criminology theory that has been used for decades to harass racial minorities and poor people: if you live in a place with broken windows, you will go to jail for minor offences. Though there is no evidence that the practice reduces crime, it doesn't seem to be letting up any time soon.
There's also an equal and opposite theory in effect when it comes to crime, in which white and rich people don't go to jail for devastating crimes. This theory is not proclaimed in public, but it operates in private. Let's call this the "marble columns" theory of criminology: if your workplace has marble columns, you will never go to jail.
Together, these theories illustrate the increasing discrepancy between justice for the rich and justice for the poor. On the one hand, the rise of the industrial prison complex, in which publicly traded private companies depend on increasing inmate populations even as violent crime rates are plummeting. On the other hand, a complete lack of accountability for the widespread fraud in the financial system that Judge Jed Rakoff, among others, has spoken so articulately about.
Perhaps there is no better example of these extremes than the empty and meaningless criminal charges against HSBC for laundering massive amounts of drug money, even as the war on drugs has so utterly devastated the black community. While street dealers are almost automatically incarcerated, those who helped finance the cartels for years pay fines that are negligible compared to their profits and then go on with business as usual. The fines are no more than bribes for and against the public consciousness.
Other egregious crimes by the megabanks have also been handled according to the "Marble Columns" theory. Recent news has exposed how evidence of massive fraud was used to extract a bigger fine from JP Morgan in private, negotiated settlements, rather than as an opportunity to bring public, criminal prosecutions. If bankers know they will not go to jail, even if caught, they have no incentive to obey the law. Indeed, the Department of Justice's unprecedented prosecution of whistleblowers actually punishes those who expose malfeasance.
The next attorney general should do better. We want too big to jail to end, we want public prosecutions with public records of the facts, and we want protection for whistleblowers to root out further corruption and fraud. We demand the end of both the broken windows and marble columns approaches to justice.
Related
Popular in the Community