Few people would deny that politics is highly theatrical. Whether in film (The Candidate, All The President's Men, Lincoln) or onstage (The Best Man, Frost/Nixon, All The Way), conflict is easily found and ripe for dramatization. In 1959, when Fiorello! took Broadway by storm, the Pulitzer Prize-winning musical by Jerome Weidman, George Abbott, Jerry Bock, and Sheldon Harnick featured a delightful song entitled "Politics and Poker."
Fiorello! (which starred Tom Bosley as New York City's beloved Mayor Fiorello H. LaGuardia) gently mocked the corrupt dynamics of New York's Tammany Hall. Some 42 years later, Urinetown examined political corruption from a decidedly more caustic perspective. In his recent article in The New York Times entitled "Is Our Art Equal To The Challenges of Our Times?" A.O. Scott wrote:
"Much as I respect the efforts of economists and social scientists to explain the world and the intermittent efforts of politicians to change it, I trust artists and writers more. Not necessarily to be righteous or infallible, or even consistent or coherent; not to instruct or advocate, but rather, through the integrity and discipline they bring to making something new, to tell the truth. Some of my previous Cross Cuts columns have tried to plot the contemporary intersections of culture, class, work and money. I want to know more about the political economy of art at the present moment, to think about how artists are affected by changes in the distribution of wealth and the definition of work, and about how their work addresses these changes."
In the Fall of 2013 (as part of a rolling world premiere with ArtsWest in Seattle), Crowded Fire Theater debuted Gunderson's fiercely feminist fantasy romp entitled The Taming.
In the Spring of 2014, Crowded Fire Theater presented the world premiere of Amelia Roper's wild satire entitled She Rode Horses Like The Stock Exchange.
In March 2014, the San Francisco Playhouse presented the world premiere of Gunderson's provocative Bauer (which revealed the secret economic pressure that forced an internationally acclaimed artist at the top of his craft to give up painting).
Last fall, two productions new to the Bay area took aim at the ruthlessness and vacuous vanity of American politics.
How dark and biting do you like your black comedy? How rude and in-your-face do you like your political satire? If, like me, you adore Sweeney Todd: The Demon Barber of Fleet Street and enjoy seeing sacred cows blown to smithereens, you will fall head over heels in love with Peter Sinn Nachtrieb's brutal, brilliant, and hilariously horrific political cartoon entitled The Totalitarians. It's got a small cast, to be sure, but what a goofy set of manipulative and misguided characters!
Poster art for The Totalitarians
Let's start with 20-year-old Ben (Andrew Humann), an angry, paranoid would-be American revolutionary who speaks in garbled tones while delivering his diatribes from behind a ski mask. Ben is not above asking his doctor to finger fuck him (as if checking for colonic polyps) so that the government agents he imagines to be monitoring their conversation via hidden cameras will think this was a routine rectal examination. Ben's insistence on continuing the conversation later that night in a public park close to a popular cruising spot for gay men confuses his seemingly compassionate physician (who still can't bring himself to tell the young man that he is dying from a rapidly-spreading cancer).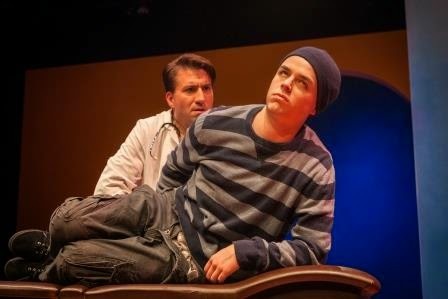 Jeffrey (Liam Vincent) gives Ben (Andrew Humann) a rectal
examination during The Totalitarians (Photo by Mark Leialoha)
Ben's doctor (Liam Vincent) is stuck in a sexually stale marriage. His wife (a political speechwriter and campaign manager) keeps hoping to land the perfect client while gingerly trying to ignore Jeffrey's well-intentioned entreaties about having children. With Francine hell-bent on a make-it or break-it approach to achieving her career goals, Jeffrey easily falls prey to the youthful ardor of Ben's political fanaticism coupled with his patient's obvious sex appeal and precarious medical condition. Even when Ben tightly grips Jeffrey's balls in order to make him cooperate with subversive plans to take the Nebraska state government by storm, in times of great stress Jeffrey still dreams about going someplace far, far away (like, maybe, Iowa).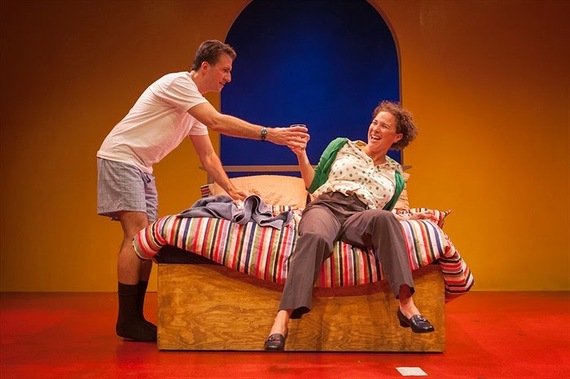 Jeffrey (Liam Vincent) and his wife, Francine (Alexis Lezin),
in a scene from The Totalitarians (Photo by Mark Leialoha)
Jeffrey's wife, Francine (Alexis Lezin), is a cunning linguist who knows how to write effective speeches that include powerful political buzzwords. But she needs to find a client who can win an election and gain her the kind of national attention which would lead to work on bigger campaigns. When Francine encounters an aspiring, amoral, right-wing egomaniac who fits the bill, she is torn between being sickened by the woman's reckless ruthlessness and blazing stupidity while simultaneously being swept off her feet by her new client's overbearing personality.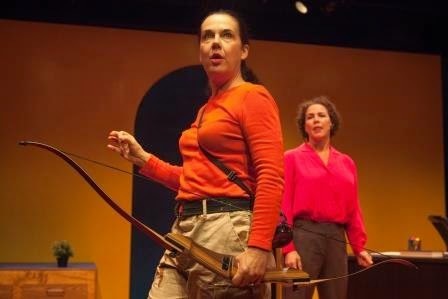 Penny (Jamie Jones) shows Francine (Alexis Lezin) who's
really the boss in The Totalitarians (Photo by Mark Leialoha)
Finally, there is the candidate herself: Former roller derby queen Penelope Easter has the trigger finger and tendency toward malapropisms ("Sometimes things just come in my mouth wrong") that give Sarah Palin her renowned gravitas; as well as the calculating, cold-hearted bloodthirstiness of Eleanor Iselin (from The Manchurian Candidate) combined with the smug stupidity of Michele Bachmann experiencing roid rage. A sexual predator who wastes no time getting Francine into bed for some "licky licky," Penny has always assumed that her husband is gay (she once told him that he's allowed to suck two cocks a month if that's what it takes to keep their marriage intact). She will loudly say whatever words Francine puts into her politically hungry hands as long as those words can propel her into political office. Next to Penelope Easter, Godzilla seems like a cuddly, household pet.
Nachtrieb's play was commissioned by the National New Play Network (NNPN) through the Full Stage/USA Program at New Dramatists with a lead grant from the Andrew W. Mellon Foundation. Its rolling world premiere productions have allowed Penny to terrorize audiences at the Southern Rep in New Orleans and the Woolly Mammoth Theater in Washington, D.C. before arriving at Z Space in San Francisco (where Nachtreib is a resident playwright).
Anyone who complains that nobody is writing good roles for mature women these days needs to get acquainted with Nachtreib's Penelope Easter (who makes Gypsy Rose Lee's mother seem like a pussycat). Deliciously directed by Kenneth Prestininzi, Jamie Jones (a comic powerhouse of an actor) transforms Penny into a strident version of Ann Miller's evil twin (who wouldn't hesitate to use her big hair and bow and arrow to bring people around to her way of thinking). Her Penny has just enough "truthiness" in her heart to make her capable of doing absolutely anything -- whether that means forcing Francine to choose between her husband and her client or finding a way to make sure her opponent slits his wrists at just the right moment).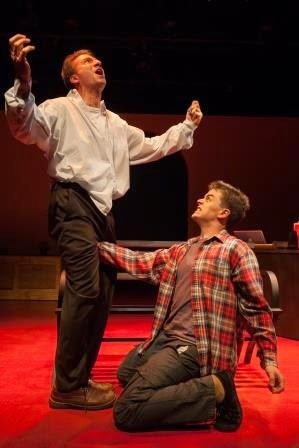 Ben (Andrew Humann) has ways of persuading Jeffrey
(Liam Vincent) to cooperate in The Totalitarians
(Photo by Mark Leialoha)
Nachtreib's play offers audiences the perfect antidote for anyone who's sick and tired of optimism. Here's the trailer:
I was recently chatting with a friend about the infamous bell curve and how it impacts the lives of theatre critics. While some people imagine that everything a critic sees onstage is just "fa-bu-lous," the sad truth is that one wades through a lot of drek in order to savor an evening that is truly exceptional. First presented at the Oregon Shakespeare Festival in 2012, Party People is one of those thrilling examples of musical theatre that is not just revolutionary, but also about revolutionaries.
Although I did not see the production in Ashland, one noticeable change is the addition of numerous computer monitors spread all over Marcus Doshi's unit set which facilitate the merging of archival footage and live capture of the performance as it unfolds onstage (videographers and cast members can often be seen using a digital camera that allows them to get up close and in the faces of various performers).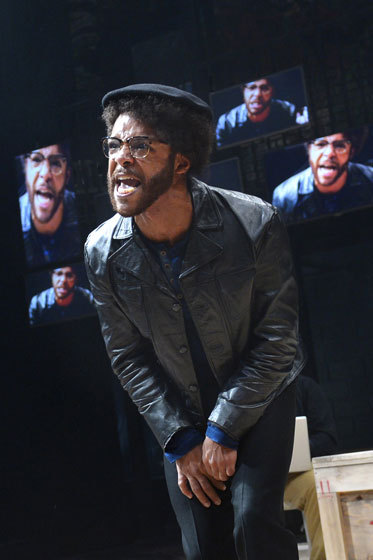 The many faces of Malik (Christopher Livingston)
are seen in Party People (Photo by: Kevin Berne)
The structure of Party People is as slippery as liquid mercury and yet, in some ways, oddly similar to 1971's Follies.
A party has been planned to reunite a group of people who once worked very closely together on social causes vital to their communities.
However, instead of a group of aging chorines from the Weismann Follies convening for one last time before the Weismann Theatre is torn down to make way for a parking lot, these are the former revolutionaries who founded the Black Panthers and the Young Lords.
Instead of a genial, octogenarian impresario modeled after Florenz Ziegfeld, Jr., the hosts are a young African-American activist named Malik (Christopher Livingston) and his Puerto Rican rapper friend, Jimmy (William Ruiz).
Malik and Jimmy work hard to guide the audience through lots of background material while trying to make sure that various relatives will attend their party (which is to take place in an art gallery while celebrating the debut of Jimmy's new act). The show unfolds with a frenzied energy that captures the racial oppression faced by those who formed the Black Panthers and the Young Lords back in the 1960s.
Party People deftly builds the anger of its ensemble into a white-hot dramatic force. Various personality clashes occur during the reunion as old wounds are revisited.
Donna (Robynn Rodriguez), the widow of a police office who was killed in the line of duty, gets to confront Omar (Steven Sapp), who spent many years in jail before being reunited with his wife, Amira (C. Kelly Wright).
Clara (Amy Lizardo) resents being forced to attend the party by her mother, Helita (Mildred Ruiz-Sapp).
Maruca (Sophia Ramos) has never been able to explain to the group how Marcus (Michael Elich), the man she married, turned out to be an undercover FBI agent tasked with infiltrating the Young Lords.
Tito (Jesse J. Perez) keeps telling Jimmy that he won't come to the party if certain people (especially Maruca) are there.
In describing what inspired the poetic theatre ensemble known as Universes to create Party People, Steven Sapp recalls that:
"We were looking at some footage of some Panthers and Young Lords' celebrations and reunions (they do them every year). You could see that different people had very different looks on their faces. A lot of them hadn't been around each other in a while -- maybe the last conversation they had with someone wasn't the most pleasant. There were suspicions of who was an agent and who wasn't. And all of a sudden they're thrust back into a room together to be Black Panthers and Young Lords. Some things haven't been dealt with. Some people don't get along.

Especially in the communities we come from and the revolutionary and activist circle, there is a level of blessing you have to get in order to move forward. You're supposed to give your elders a certain amount of respect. So for us, you could read 20 books about the Black Panthers and get some articles about the Young Lords, and see everything on YouTube, and you could write a play -- but that is very disrespectful. You have to talk to them and it can be very intimidating. But they really respect the fact that you come to them, face to face, to really hear where they're coming from."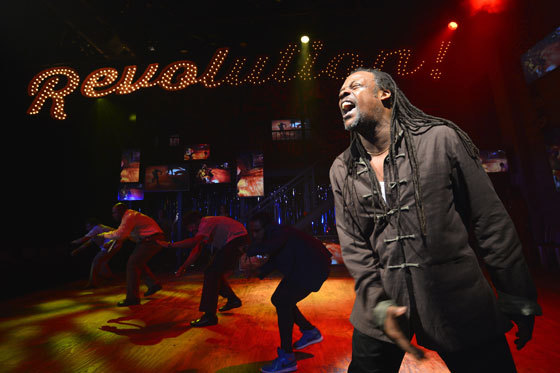 Steven Sapp is Omar in Party People (Photo by: Kevin Berne)
Developed and directed by Liesl Tommy, Party People takes events that happened nearly 50 years ago and brings them blazingly alive with the pulse and drive of shows like Dreamgirls and The Scottsboro Boys. Late in the second act there is an exquisite development as the elders from both groups challenge Malik and Jimmy about their intentions, pointing out that they don't deserve to be taken seriously until they've gotten some real skin in the game.
"What have you sacrificed?" ask members of the older generation. The two young men then defend their curatorial work as researchers and videographers by pointing out that they are using the media tools of their generation to bring new life to the message of the Black Panthers and the Young Lords. By doing so, they seek to help younger generations appreciate the risks that were taken on their behalf.
It's a fascinating way of justifying the editorial freedom inspired by cut-and-paste technology that has often been used merely to appropriate the achievements gained by someone else's blood, sweat, and tears. In the case of Party People, it helps to build a bridge between two generations of revolutionary spirits. In light of recent developments in Ferguson, Missouri and other racially-tinged news stories, one cannot doubt the relevance and immediacy of Party People.
Blessed with Millicent Johnnie's choreography, Broken Chord's excellent sound design, vocal direction and original music, and the superlative projection design by Alexander V. Nichols, Party People features some memorable performances by Amy Lizardo, Reggie D. White, and Michael Elich in supporting roles. Not only does the show gain strength as a reflection of today's problems with racism in America, it's one helluva powerful piece of music theatre.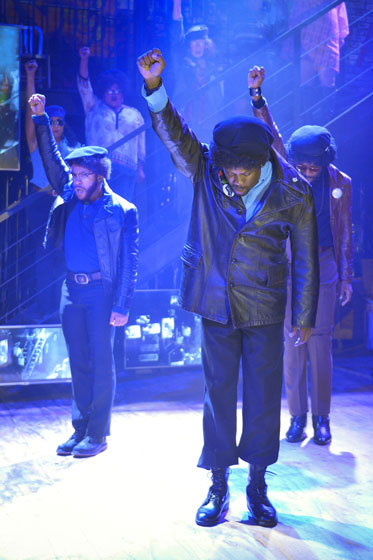 Christopher Livingston (Malik), Steven Sapp (Omar), and
Reggie D. White (Solias) in a scene from Party People
(Photo by: Kevin Berne)
Calling all HuffPost superfans!
Sign up for membership to become a founding member and help shape HuffPost's next chapter