Chol, 22, barely spoke for four days for fear that even a single word could make her a target.
In early August, Chol, her husband, and their two children, ages one and three, decided they could no longer live knee-deep in rain flood water in the camp on the UN base in Bentiu. Outside the base, clashes sporadically continued in Bentiu, the capital of oil-producing Unity State and a key battleground in South Sudan's now eight-month-long conflict.
They packed up what few belongings they still have and paid for a ride 636 miles south to the national capital, Juba. "There were many roadblocks along the way," she says. "I was afraid. I saw burnt homes, and skeletons along the road." She also thought that if she spoke, it would identify her as Nuer in a conflict that draws on ethnic lines.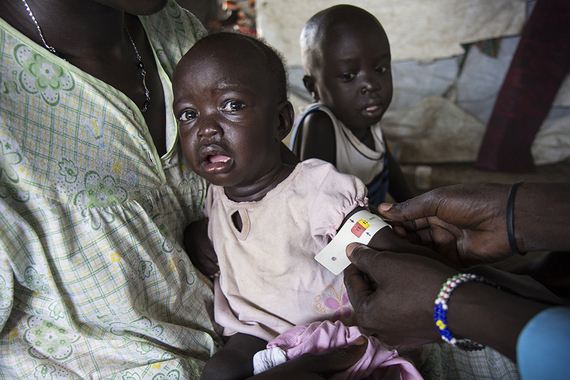 The entire journey took four days, and now they are settled beneath tarps and timber at a UN base in Juba known as Tomping. "The camp [in Bentiu] is not like the one here," she explains, her one-year-old daughter perched on her lap. "There the houses were all flooded."
It was in Bentiu where her youngest child, Nyabiey, started to get sick. "She started to get a fever, diarrhea, and vomiting," Chol explains, "and then became malnourished."
Shortly after arriving in Tomping, she was admitted to Concern Worldwide's program for severely malnourished children and is now receiving weekly check-ups and supplies of ready-to-eat therapeutic food.
As a possible famine looms over Unity State, Concern Worldwide is scaling up these same services on the UN base in Bentiu so that children like Nyabiey have greater access to treatment. In the past two months, the team has already admitted more than 200 cases of severe malnutrition. UNICEF estimates that as many as 50,000 children could die in South Sudan because of malnutrition.
Thankfully, with regular treatment, Nyabiey will gain weight and fully recover. Despite reassurances, Chol is still worried about her daughter, and is unsure when they will be able to return to their home, if ever.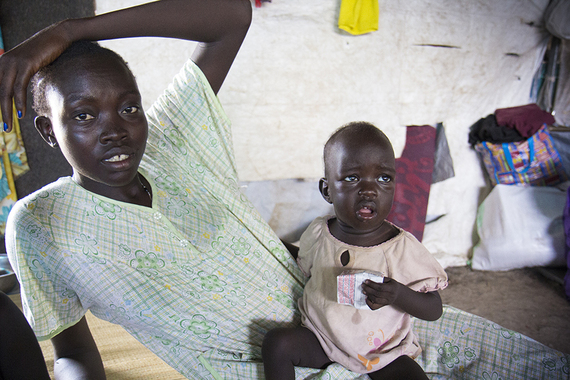 If the fighting had not broken out in December of last year, Chol says she would be at home in Bentiu with her children. Her husband would be at work, teaching at a nearby school. They had a small vegetable garden where they grew beans and okra.
"If peace comes, we will go home," she says, wiping sweat from her brow. "We will rebuild our tukuls [homes] and send our children to school. If [peace does not come] we will stay here, because we have nowhere to go."
Their return home is likely not anytime soon, as the struggle for control of Bentiu endures and food security deteriorates.
"With fighting there will be famine," she says, shaking her head. "Too much famine."
Concern Worldwide is an international non-governmental organization dedicated to reducing extreme poverty through emergency response, recovery and development programs. For information, please visit concernusa.org or follow us on Twitter (@Concern).
REAL LIFE. REAL NEWS. REAL VOICES.
Help us tell more of the stories that matter from voices that too often remain unheard.