Being diagnosed with cancer is probably one of the scariest things that can happen to someone. Many people have defied the odds. Since today is MAD Day (Mesothelioma Awareness Day), I wanted to share Heather's cancer story.
Heather Von St. James has had an amazing journey. She was diagnosed with pleural mesothelioma at the age of 36, just 3 months after giving birth to her daughter, Lily. The average age someone is diagnosed with mesothelioma is 74.
Heather's father worked in construction. She would put his coat on when he got home from work and was exposed to the invisible asbestos fibers on that coat. Mesothelioma is an aggressive rare form of cancer that is caused by asbestos exposure.
Heather was only given 15 months to live after the diagnosis. It's been 10 years and she is still going strong. Her focus is to inspire hope and always live in the moment, and has made it her mission to help other mesothelioma victims. "I've been accused my whole life of wearing rose colored glassed…and seeing life optimistically. I have no intention of ever taking them off."
As someone who's been diagnosed with breast cancer twice, I understand and applaud Heather's ability to be optimistic. I'm the same way. Focusing on the positive in most situations is important because it's a critical part of the healing process.
Raising awareness is also important. I was not aware that the use of asbestos is banned in 55+ countries, yet still legal in the U.S. and Canada - where asbestos is common in building insulation and siding. Asbestos is the only known cause of mesothelioma.
Approximately 3000 people will be diagnosed with mesothelioma each year in the United States alone. And those patients are given an average of 10 months to live. There are recent medical advances in diagnosing mesothelioma sooner before symptoms appear and the use of immunotherapy, a potential game-changer.
Heather is an example of how hope can help defy the odds.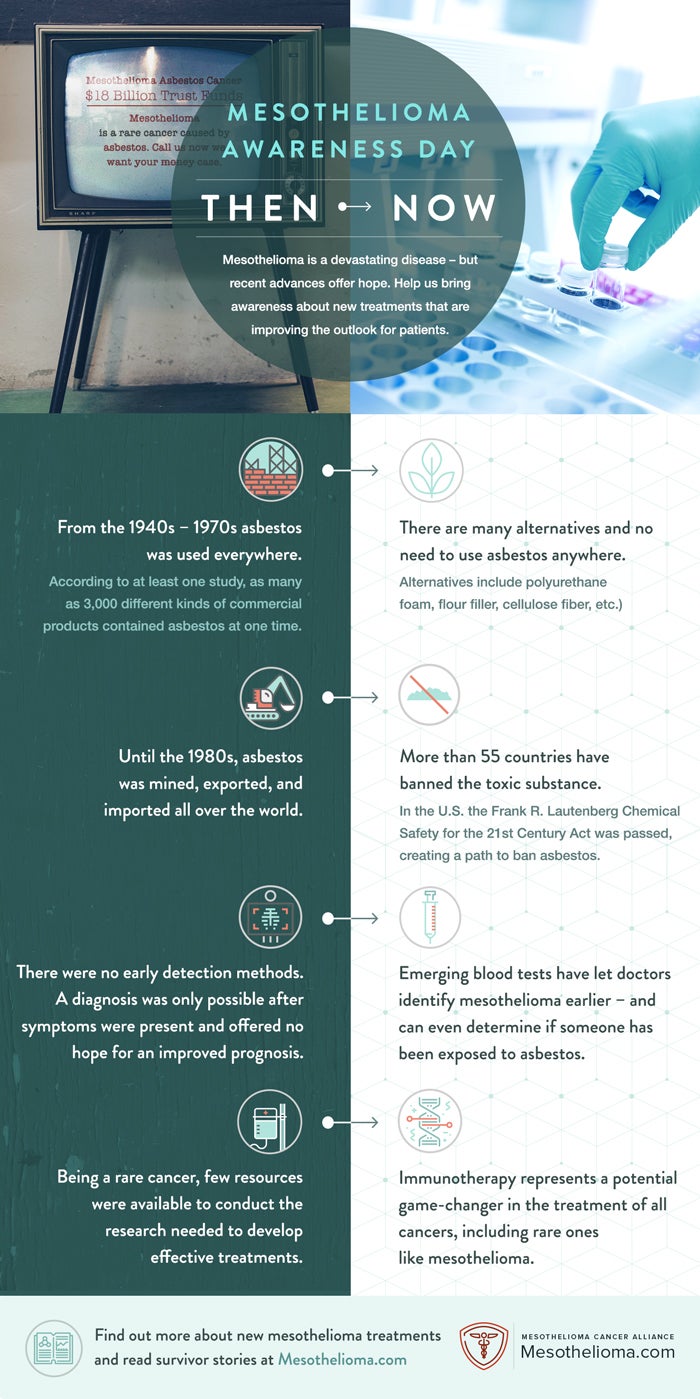 Brigitte is a Media Solutions Consultant, Speaker, and a Health Advocate (Certified Health Coach). She is also a two-time breast cancer survivor and living with a primary brain tumor (benign). Brigitte strongly believes the values applied from her health coach training enabled her to overcome her own health issues. Brigitte's goal is to influence others to be a part of the solution - choose empowerment - and embrace a healthier lifestyle by focusing on the Real Things. Check out her blog and connect with her on Instagram @brigittecutshall.
REAL LIFE. REAL NEWS. REAL VOICES.
Help us tell more of the stories that matter from voices that too often remain unheard.