On the heels of a new Congressional Budget Office report that the DREAM Act would reduce the deficit by $1.4 billion over the next decade and public support by Homeland Security Secretary Janet Napolitano, seven university students in San Antonio prepare themselves to enter their 28th day of a debilitating hunger strike that has now spread across the country.
The Texas students are weary, reaching a critical 30-day stage in a liquid-only fast that health experts warn could lead to organ failure, but hardly alone. A doctor now monitors their health daily. One student striker has diabetes.
In the tradition of famed labor leader Cesar Chavez, whose own "spiritual fasts" won workplace safety concessions for their parents' generation, the students' hunger strike has been joined by United Farm Worker cofounder Dolores Huerta and League of United Latin American Citizens executive director Brent Wilkes, along with thousands of students across the country.
Declaring that they don't plan to end their hunger strike until the Senate and House pass the DREAM Act, including a recent streamlined version unveiled by US Sen. Harry Reid (D-NV) that would require minors who arrived as undocumented immigrants to pass a 10-year waiting period, the strikers were joined last week by Rev. Lorenza Andrade Smith, who remains locked up at the Bexar County Adult Detention Center. The United Methodist minister was arrested on Nov. 30th, along with 15 other activists, at a nonviolent sit-in at the San Antonio office of US Sen. Kay Hutchison (R-TX), a one-time supporter of the Dream Act in 2007.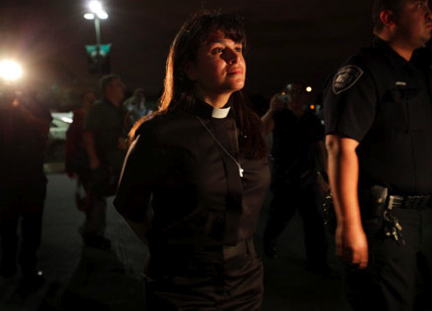 Along with two of the student strikers, Rev. Andrade Smith is on a complete fast--refusing water, as well as food. Supporters of the Methodist pastor and the students conduct daily vigils in front of the detention center.
"We're completely exhausted," said Felipe Vargas, a PhD student in History, Philosophy and Education Policy at Indiana University, who was born and raised in San Antonio, "but our spirit is stronger than ever. When we launched this hunger strike, we had no idea we would receive such wide support."
Calling on Sen. Hutchison to champion the Act during the lame duck session, the students were joined in their sit-in last week by legendary San Antonio activist and former city councilwoman Maria Berriozábal.
San Antonio Mayor Julian Castro met with some of the strikers today, and declared his public support for the DREAM Act, though he called on the students to end their strike.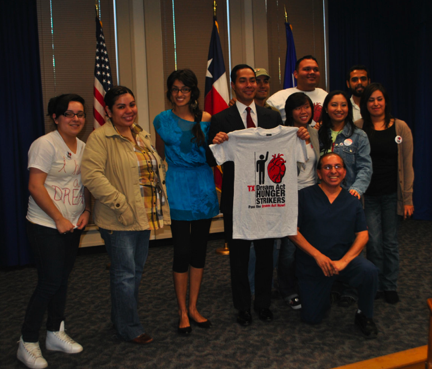 (Hunger strikers with Mayor Castro.)
Noting that all of his siblings have earned doctorates at American universities, Vargas pointed to a broad range of supporters--from the US Conference of Catholic Bishops to conservatives like former House leader Newt Gingrich--who have called for similar reforms.
"I do support the DREAM Act; I think it is a very reasonable and sensible way to assist young people to have an opportunity for citizenship," said Bishop James E. Dorff, San Antonio Episcopal Area of The United Methodist Church. On Rev. Andrade Smith's participation, Dorff released this statement:

"As her bishop, I wanted to support her personally, affirm her statement of conscience, affirm her Christian witness," he said. "I do not condone nor recommend breaking the law and she is aware of that, but I appreciate the depth, compassion and sense of commitment she has to seeking some kind of just immigration reform."
Pointing out the limited scope of the DREAM Act, which would only apply to minors under the age of 30 who are able to complete a 2-year university degree or military service, San Antonio defense attorney Maria Salazar declared: "If we can't pass the DREAM Act at this point, then I think we are looking at very little success for positive imigration reform laws." Salazar is defending a number of the protestors arrested at the sit-in at Hutchison's office last week. Salazar added: "We have to pass this now at least to convey to the new leadership that immigration reform is something we must act on now."
While the Congressional battle over the DREAM Act remains uncertain, the students--and their growing supporters across the nation--vow they will continue their strike until legislation makes it way through Congress.
Popular in the Community