It's only fitting that the Accidentals, who began a teen dream to travel the country and spread the sheer joy of music making, are reliving the reverie five years and over a thousand shows later with their major label debut called Odyssey.
The magical, lyrical, fearless and tireless trio from Traverse City, Mich., represent the irrefutable evidence that the future of our American youth is in good hands. All it takes is one listen to their Sony Masterworks August release or a live performance to hear the imaginative sounds they create while hauling around enough genres and instruments to test even the best of trailers on an extended cargo van.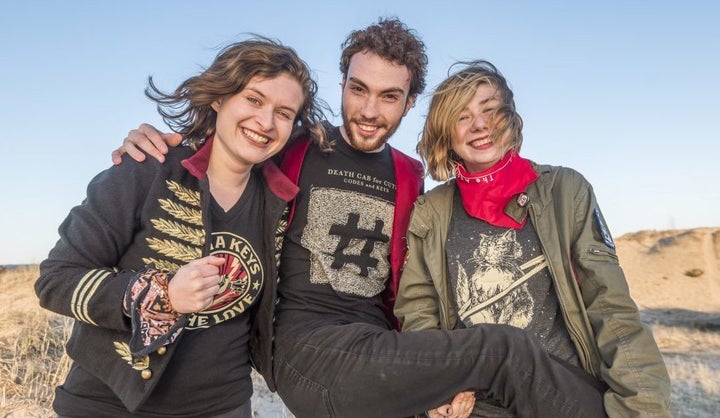 To celebrate their Odyssey in literal and figurative forms, the Accidentals — Sav Buist, Katie Larson and Michael Dause — present the music video premiere of the title song today (Oct. 18) at HuffPost.
"The video (directed by Traverse City homey JohnPaul Morris) does a great job of capturing the live elements of what we do; how tightly knit we are as a band, and how much we rely on each other," Buist wrote in an email exchange this week that included Larson. "Whenever we get on a stage, we break down every part of ourselves to express a common thought, and that can be really scary — but that feeling of giving and receiving as the music resonates with people makes it all worth it."
Buist, 22, and Larson, 21 (nine months younger) are two sisterly soul mates with like-minded musical interests and similarly crafted singer-songwriter skills who met at Traverse City West High School, then became major players at Interlochen Center for the Arts.
Deciding to form a band with Buist's violin and Larson's cello as the primary instruments, then later recruiting Dause and his drums, they have experienced the ups and downs of trying to get a career off the ground. And this video encapsulates some of those experiences, including their uncanny ability to not only walk on water but also perform swimmingly while staying afloat.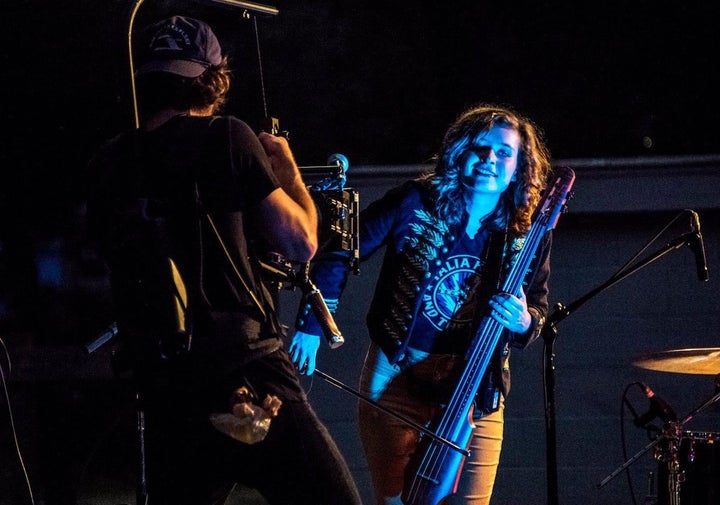 For a couple of ambitious classical-playing multi-instrumentalists with White Stripes tendencies, Buist and Larson generally split vocal and songwriting duties while trading off bass, acoustic and electric guitars. Yet they're open-minded enough to appreciate classic rock almost as much as their original material (and enthusiastically cover the Beatles and Rush as credible confirmation).
For the album's first music video and with a budget boost from their label, they had a few tricks up their sleeves during a two-day shoot covering four locations on a brief touring break at the end of August in Northern Michigan.
"We were first introduced to JohnPaul Morris when Sav and I put out our album Bittersweet in 2013," Larson said. "We were just starting out and wanted to create our first official music video but we didn't have a budget. JohnPaul had produced a couple of amazing videos for another artist, Jetty Rae, but we couldn't afford that back then. We made a deal with JP for that first video ("Lemons in Chamomile"). He offered to use his gear and oversight and collaborate with the students at our town's Career Tech Center who were studying videography. It was an awesome experience. We got to work with our peers, learn from JohnPaul and make teacups explode in slow motion.
"When we signed with Sony Masterworks and released our album Odyssey, we had a real music video budget, so we got in touch with JohnPaul and the team at Practical (Productions) to help make it happen. We were thankful he had invested in us in the beginning."
Maybe showing their classic rock appreciation with a nod to Deep Purple and "Smoke on the Water," the Accidentals decided to incorporate smoke and the water into this "Odyssey." Then again …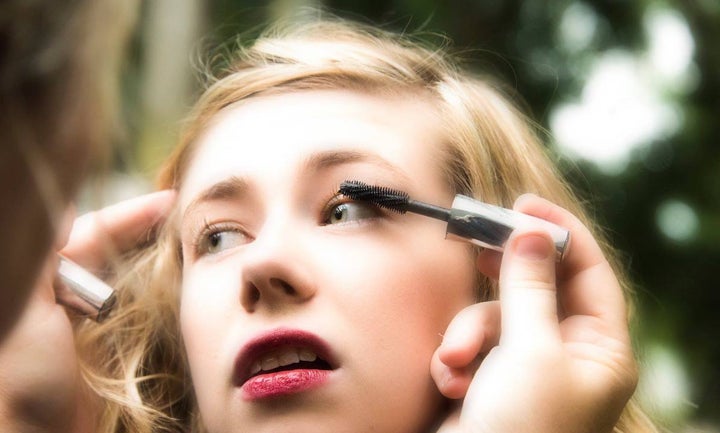 In the song written and sung by Buist, one of her lines is:
But I'm not weak, my brain's a hurricane
In the email, she explained, "Sometimes my brain can feel like a hurricane, since I have a really hard time shutting it off," and said the smoke in the video symbolizes one of those natural disasters that just can't be stopped.
The song, Buist added, "is all about acceptance and moving forward boldly — not in the absence of fear, but in spite of it. Sometimes it can feel like you're stuck in one spot, that nothing's ever going to change no matter what you do — that isn't true.
"The key is to take care of yourself, to be kind to yourself and to view movement and change in a positive light, even if it's just baby steps. Sometimes it means changing someone's perspective by changing their experience. Changing the story means being the change."
The video demonstrates various changes in scenery, too, moving from tight quarters serving as a rehearsal room to an outside stage mirroring "how every day, we step outside our introverted comfort zones and move to a place of vulnerability," Buist offered.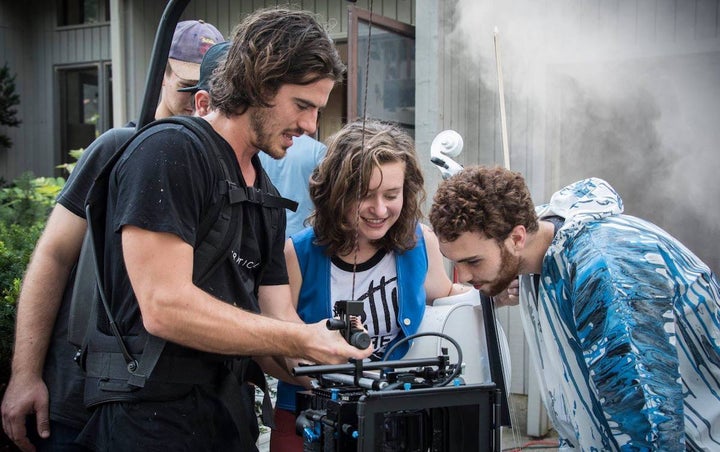 Before revealing any more spoilers, though, take a look now at the stunning music video for the Accidentals' "Odyssey," then continue reading to get the lowdown on the shoot and the creative minds of Buist and Larson.
Providing details about the making of the video and how the song relates to it, Larson and Buist took turns (as they are wont to do in most situations) responding individually in the group email. They hopefully shed some light on possible questions regarding this "Odyssey," including:

SCENE SETTER: WHAT'S ALL THAT STUFF?
Katie Larson: "The first scene from the music video is a cozy practice space. The Practical team filled an empty basement with antiques and knickknacks, and we brought buckets of personal keepsakes and 'Easter eggs' that we hid among the shelves. Some of the items include ... Emilee Petersmark's artwork for our albums and 12 series of tour posters, a tea cup from our first music video with JohnPaul, years of festival lanyards, a blue plastic whale figurine, a special book of short stories, Sav's aviator hat from our live 'Parking Lot' music video, trinkets we've collected on tour, some of our favorite albums, books, movies, etc. We got a little carried away with decorating."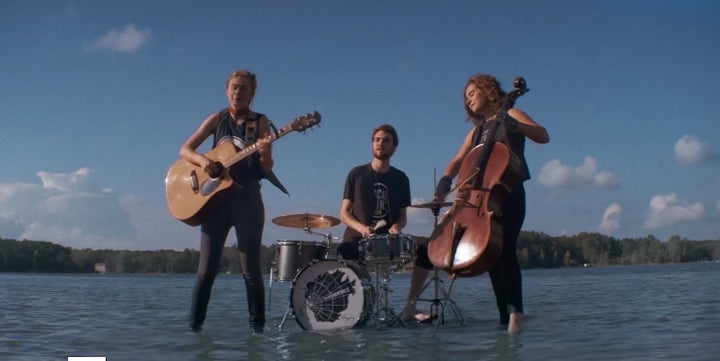 ON THE WATER FRONT: "HOW DID THEY DO THAT?"
Sav Buist: "We also have a 'water scene,' which features shots of us standing and playing our instruments on the water. We took Practical's (built from scratch) raft (which we spray-painted gray to hide it beneath the water's surface), got in a little canoe with all of our instruments and a full drum kit, and took them out into a friend's lake — then we stood on the raft and ROCKED OUT. I accidentally kicked water on Katie's cello about a thousand times, but it was a nice day out and we didn't even get chilly."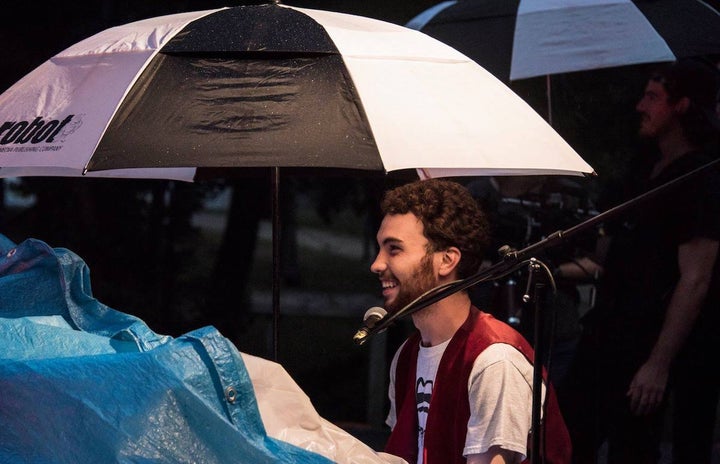 RAINSTORM TROUPERS: HOW DO YOU DRAW A CROWD?
Katie Larson: "There's an old stone amphitheater at the Civic Center (in the town) where we live. Sav and I took some of our first photos together there as a duo, and we thought it'd be the perfect spot for a live show. We made a last minute Facebook post asking for about 50 people to come out as extras for the crowd shots in return for free pizza. Not only did people respond — but over 500 people shared the post and we saw almost a hundred comments from people saying they were driving from across Michigan to be there for the shoot. We were only home for three days — so we looked at the weather forecast and picked the only day it wasn't going to rain. … It felt encouraging to look out and see friends, family, strangers … all of different backgrounds and ages, singing along to 'Odyssey.' I think it was a reminder to be grateful for all the people in our lives who we call family. As soon as we finished the last take, as if on cue, the sky opened up and started pouring. Instead of scattering from the rain, people helped us scramble to put tarps over all the equipment and fit it all in our trailer. Soaking wet, we said our goodbyes, made it back to Sav's house, and her dad drove us through the night to Detroit, where we took a flight to Colorado to start a tour. I'll never forget it."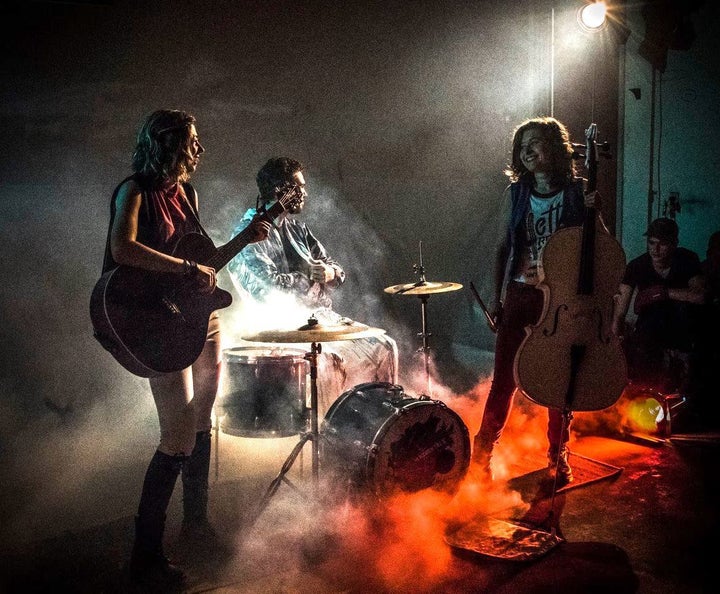 SMOKE GETS IN YOUR … MOUTH?
Sav Buist: "Another scene in the video is what we call the 'smoke scene.' We got a garage, a fan and some smoke machines, and we blended up overcooked kale and leaves to make 'debris.' We turned on the smoke machines and the fan and filled up the garage with this haze, and then put the leaves in front of the fan to make them blow around us like a hurricane. While it's an incredible shot, I chose to actually sing the words instead of lip-syncing them to the music they were blasting from the speakers (not my proudest moment), and I inhaled smoke for about three and a half minutes, which led to me stumbling out of the garage hacking coughs and crying at the end of the shoot. While that was probably hilarious and a little disturbing to any of the neighbors who might've happened to look out their window at that moment, I only thought it was funny about three hours later (I still think it's funny now)."
Michael Bialas is a journalist and photographer who enjoys writing about entertainment and sports for a number of online publications, including HuffPost and No Depression. Follow him on Twitter: @mjbialas
Photos at "Odyssey" video shoot by Myrna Jacobs. Publicity photo by Tony Demin.
Related
Popular in the Community