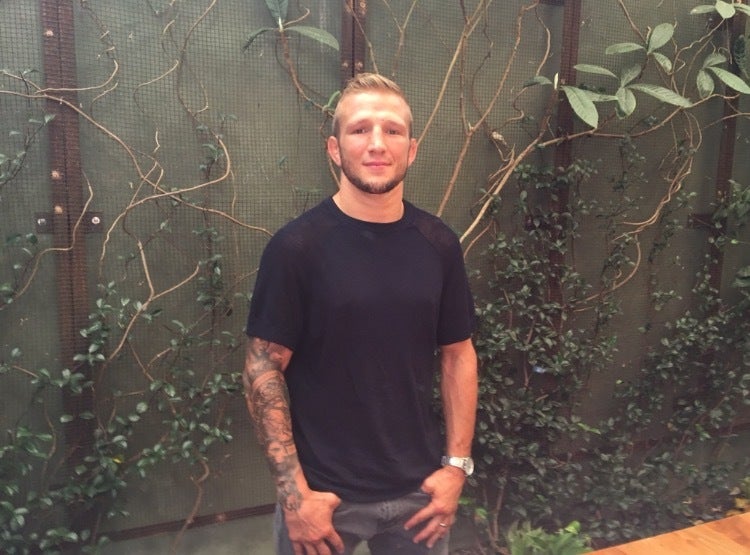 LOS ANGELES -- Long gone are the days of over training and tortuous weight cuts. T.J. Dillashaw has extended his fight I.Q. beyond the Octagon, taking a more academic approach to his current training camp.
Set to face a former teammate and rival, UFC champion Cody Garbrandt, in just over a week at UFC 217, which takes place at Madison Square Garden, Dillashaw has reinvented himself, yet again, relocating to Orange County, after two years in Colorado. The move is the second major transition for Dillashaw since launching his MMA career at Sacramento's Team Alpha Male in 2010.
"As long as you're willing to soak up the information and learn from anybody that's worth learning from, it's gonna help you out so much. I can become a new fighter. I can learn new tricks. I can add things to my game. I can be a completely new fighter if I wanted to when I come out," offers Dillashaw, who held the UFC bantamweight strap from May 2014 - January 2016. "I felt in my last two fights I've been different than in the past, and I'm always kind of switching up per my opponent, and the best thing to do is to keep your opponent guessing. I feel like that's what makes you the best in the world."
That desire to learn and expand his mixed martial arts repertoire is what first catapulted Dillashaw into the UFC's limelight. Forming a strong bond with striking coach Duane "Bang" Ludwig, a former UFC fighter, Dillashaw captured the bantamweight title with a spectacular performance at UFC 173. Once champion, he took the opportunity to train more closely with Ludwig in Colorado. The move led to a major rift between Dillashaw and his teammates.
Despite being labeled MMA's Benedict Arnold -- Dillashaw was famously referred to as a "snake in the grass" by Conor McGregor on the set of The Ultimate Fighter -- T.J. parted ways with the Alpha Male team, a group he now refers to as "hypocrites." And while the separation has garnered MMA headlines for the better part of two years, the move has paid dividends for Dillashaw, who seized the opportunity to work with a bevy of talented coaches and training partners, among them Sam Calavitta, a former high school calculus teacher turned conditioning coach and nutritionist.
Already working with a number of talented fighters like Cub Swanson, Juan Archuleta, Aaron Pico and Jake Ellenberger, Calavitta welcomed the former champion into The Treigning Lab — a facility for elite athletes in Orange County — when the Elevation Fight Team, Dillashaw's previous home base in Denver, dissolved earlier this year.
The results have completely transformed Dillashaw's physique and ability to cut weight. It's one of the many reasons he's confident in his ability to make it down to the 125-pound flyweight limit, should a super fight with Demetrious Johnson ever materialize.
"I've taken diet real serious since I've been down in Southern California," explains Dillashaw, who has completely wiped out the chemicals found in daily toiletries and products from his regimen, opting instead for natural alternatives. "I met a new strength and conditioning coach as well as nutritionist, pretty much just a scientist with how he's developed my body, and I've been able to boost my testosterone levels over double with just the way I've been eating and training so it's been cool to see."
The partnership has been so beneficial, in fact, that Dillashaw and Calavitta are now in the process of opening up a brand new facility in Anaheim, taking The Treigning Lab moniker. However, Dillashaw has no intention of limiting himself to one gym moving forward.
With head coach Ludwig commuting to Southern California from Denver three to four days per week for this fight camp, Dillashaw has been doing supplemental training at Gracie Barra in Irvine and at the RVCA gym (home of UFC middleweight champion Michael Bisping, who headlines the UFC 217 card against Georges St-Pierre) in Costa Mesa. He's also been working with two-time Greco-Roman wrestling national champion Darryl Christian at Studio 540, and sparred rounds with two-time Olympic gold medalist and WBO super featherweight champion Vasyl Lomachenko.
Promoting a diversity in training, Dillashaw expects to showcase new skills and his fight I.Q. come November 4, when he attempts to reclaim the title. It's one of the many advantages he sees in his favor over Garbrandt, who captured the title with a masterful performance over Dominick Cruz last December at UFC 207.
"Cody proved my point. I tell him my fight I.Q.'s better, and he just holds up his right hand. It's like, 'that's my point exactly'," comments Dillashaw, referencing one of many back-and-forths on the set of The Ultimate Fighter. "I did a lot of growing up through college, I didn't start fighting until I was 24 ...I did a lot of growing up really before my career, and I'm glad I did. You know, when I became champion I stayed level headed, I stayed who I was. You know, you've seen [Cody] change a lot. His character changed, everything about himself. All this fame, all this stuff coming to him."
With roughly a week to go until the biggest fight of his career, Dillashaw is now in final preparations to take the center of the Octagon at the most famous arena in combat sports. And unlike previous fight camps, thanks to Calavitta and his brand new nutrition program, Dillashaw expects to cruise his way down to the 135-pound bantamweight limit, without missing a single meal. From there, it's anyone's guess how the UFC's most heated teammate vs. teammate rivalry will play out.
REAL LIFE. REAL NEWS. REAL VOICES.
Help us tell more of the stories that matter from voices that too often remain unheard.
This post was published on the now-closed HuffPost Contributor platform. Contributors control their own work and posted freely to our site. If you need to flag this entry as abusive,
send us an email
.