This is the eighth installment of '16 And President, the Huffington Post series that takes you behind the scenes for a day in the life on the campaign trail with the candidates running for president.
PORTSMOUTH, N.H. -- Bernie Sanders was a half-hour early for our interview, and he wasn't in any kind of mood to wait for everyone else to catch up.
"OK, let's get going," the often cantankerous 74-year-old senator from Vermont said to no one in particular as he emerged from the men's restroom at The Friendly Toast and promptly took a seat in front of one of our cameras.
It was in the middle of a long day of campaign events around New Hampshire's Seacoast Region, and Sanders wanted to stay ahead of schedule.
The problem was that we weren't exactly ready to start recording just yet.
As a couple of his aides muttered nervously to one another, our video crew scrambled to get their shot set up. Sanders, meanwhile, decided that the booth we'd directed him toward wasn't for him.
"I don't like this," he declared in his Brooklyn brogue. "It's too low."
Once the candidate settled into a chair of more agreeable height, we began our conversation. For the next 20 minutes, Sanders opened up on a range of issues related to his underdog candidacy, declaring that he would be a better commander-in-chief than Hillary Clinton and revealing that he's already begun working on his inaugural address.
The self-described democratic socialist refused to answer, however, when asked to name his favorite Republican in Congress.
"You want me to destroy somebody's good reputation," he declared. "You want me to have a situation where his opponent will be running 30-second ads against him. You know what? For that reason, I'm not going to give you the answer."
The response was vintage Sanders: combative, earnest and at least a little bit angry.
It's a no-nonsense bearing that many grassroots Democrats who are fed up with establishment politics have embraced, particularly in New Hampshire, where Sanders has led frontrunner Hillary Clinton in several recent polls.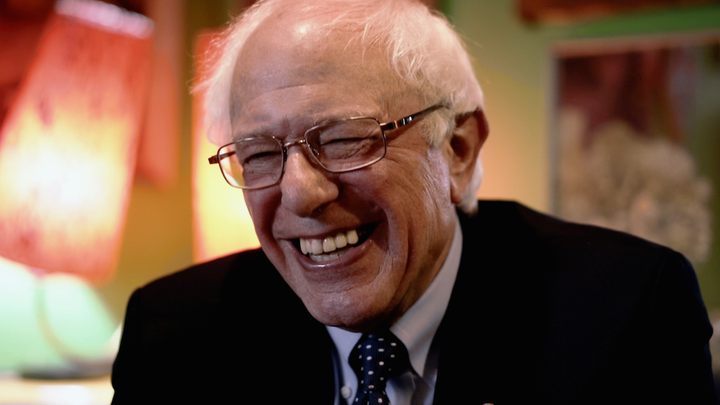 Despite his dire warnings about the nation's state of affairs, however, Sanders wasn't all doom and gloom on the trail. Throughout the day we spent with him, he showed flashes of a sense of humor.
He even made time to do some relatively rare retail-style glad-handing in a candidacy that has thus far largely been defined by his massive rallies.
"You have great, smiling eyes," a woman sitting at the bar complimented Sanders after our interview had concluded.
"Wow," the rumpled candidate replied. "That's the first time somebody has said that."
Watch the video above for the latest installment of the HuffPost series '16 And President.
Video produced by Jon Strauss.
Cinematography by Jon Strauss and Samuel Wilkes.
Associate Production by Audrey Horwitz
Popular in the Community