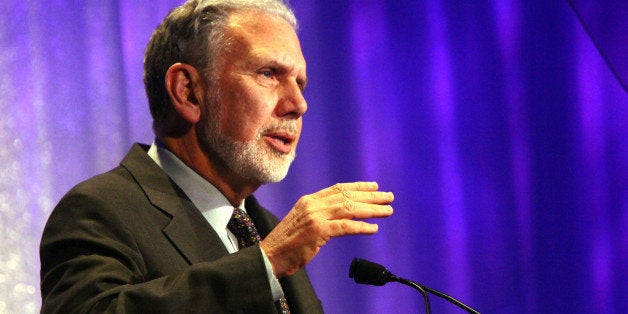 It's no coincidence that New York University's pristine Abu Dhabi campus mirrors the demographic diversity of a New York City subway car. But ask the nearly 900 or so students representing more than 100 nationalities for the one proper noun that encapsulates the school's mission and they'll typically reply in unison.
The name they they've been taught to reflexively invoke is not Sheik Mohammed bin Zayed bin Sultan Al Nahyan, the Abu Dhabi crown prince and patron of New York University's Middle Eastern campus, whose goal is to convert a desert sand spit on the Persian Gulf into an intellectual and cultural oasis.
Nor are the students even likely to volunteer the name of John Sexton, the peripatetic N.Y.U. president who completes his term as president on Dec. 31 and whose whirlwind vision transformed a gateless urban campus in Manhattan into a global university network with Abu Dhabi as its crown jewel.
Instead, especially if prompted by Sexton, the students will respond with the Christian name of an idiosyncratic lay instructor at a Brooklyn Jesuit high school who died a decade ago. His name was Charlie. Sexton has elevated "Charlie" into their college cheer.
Charles Francis Winans was Sexton's English teacher at Brooklyn Preparatory High School. He was more than that. He was Sexton's North Star.
Charlie was a Jesuit Mr. Chips, a disciple of Dorothy Day, Thomas Merton and the Rev. Daniel Berrigan. He was born in Bedford-Stuyvesant in 1919, when "the war to end all wars" was ending. Contemporaries said he looked like Orson Welles, sounded like James Earl Jones and was blessed with the soul of St. Francis of Assisi.
The son of a telegraph operator, he was a great communicator who would unveil new vistas by taking his students on field trips to find the only cork tree in the Bronx, or sagely advising them to ask a girl her S.A.T. scores before their first kiss because "beauty doesn't last, but intelligent companionship does."
Many students remember one transformative teacher. Few have the opportunity to sanctify them. To Sexton, N.Y.U. Abu Dhabi is the culmination of his professional and personal tribute to his mentor
Sexton's goal for this diverse campus has been to bridge the racial, ethnic and cultural divisions that are re-emerging at American colleges and universities by instilling the ecumenical vision of an iconoclastic dreamer from Brooklyn's Bedford-Stuyvesant who defied boundaries. Perhaps that's easier in a place where 80 percent of the population is from someplace else. The irony is that the experiment in Abu Dhabi is unfolding on a multi-ethnic campus in a Muslim nation inspired by a man whom a fellow teacher characterized as "the first fully developed Christian I ever met."
Earlier this month, Sexton mesmerized 110 students who had applied to N.Y.U. Abu Dhabi early decision (he invited me to join him on the 28th and last of his candidate weekend visits) by assuring them that they are all brilliant, but that they needed something else to win admission: "The Charlie factor, 'the emancipation gene.'" Charlie's mantra: "Play another octave of the piano. If there are notes you haven't touched, reach out and touch them."
"You have a shot at being not as afraid of people who are different from you than my generation was," Sexton said.
And they weren't. With about 15 percent of the student body Emirati and 15 percent American, blank stares greet a reporter's questions about micro-aggressions or silos and safe zones or about retreating into enclaves and affinity groups (there are some, but, given enrollment, membership is tiny).
"There is no majority," said Hayat Al Hassan, who comes from the Emirates.
"We are all natives," said Sebastian Grube, from Germany.
To a degree, they also represent economic diversity. When the students were asked to introduce themselves with an object from home, one from Africa brought his first pair of shoes, made from spare tires. A parent or guardian of about one in five seniors will be given travel expenses to come to graduation. (Thanks to the crown prince's patronage, tuition is, for all practical purposes, free.)
Acculturation between the secular campus and the conservative Islamic community has been more incremental. An internal report found that contractors denied about a third of the migrant construction workers who built the campus the fair wages, hours and living conditions guaranteed under the university's labor guidelines. An N.Y.U. professor critical of those conditions was barred from boarding a plane bound for Abu Dhabi last spring.
The student paper self-consciously refrains from writing about issues like birth control (and the university itself is circumspect about its policies). Student government is debating whether to broadcast the Muslim call to prayer on campus (no local mosques are nearby, and digital solutions like smart phone alerts are being considered). N.Y.U. Abu Dhabi has yet to consider an application from an Israeli Jew. (Local culture also has adapted; early on, some Jewish professors identified themselves on work visa applications as Buddhists to avoid complications until the government relented and added an "other" and Jewish to the religion category.)
In New York, some alumni expressed concern that going global would dilute the N.Y.U. brand. But since 2013, two N.Y.U. Abu Dhabi graduates have won Rhodes Scholarships (two more won Falcon Scholarships administered by Rhodes in 2014, now officially Rhodes Scholars) in senior classes of around 100 compared to two in the last decade among a geometrically larger pool at the university's Washington Square campus.
A lot of the school's success has been the result of Sexton's unflagging drive and the personal relationship he has forged with the Crown Prince. But he credits the campus and its graduates to the culmination of what Charlie inculcated.
"I was called to this vocation by Charlie," Sexton says. "He said, 'go out and multiply.' And these are my progeny, my students."
While Sexton is larger than life and, consequently, can be prone to hyperbole, Charlie has grown to mythic proportions among acolytes who embrace his legacy.
"Charlie has been institutionalized here," Professor Ronald Herzman, a Brooklyn Prep alum and English professor at the State University of New York at Geneseo, said in Abu Dhabi.
In 2001, Sexton inherited a university in which being an integral part of New York might have been considered a minus -- the city was still in shock over 9/11. But he built on Charlie Winans's vision of catholic cosmopolitanism and ecumenicism to transform potential adversity into a plus: Take New York City's DNA, its mosaic of neighborhoods composed of people born in every country in the world, and replicate it to make N.Y.U. a microcosm for the environment that its students will inherit, whether their global leadership manifests itself in molding a family through motherhood or in shaping the world though diplomacy.
"N.Y.U. needed a story," Sexton says, "and I was willing to tell a story that no one else had told. Charlie was 30 or 40 years ahead of his time. I'm just carrying his theme to its logical conclusion."
Sam Roberts, a New York Times correspondent, is author of "A History of New York in 101 Objects" and "The Brother: The Untold Story of the Rosenberg Case."
Related
Popular in the Community