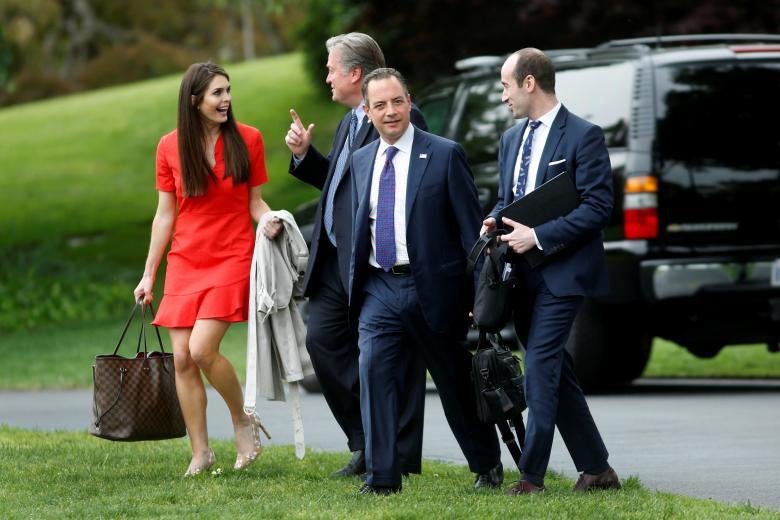 While many are now wondering whether President Donald Trump's decision to fire Chief Strategist Stephen Bannon will cause him more harm than good, others are eager to see whether this ousting will impact Bannon's proteges.
To some reporters, the next on the chopping block is Sebastian Gorka, Trump's controversial deputy assistant. But Stephen Miller, the president's senior adviser for policy, may also be next.
The trio of influential men have always been seen inside and outside the White House as some of the most staunch nationalist members of Trump's team. But Gorka, who worked with Bannon at the right-wing site Breitbart, could be the first one to go, as Bannon was allegedly his only tie with the White House as he reported directly to him.
To many on the left, Bannon's exit could lead to positive developments.
Promptly after it was announced he had been let go, the Democratic Congressional Campaign Committee called for Gorka's and Miller's exit while celebrating Bannon's firing.
A staunch critic of Gorka, terrorism analyst Michael S. Smith, took to Twitter to ask if the "#FakeTerrorismExpert" Gorka was gone already.
By clearing the White House from the two remaining Bannon allies, these advocates seem to claim, Trump may finally make the case that he's not being influenced by white nationalists. But would that be enough to change Trump's tune?
Recently, Gorka was in the news again for having been denied positions in other U.S. agencies, which forced the White House to keep the assistant on its payroll. But his string of controversies make his presence divisive on its own, as he was never able to get rid of his alleged past alliance with Nazi-sympathizing groups.
Miller has also been dogged by reports of racism and anti-immigrant bias.
Recently, older reports concerning his school days and how he acted around Latino colleagues also made the rounds, proving that Trump's team could do without his passionately anti-immigrant agenda.
With things moving so fast in Washington, D.C., and so many members of Trump's inner circle and committees turning their backs to the president or being fired, it's not difficult to see a massive revolution taking place soon.
What's left for us to know is if the upcoming changes will actually benefit the president's own agenda or actually help him be steered away from his now well-known divisive and explosive approach to his duties.
REAL LIFE. REAL NEWS. REAL VOICES.
Help us tell more of the stories that matter from voices that too often remain unheard.
This post was published on the now-closed HuffPost Contributor platform. Contributors control their own work and posted freely to our site. If you need to flag this entry as abusive,
send us an email
.