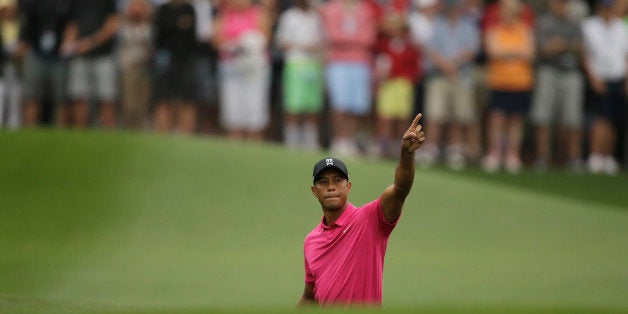 With a simple tweet on Friday afternoon, Tiger Woods shifted the secondary market for 2015 Masters tickets. Woods announced his participation in the tournament and prices immediately started going up, at least for the first two rounds. Regardless of how Woods has played of late, he is still easily the biggest draw in golf. That can be shown no better than by his impact on Masters tickets over the past three years.
In 2013, Woods entered The Masters tournament as the No. 1 ranked golfer in the world. That helped send the average ticket price for the first round of the Masters on Thursday near the $3,000 on the secondary market. Prices gradually fell as the tournament progressed, but the initial excitement to see Woods boosted prices to the highest levels TiqIQ has tracked for the Masters since 2010.
Woods did not participate in the 2014 Masters and prices plummeted on the secondary market. No day surpassed a $1,500 average price a year after no single day had an average below $2,000. The most expensive day of last year's tournament was the championship round on Sunday with an average price of $1,303.05. That was a 38.7 percent decline from the least expensive round during 2013.
2015 won't see Woods as the top ranked golfer, and it also won't see prices as high as 2013. However, each round will see prices well above last year's averages. The least expensive round this year will come on Saturday with an average price of $1,408.68, 8.1 percent above last year's most expensive round.
Woods last appeared in a PGA event at Torrey Pines in February, where he withdrew due to a back injury. That came after Woods' first tournament of the season in Phoenix, where he finished with a missed cut and a career-worst round of 82. Woods' level of play is still a question, but his impact on fan excitement and ticket prices is still at a high level.
Of course, Woods won't be the only draw for the upcoming week. The best golfers in the world will battle for the coveted green jacket this week, including the world's No. 1 player Rory McIlroy, defending champion Bubba Watson and iconic southpaw Phil Mickelson. Nearly 20 former Masters Champions will be on hand at the 79th annual tournament while the field will again be limited to under 100 players for the 52nd consecutive year.
Calling all HuffPost superfans!
Sign up for membership to become a founding member and help shape HuffPost's next chapter