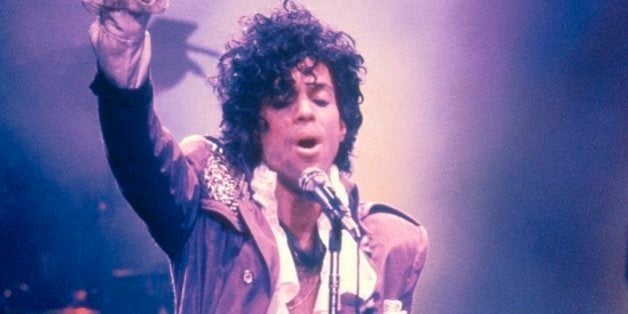 In the last few years the music industry has lost many great musicians. Whitney Houston, Michael Jackson, Natalie Cole, David Bowie, Maurice White, to name a few and now Prince. I didn't cry when Michael Jackson died but today I shed tears as if I knew him personally. He was part of my childhood and like many other things that have gone, so is he.
My introduction to this musical genius, known as Prince was through his semi-autobiographical movie, Purple Rain. The movie soundtrack produced chart toppers, "When Doves Cry" and "Purple Rain." As a young girl coming of age in the '80s with MTV and Video Soul, I witnessed first hand how Prince captivated us, not only with his music but with his eccentric style. The high heels and ruffled shirts pushed the boundaries of fashion and male sexuality. I had no idea what sexuality meant at that time but I knew that this man didn't care what people thought of him. It was the first time my teenage self had seen a man who was so unapologetically free with his sexual expression. I was just starting to be into boys and along comes this man with lyrics that are all about sex. But it was never portrayed in a dirty way. It was more sensual because, well, Prince was beautiful. His music was wild, sexy and uninhibited. Even the songs he produced for Vanity 6 were sexual. I knew all the words to "Nasty Girl" and my friends and I would watch their videos so that we could mimic their dance moves any chance we got. We were teenagers, with hormones raging out of control and Prince spoke directly to us.
Prince gave us music even when we didn't expect it. He was a master of surprises dropping two- and three-disc albums, popping up in clubs giving impromptu concerts. He was always creating music and performing in the most suspect of places. I was fortunate to see him on three separate occasions in the '80s, '90s and 2000s. Each time I was awestruck by his talent and showmanship.
Not only was Prince a musical talent, he was also a shrewd businessman. So much so that he separated from Warner Brothers to be free to create unique funky music but also to own his music catalogue. In a highly publicized legal battle, he became known as a symbol with the word "Slave" written on his face. He wanted to be able to control his own destiny. How's that for making a statement?
The Purple One taught us that it's okay to express ourselves in ways that are outside of the norm. He freed us from societal norms that said we had to dress and act a certain way. He made it okay to express your sensuality and to not be afraid of the repercussions. He defied conventional thought in everything he did. His lyrics weren't the typical love songs but wove a story of desire, passion, and sex. Prince was a prolific storyteller through his music. He was not a man of many words, but each time he said something, it was profound and memorable.
There are many lessons that we can take from Prince, but the one that stands out the most, is to be yourself. Don't let anyone define you.
He was an icon, a legend, and a musical anomaly. His Royal Badness will be missed but his legacy will never be forgotten.
REAL LIFE. REAL NEWS. REAL VOICES.
Help us tell more of the stories that matter from voices that too often remain unheard.